Nevin Harper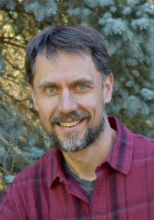 Position
Professor
School of Child and Youth Care
Credentials
BA (Oregon), MA (RRU), PhD (Minnesota)
Contact
Brief Biography
Nevin Harper, PhD, is a professor in the School of Child and Youth Care. His research and practice career centers on alternative approaches to working with youth and families involved in systems of care and incarceration. His graduate research was focused on risk management and decision-making in outdoor adventure leadership at the Master's level, and then on family-level and systemic change in adolescent wilderness therapy. Nevin prefers to spend more time outside than in, and is an advocate for moving many educational and therapeutic practices outdoors. 
Practice Background
In the years before graduate school, Nevin was a supervisor, trainer and guide in a number of outdoor and adventure-based intervention and treatment  programs, primarily with youth involved with the criminal justice system and in residential care. Nevin was also active in the development of a number of initiatives related to his research including the Child and Nature Alliance of Canada, the Canadian Adventure Therapy Symposium, and the Canadian Outdoor Summit. Prior to coming to SCYC, Nevin taught at Camosun College for six years. There he designed the Post-Degree Diploma in Adventure Education, and lead adventure-based field schools in the Andes with young adults focused on experiential learning and developing reflective practice. Nevin is a part-time youth and family support worker with Human-Nature Counseling where he provides client and program assistance through outdoor and experiential modalities. He also assists outdoor education and therapy programs establish research and evaluation agendas, risk management plans, and staff training.
Research Interests
Outdoor and adventure-based education and therapy; human-environmental relationships; experiential and environmental education; ecopsychology; youth and emerging adult development; outdoor risky play.
Nevin's research and practice focuses on the theory, process and outcomes associated with outdoor, adventure, and experiential activities and programs as they relate to educational, developmental or therapeutic aims. While primarily focused on adolescents, he has conducted research with children, families, college students and veterans. His work is conceptually located and published in the areas of adventure education and therapy, ecopsychology, and child and youth care.
Sample Publications
Harper, N. J., Mott, A. J., & Obee, P. (2019). Client perspectives on wilderness therapy as a component of adolescent residential treatment for problematic substance use and mental health issues. Children and Youth Services Review, 105, 104450.  https://www.sciencedirect.com/science/article/pii/S0190740919305018

Gabrielsen, L., Harper, N. J., & Fernee, C. (2019). What are constructive anxiety levels in wilderness therapy: An exploratory pilot study. Complementary Therapies in Clinical Practice, 37, 51-57.
https://www.sciencedirect.com/science/article/abs/pii/S1744388119303299
Dobud, W., & Harper, N. J. (2018). Of Dodo birds and the common factors: A scoping review of adventure therapy direct comparison trials. Complementary Therapies in Clinical Practice, 31, 16-24. https://www.sciencedirect.com/science/article/abs/pii/S1744388117304863

Gabrielsen, L. E., & Harper, N. J. (2018). The role of wilderness therapy for adolescents in the face of global trends of urbanization and technification. International Journal of Adolescence and Youth, 23(4), 409-421. https://www.tandfonline.com/doi/full/10.1080/02673843.2017.1406379

Harper, N. J. (2017). Wilderness therapy, therapeutic camping and outdoor adventure in child and youth care literature: A scoping review. Children and Youth Services Review, 83, 68-79.  https://www.sciencedirect.com/science/article/pii/S0190740917307727