Sandrina de Finney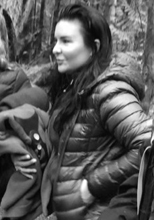 Position
Professor
School of Child and Youth Care
Contact
Credentials
Area of expertise
Processes of racialization and youth identities, Aboriginal, ethnic minority and immigrant youth, youth participation in practice and research, community development and community-based practice
Sandrina de Finney is a professor whose primary focus of scholarship is Indigenous and minoritized populations, particularly youth in care and girls/young women. Drawing on over two decades of experience as a community activist, researcher, trainer and youth worker, Sandrina's academic work documents the impact of (neo)colonial practices and policies and how racialized communities negotiate and disrupt their effects. Her scholarship is rooted in participatory, action-oriented, and arts-based methods and draws on Indigenous, queer, anti-racist, anti/postcolonial and transnational feminist theories and perspectives.
Teaching and training
Sandrina is passionate about integrating her research and teaching with community training and activism. In academic settings, she has developed numerous courses for on- campus and online delivery and teaches in the Indigenous diploma, undergraduate and graduate programs. She has also developed and delivered training on community-based research and community development to hundreds of participants in diverse settings.
Research interests
Child welfare, Indigenous customary caregiving and kinship care,
Participatory, arts-based, land-based, child- youth- and community-led research and practices
Critical feminist, intersectional, anti-colonial, Indigenous frameworks
Research and scholarly interests
Research and scholarly interests:
Racialized girls and young women; racialized youth
Community-based, anti/post-colonial, anti-racist, feminist research and practice
Social change-centered, arts-based and participatory methods
Indigenous research and methodologies
Indigenous child welfare, foster care and adoptions
Sandrina has extensive experience in conducting community-based research as principal and co-investigator. Primary areas of focus are child welfare, including child and family services, foster care, and cultural and custom adoptions; girlhood studies; and girl, youth, and community engagement.
She is the co-founder and past president of antidote, a community-based organization for racialized minority and Indigenous girls and women that conducts community-based research and supports social change and advocacy for and by racialized girls and women (antidotenetwork.org). antidote was awarded the 2009 diversity award by the BC Representative for Children and Families.
As research adviser for the Indigenous Child Well-being Research Network, Sandrina has developed and delivered research training and consultations across the province to make child welfare research training more congruent with the needs and voices of diverse Indigenous communities.
In this role Sandrina advocates for Indigenous research approaches. She develops and delivers research training, conducts community-based research, publishes articles and resources, and provides consultations to Indigenous communities and organizations wanting to conduct child welfare research.