Indigenous initiatives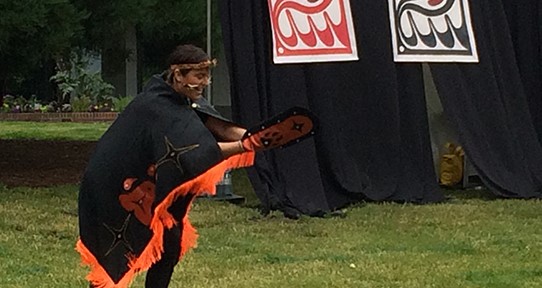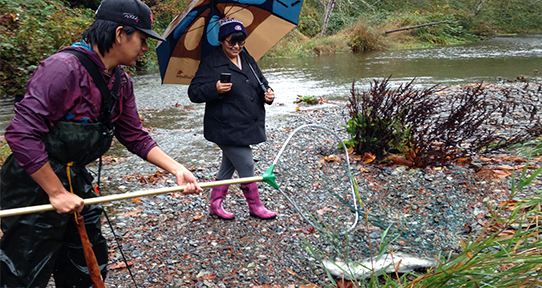 Overview
My name is Shanne McCaffrey and I'm a Cree Métis originally from northwest Saskatchewan. I've lived in Coast Salish territory for over a decade. I am thankful to the gracious hosts of this beautiful land and want to explicitly acknowledge their territory.
In the School of Child and Youth Care, we have an Indigenous learners group called SILKS. SILKS stands for Supporting Indigenous Learners Knowledge and Skills. In the school, as well as the at UVic, we're committed to providing the very best learning and support for Indigenous learners.
The silk thread of the spider is one of the strongest most enduring materials on our planet. It is appropriate that our circle bears the same name.
Acknowledgements
The School of Child and Youth Care respectfully acknowledges the traditional territory and land of the Coast Salish people on whose traditional lands our university resides. We have worked and partnered with various Indigenous communities on Vancouver Island and are grateful to the Coast Salish, Kwakwaka'wakw and Nuu'chah'nulth people who are such generous hosts and stewards of this traditional island territory.
BCYC and Indigenous students
Diverse Indigenous ways of knowing, doing and being align with many aspects of our core curriculum. In addition to significant curricular threads exploring diverse perspectives, cultures and orientations, all students take CYC 230 Introduction to Practice in Indigenous Contexts, ensuring a common basis of understanding and a platform for connection.
Indigenous specialization
Do you want to explore a focus on child and youth care work within Indigenous communities? Consider our Indigenous specialization stream as part of your BCYC program. You'll be introduced to the basic knowledge needed for entry into child and youth care work within Indigenous contexts.
This specialization is intended for Indigenous and non-Indigenous students. All students must complete all three courses (CYC 230, 330, 430) and their final practicum must take place in an Indigenous context. Learn more about the Indigenous specialization.
Note: The full program is available online with the exception of one 10-day on-campus seminar.
Diploma in Child and Youth Care in Indigenous Communities (online)
The Child and Youth Care Indigenous Diploma (CYCID) program combines community-based, culturally-sensitive course work that focuses on the child and youth care frameworks and practices of Indigenous communities. The diploma program prepares students for careers in a variety of early years and child and youth care settings.
This 30-unit program is offered by special agreement with communities. It may be delivered over two or three years and combines distance delivery modes with face-to-face seminars within the community. Contact Shanne McCaffrey for more information.
Additional resources for Indigenous students
SILKS is an evolving council of people interested in supporting Indigenous learners at UVic by building on the strengths of Indigenous knowledge and skills.
You can become part of the SILKS group by identifying as either an Indigenous person or someone who wishes to support or mentor Indigenous learners. Shanne McCaffrey, SILKS coordinator, is currently on leave. Contact Michelle Koroll at mkoroll@uvic.ca.
SILKS offers:
mentoring, partnering and circle opportunities for Indigenous and non-Indigenous learners
academic advising and counselling
emergency support and referral
connection to the First Peoples House, Office of Indigenous Academic & Community Engagement and resident Elders
Indigenous community information, connection, recognition and celebration events
a bridge between learners, professors, advisers, education coordinators, bands and communities
community-building within and outside the School of Child and Youth Care
Contact
For more information about SILKS, please contact:
Shanne McCaffrey, SILKS coordinator (ON LEAVE)
Email: smccaffr@uvic.ca
Phone: 250-721-7989
While Shanne is on leave, please contact:
Michelle Koroll
Email: mkoroll@uvic.ca 
Indigenous faculty in the School of Child and Youth Care are members of the Indigenous Child Well-being Research Network (ICWR). The ICWR provides a network for research training, resources and links that are relevant to diverse communities, individuals, organizations, agencies and contexts.
For Indigenous peoples, there is no doubt that western-based research has a contested history. It has been used to exploit, appropriate, silence, and justify harmful policies, practices and actions against Indigenous peoples. This network strives to facilitate positive community-driven work that supports community defined needs and interests. Learn more about the Indigenous Child Well-being Research Network (ICWR).
History of SCYC & Indigenous community connections
Building on the lessons learned from early initiatives with Indigenous communities, we continue to develop the knowledge, skills and relationships needed to work with communities.
We extend a welcome to Indigenous communities wishing to collaborate on education in preparing people to work within your communities with children, youth and families.
2008-2010 Diploma in Child and Youth Care in Indigenous Communities Funded by the Indian Studies Support Program (ISSP)
The Child and Youth Care Indigenous Diploma (CYCID) is a two-year continuous (24-month) diploma program that prepares students to begin careers in a variety of early years and child and youth care settings.
The 2008-2010 ISSP-funded program delivery involved the application of community-building software (like Facebook) to create a learning support network beyond the classroom. The innovative program design also combined face-to-face seminar sessions at critical points in the program.
Our first program delivery took place 2008-10 in collaboration with a collective of north island Indigenous community partners. Ten of the original 13 students registered in the diploma program graduated in the fall of 2010.
Of these graduates, five have joined the full BCYC degree program. This is an outstanding rate of completion. It is exciting to contemplate the contributions that our graduates will be able to make within the community. Community capacity will be further increased through the increasing skill and knowledge of the five students who have decided to complete the full degree.
Background: The diploma program was developed in part through the BC Ministry of Advanced Education Aboriginal Special Projects Fund. It was completed in 2005 in partnership with the School of Child and Youth Care and a north island partnership including the Quatsino band, the Kwakiutl Band, Quatsino, Namgis, and Gwasala-nakwaxda'xw.
The program
The Indigenous Child and Youth Care Diploma includes 7.5 credit units of Aboriginal-specific courses within the full 30-unit program:
All child and youth care courses were developed and delivered to ensure respect and consideration of diversity. Please see the Indigenous Diploma in Child and Youth Care for the full program scope and sequence.
Our history with Indigenous communities also includes:
"Community Wellness" 
Artwork by Dylan Thomas
Community Wellness is dedicated to the power of harmony in First Nations communities. The design depicts four human figures who come together to form a perfect circle around the centre point. The middle circle represents First Nations youth and culture, and the four humans represent our families, relationships, and communities. If one of the figures was removed or misplaced, the circle would not be complete and the middle circle would be exposed, but when the four figures are placed correctly, they form a protective border around the centre, which symbolizes the the security created when our communities work in a supportive and harmonious fashion.