Donors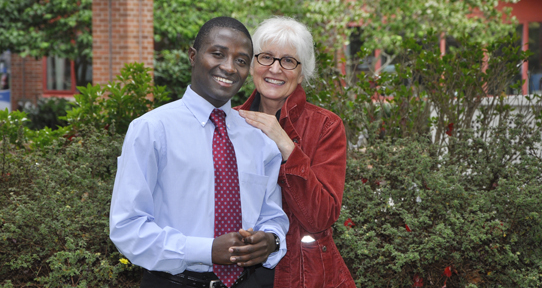 Giving changes lives
Scholarships and bursaries make a positive and lasting impact in students' lives now and in the future.
Learn more about ways to contribute by contacting:
Tricia Roche
HSD Development Officer
hsddev@uvic.ca
250-472-5031
Featured student scholarship story

Jolly Nyeko was awarded the Agnes Shahariw Memorial Scholarship. Having grown up as a child in need and going through the devastation of AIDS on her family, community and country, Jolly founded the organization "Action for Children," which cares for over 10,000 children in more than 3,000 families in Uganda.
"When I received the news of the award from the University of Victoria, I felt like a heavy burden had just been lifted off my head! I had reason to smile, but instead, I cried for joy!"
Funding stories

Jabin Kim is a recipient of the William and Gladys Partridge Award in Child Care. Living away from home and working with families in distress during her practica, she says, "Your act of kindness has supported me in times when financial support was needed and absolutely appreciated. I am very excited to start this career and be a change agent who is able to support children, youth and families." Jabin is now employed as a Child Protection Officer in Port Coquitlam.
John Nsabimana is the recipient of the Nelson Family Bursary for International Students in the Faculty of HSD. John was a Rwandan refugee as a child and plans to pursue a career in humanitarian affairs, particularly in the areas of child protection, emergencies and education. He is the regional youth representative for the United Nations Children's Agency and represents Canada at the annual Youth Assembly at the United Nations Headquarters in New York. 

Colleen Spooner is a recipient of the Winnifred M. Clark Bursary for undergraduates in the School of Child and Youth Care. "Education, moving, and money all cause stress, but because of my bursary I didn't have to worry as much about the money and could concentrate more on my education and studying to be who I aspire to be."
Learn more about ways to contribute.