The Edge of dynamic learning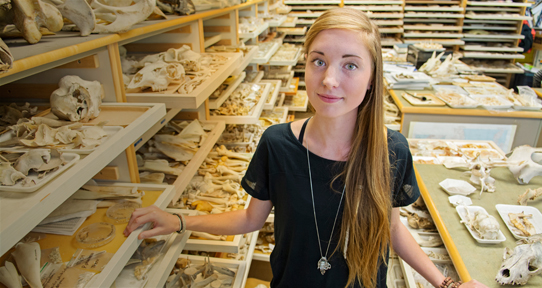 The world is interconnected and ever-evolving. We think learning should be too.
At UVic every student is immersed in dynamic learning that's fuelled by research-inspired insights and personal, hands-on experiences.
Some work with remote communities in field schools. Others tackle international innovation challenges or collaborate on groundbreaking research.
When students engage directly in problem-solving, the interplay of ideas and action gives them a powerful edge of career-relevant expertise and personal growth.
Dynamic learning isn't just about finding answers. It's also about being inspired by research to ask different questions. What if… we listen to "voices" of proteins to find disease? Reimagine services for the homeless? Use intergenerational theatre to rebuild communities in tsunami-ravaged India?
"What if…" Learning two small words can change everything.
"I kept saying 'I can't believe I'm in class right now,' when we were hiking through a national park, talking to locals in a village, or wandering through a palace. I realized the value of experiential learning opportunities like these. Instead of simply learning about topics, we saw them first-hand and had the opportunity to engage with them."
Geography student Julia Bennett, about a field school in India.
Co-op: learning beyond the classroom
UVic has one of Canada's largest university co-operative education programs with more than 3,200 placement each year. Co-op integrates academic studies with relevant paid work experience in more than 40 academic areas.
One in three UVic undergraduates take part in co-op. They combine real-world experience and graduate with a resume packed with relevant experience.
Every year, 100 undergraduates from across campus gain direct research exposure as part of their learning experience through the Jamie Cassels Undergraduate Research Awards (JCURA) program.
By pairing professors with students, the JCURA program provides research opportunities rarely encountered at the undergraduate level.
The program encourages the development of strong academic relationships. It funds collaborative research projects between faculty and undergraduates, giving promising students an appetite for original research in the process.
"The JCURA program is unique in Canada for the depth and breadth of disciplines involved across the full academic spectrum," says Teresa Dawson, director of the Learning and Teaching Centre, which administers the program.
Linking students in close working relationships with professors has led to some exciting first brushes with original research. Read about the 2012 JCURA research fair.
Undergraduate research papers published in The Arbutus Review

Many JCURA recipients have gone on to publish their research papers in The Arbutus Review, an annual peer-reviewed compilation of outstanding research papers/articles submitted by undergraduate students from all disciplines at the University of Victoria.
The Arbutus Review provides a forum for the best researchers to showcase their work to fellow students, the campus community and outside partners.
UVic's Learning without Borders (LWB) initiative supports integrating international elements into our undergraduate curriculum.
Teams have rewritten many courses to include international perspectives, with more to follow. Learn how Ajtony Csaba is teaching music students how to listen internationally.
Measuring changes in global awareness
A survey was constructed to measure students' self-reported changes in global awareness, attitudes and actions as a result of taking an LWB course. These were compared with results from a control course that had not been exposed to LWB design principles.
Preliminary results are extremely positive. Students participating in the LWB-enhanced courses reported substantial positive changes in global knowledge, taking others' perspectives and actively seeking out information about other cultures. These results were compared to those students in the control course, who largely reported no changes.
Learn more about LWB grants and courses.
At UVic we recognize that the post-secondary teaching market is a competitive one.
That's why we created the Learning and Teaching in Higher Education (LATHE) program for those preparing for an academic career in higher education.
This two-year graduate credit program is guided by recent research in the psychology of learning and instruction. It's earned in conjunction with a graduate degree program.
LATHE students build their teaching portfolios and gain practical experience, skills and strategies. They graduate qualified to compete effectively for an academic position with those who share similar teaching experiences.