3MT Winners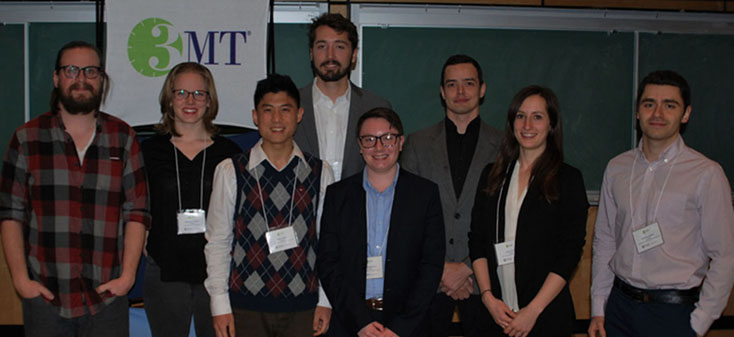 2018 Results
The Faculty of Graduate Studies is pleased to announce the results of the 5th annual Three Minute Thesis competition.
First place and People's Choice Award

Julian Smazynski, Department of Biochemistry and Microbiology - Engineering Immune Cells:  Tricking Cancer into Aiding the Anti-tumor Immune Response
Second place

Leo Rutherford, Social Dimensions of Health Program - What Will Happen to My Sex Life?  Trans Men and Bottom Surgery
Other finalists

Farhad Jalilian, Department of Mechanical Engineering - Rainwater Runoff Treatment Using Bacteria
Julie Fortin, School of Environmental Studies - Landscape Change Through Before and After Pictures
Aidan Collier, Department of Philosophy - Ethics in Computer Games
Reed Teyber, Department of Mechanical Engineering - Breeding Magnetic Refrigerators:  An Unlikely Love Story
Meaghan Efford, Department of Anthropology - Gooseneck Barnacles and the Archaeology of Nuu-chah-Nulth Shellfish Management
Mike Chen, Department of Physics and Astronomy - The Chaotic Origin of Stars
Congratulations to all the finalists for your success in the competition and for another incredible 3MT event.