Mark Leiren-Young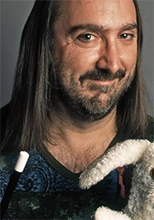 Position
Sessional Instructor
Writing
Contact
Office: FIA 225A
Credentials
Area of expertise
Humour and comedy writing, creative nonfiction, journalism, stage drama, screenwriting, television (drama, comedy, children's and variety), animation, documentary and writing for radio (drama and documentary). 
Biography 
Mark was born in Vancouver and received his BFA in Creative Writing and Theatre at the University of Victoria. After graduating (with distinction) from UVic he was hired as a reporter at the venerable Williams Lake Tribune (a stint that inspired his first book, Never Shoot a Stampede Queen). Since then Mark has been a full-time freelance writer working in a variety of mediums and genres. His plays have been produced throughout Canada and the US as well as in Europe and Australia. He has written over a hundred hours of television for shows including adult dramas like Psi Factor and The Collector, live events like The Juno Awards, documentary series like CBC's Life and Times and animated shows like ReBoot, Class of the Titans and Transformers: Beast Wars. Mark toured Canada (and produced two albums and a tv special) with his musical comedy duo, Local Anxiety.  As a journalist Mark has written for TIME, Maclean's, The Hollywood Reporter and most of Canada's daily newspapers. He's a regular contributor to The Vancouver Sun, TheTyee.ca, The Georgia Straight and The Walrus.
Selected Professional & Creative Achievements 
Mark won the Stephen Leacock Medal for Humour for his book Never Shoot a Stampede Queen. His debut movie, The Green Chain (which he wrote, directed and produced) received several awards and nominations and played festivals around the world. His TV special Greenpieces: The World's First Eco-Comedy won an EarthVision Award. He received a (silver) National Magazine Award as a humour columnist for Theatrum a long time ago and a Western Magazine Award as a humour columnist for backofthebook.ca in 2013. He has written two non-comic books of non-fiction – The Green Chain: Nothing is Ever Clear Cut (Heritage), a collection of interviews dealing with the future of our forests and This Crazy Time (Knopf) written with/about controversial environmentalist Tzeporah Berman. Mark is a three time Writers Guild of Canada nominee — twice for CBC radio dramas and most recently for the script for his movie, The Green Chain.