Mark Leiren-Young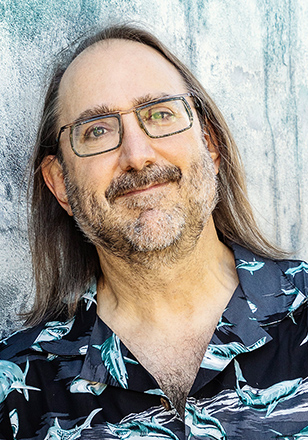 Position
Sessional Instructor
Writing
Contact
Office: FIA 243
Credentials
Area of expertise
Humour and comedy writing, creative nonfiction, memoir, journalism, stage drama, screenwriting, television (drama, comedy, children's and variety), animation, documentary and radio/podcasting (drama and documentary), writing for young readers and viewers, and comic book universes.
Biography 
Mark was born in Vancouver and received his BFA in Creative Writing and Theatre at the University of Victoria and a Masters in Creative Writing (in 2018) from UBC. After graduating from UVic, Mark worked as a reporter at the Williams Lake Tribune (a stint that inspired his comic memoir, Never Shoot a Stampede Queen). Since then, Mark has been a full-time freelance writer working in a variety of mediums and genres. Much of his recent work has focused on sharing the stories of the endangered southern resident orcas - two documentaries, four books (three for younger readers). He also wrote and consulted on the Royal BC Museum exhibit Orcas: Our Shared Future, which is currently touring the world. He has written two books for young readers about sharks. Next up: octopus. Mark hosts the Skaana podcast and interviews experts from around the world on eco-ethics and protecting oceans and marine life, with a focus on whales. His plays are produced around the world. He has written over a hundred hours of television. As a journalist Mark has written for TIME, Maclean's, The Hollywood Reporter and most of Canada's daily newspapers. Mark toured Canada (and produced two albums and a tv special) with his musical comedy duo, Local Anxiety. He has also written/read/watched enough stories about superheroes that he now teaches courses built around the DC and Marvel universes.
Selected Professional & Creative Achievements 
Mark has won awards as a filmmaker, playwright, author, satirist and journalist. He won the Writer's Guild of Canada Award for Best Documentary for The Hundred-Year-Old-Whale and is a three time Writers Guild of Canada nominee — twice for CBC radio dramas and once for the script for his movie, The Green Chain. His book, The Killer Whale Who Changed the World, won the Science Writers and Communicators Book Award and his radio version of the same story won a Webster Award for Best Radio Documentary.
Mark received the Stephen Leacock Medal for Humour for his book Never Shoot a Stampede Queen and the City of Victoria's Children's Book Award for Orcas Everywhere: The Mystery and History of Killer Whales. His debut movie, The Green Chain, (which he wrote, directed and produced) received several awards and nominations and played festivals around the world, as did The Hundred-Year-Old Whale. His TV special Greenpieces: The World's First Eco-Comedy (still pretty much the world's only eco-comedy) won an EarthVision Award from KPBS. He received a (silver) National Magazine Award as a humour columnist for Theatrum and a Western Magazine Award as a humour columnist for his writing for backofthebook.ca. He has written two non-comic books of non-fiction – The Green Chain: Nothing is Ever Clear Cut (Heritage), a collection of interviews dealing with the future of our forests and This Crazy Time (Knopf) written with/about environmentalist Tzeporah Berman.