Daniel Hogg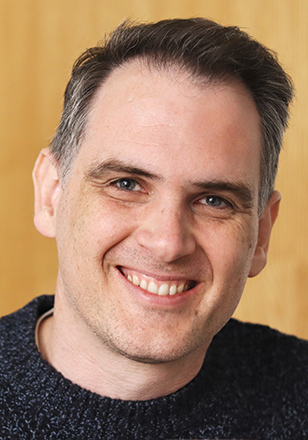 Position
Instructor
Writing
Contact
Office: FIA 235
Credentials
BFA (UVic), Professional Program in Screenwriting (UCLA)
Area of expertise
Film production, screenwriting, story editing, digital media, typography & design.
A storyteller at heart, Daniel Hogg (he/him) was born and raised in Victoria on the unceded territory of the Lekwungen-speaking people, spending his formative years dabbling in computer game programming, playing piano, touring with a handful of choirs to 20+ countries, and watching way too many movies.
Since then, Daniel has been a post-secondary teacher and lab instructor, a web designer, a graphic designer, a screenwriter, director of photography, director, and film producer. He has been a key creative on over 90 shorts, music videos, and feature films, including 20 award-winning projects and work broadcast on Amazon Prime, The Movie Network, Superchannel, OUTtv, MuchMusic, MTV, Bravo, PBS, and more. 
A member of the Academy of Canadian Cinema & Television, Daniel has served as president of Cinevic Society of Independent Filmmakers, edited documentary and narrative film, assistant-directed features and shorts, and has made films since 2000.
Selected professional & creative achievements
Daniel is a two-time Leo Award-winning producer (Best Motion Picture, The Devout; Best Web Series, Freshman's Wharf) and a two-time Leo nominated screenwriter (for short films Floodplain and Woodrow, Without Evelyn). Telefilm Canada has twice presented his films in their Not Short on Talent Presentation at the Cannes Film Market, and in 2018 he was named to Telefilm's Talent to Watch.
His tongue-in-cheek creature-feature script Rip My Heart Out was named to the inaugural Movie Central and National Screen Institute's Script-to-Screen development program, and Daniel's redemptive actioner Six-Chamber Heart, about an aging cowboy hunting his murderous outlaw son in the old west, was a finalist in the Praxis Screenplay Competition and a semi-finalist in Francis Ford Coppola's American Zoetrope Screenplay Competition.
Other honours include the NSI Drama Prize, grants from the Harold Greenberg Fund, Creative BC, Bravo! FACT, MuchFACT, and Telefilm Canada, and the SSHRC Joseph Armand Bombardier Canada Graduate Scholarship, and over seventy thousand views on youtube for his incredibly dorky short film The Propelller Guy.