Kathryn Mockler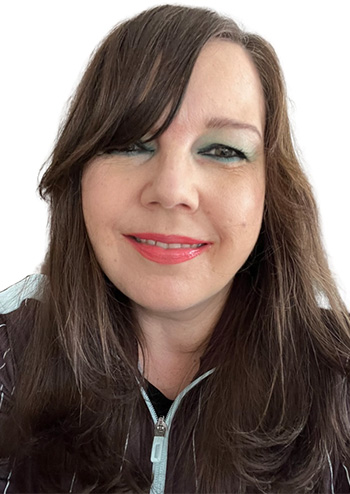 Position
Assistant Professor
Writing
Credentials
BA (Concordia), MFA (UBC)
Contact
Areas of research & creative activity
Short film writing, feature film writing, TV writing, poetry, short fiction, flash fiction, experimental writing, experimental video, hybrid genres, editing and publishing, climate/eco writing, activism, small press publishing.
Biography
Kathryn wrote her first poem at eighteen while working at a corn canning factory in London, Ontario, and years later the experience at the factory became the subject of her first book of poetry, Onion Man. She left London for Montreal and studied creative writing and English Literature at Concordia University. Then she headed to Vancouver where she completed her MFA in Screenwriting at the University of British Columbia. She worked as a freelance writer and taught at Fanshawe College before attending the Canadian Film Centre's Writers' Lab where she wrote two award-winning short films for the NBC/Universal Short Dramatic Film Program.
Prior to joining the Department of Writing in 2020, Kathryn lived in Toronto but taught screenwriting, poetry, and experimental writing at Western University since 2006. She has also taught at the University of Windsor and OCAD University.
On the editing side, Kathryn published the online literary journal The Rusty Toque from 2011-2017. She's been the Canada Editor of Joyland Magazine since 2013, and in 2019 founded an online literary site, Watch Your Head, which publishes writing and art about climate justice and the climate crisis. A print anthology of Watch Your Head is coming out with Coach House Books in 2020.
Selected professional & creative achievements
Kathryn is the author of four poetry books and six short films. Her films have won awards at Worldfest, Yorkton, The Victoria Independent Film and Video Festival, and Euroshorts and have been broadcast on TMN, Movieola, and Bravo and screened at over 60 festivals including the Toronto International Film Festival, Palm Springs International Festival, and EMAF. She is a TIFF Talent Lab Alumnus, a Praxis Screenwriting Fellow, and won the San Francisco Film Society Screenwriting Fellowship. 
Her most recent poetry project is a chapbook written in collaboration with Gary Barwin forthcoming from knife | fork | book in the fall of 2020, and her debut collection of stories will be published by Book*hug in 2022. She is also developing a TV series pilot called Yardbird and an experimental video series, This Isn't a Conversation.
She received the Angela Armitt Award for Excellence in Teaching at Western University.
Selected publications
Some Theories, a collaboration with artist David Poolman, Stories, Poems Plays, One-liners
The Purpose Pitch, Mansfield Press, Poetry
The Saddest Place on Earth, DC Books, Poetry
Onion Man, Tightrope Books, Poetry
Filmography
The Old Ways, 15 minutes, 16mm, Co-writer
Three Vignettes, 4 minutes, HD, Writer/Co-director/Co-producer
Umbrella, Bravo!Fact, 5 minutes, HD, Writer/Co-producer
The Reluctant Narrator, 11 minutes, DV, Writer/Co-director/Co-producer
Skinheads, 16 minutes, 35 mm, Colour, Canadian Film Centre & NBC/Universal, Writer
Spoonfed, 15 minutes, 35 mm, Colour, Canadian Film Centre & NBC/Universal, Writer