Danielle Geller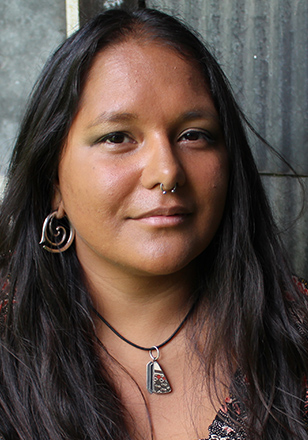 Position
Assistant Professor, Graduate Advisor
Writing
Contact
Office: FIA 239
Credentials
BA (Shippensburg), MFA (Arizona), MS (Simmons College)
Area of expertise
Creative nonfiction, memoir, speculative fiction, documentary studies, archives.
Biography
Danielle Geller is a writer, an archivist, and a weaver. Before joining the Department of Writing, she received an MFA in Creative Writing from the University of Arizona. She taught classes for the University of Arizona's Poetry Center, the Osher Lifelong Learning Institute, Young Arizona Writers' Workshop, and was a visiting writer to the Institute of American Indian Arts.
She also earned an MS in Library and Information Science from Simmons College, where she studied archival management. She has worked in libraries, archives, and curatorial spaces at the Massachusetts Institute of Technology, Northeastern University, and Cultural Resource Center of the Smithsonian's National Museum of the American Indian.
She is a member of the Navajo Nation: born to the Tsi'naajinii, born for the bilagaana. She lived most of her life in the United States but moved to Canada with her husband in 2018.
Selected Professional and Creative Achievements
A writer of personal essays and memoir, her work has appeared in The New Yorker, Brevity, and Arizona Highways Magazine and has been anthologized in This Is the Place (Seal Press, 2017). She was a recipient of the 2016 Rona Jaffe Writers' Awards. Her debut memoir, Dog Flowers (Penguin Random House Canada) was released in 2022.
Selected publications
"Blood; Quantum", Brevity, Sept. 12, 2016.
"Annotating the first page of the first Navajo-English dictionary", The New Yorker, Nov. 7, 2017.