Astri Wright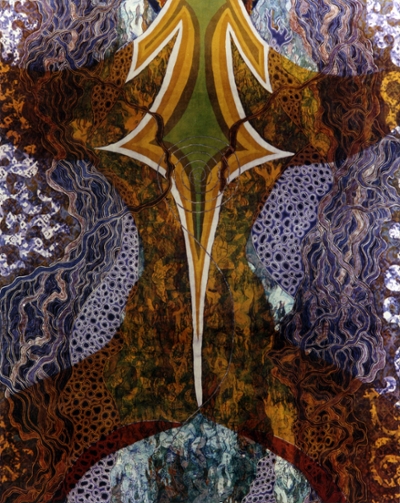 Position
Professor
Art History and Visual Studies
Contact
Office: Fine Arts 133
Credentials
Cand. Mag. (Oslo), BA, MA, PhD (Cornell)
Area of expertise
Southeast Asian art (including textiles, ephemeral arts), modern and contemporary arts
Areas of research
Indigenous, indic-inspired, European, and global dialogues in modern and contemporary Indonesian art
Pre-Colonial and Post Colonial shifts in S/SE Asian art
Religious genres, iconographies and practices in South and Southeast Asian art
Gender issues in S/SE Asian art, historical and modern
Visual cultures of S/SE Asia, popular to specialized/elite
Fiction-writing drawing on art historical contexts of border-crosser individuals and cultures 
Brief biography
Raised bi-lingually on three continents with an interest in Asian philosophies, languages and arts, Wright was positioned towards global and interdisciplinary perspectives on art history, area studies and cultural studies. With university degrees in Western and Chinese Art History & Asian Studies, Wright's PhD is in Southeast Asian Studies and Art History with a minor in Cultural Anthropology from Cornell University. She located her research focus in the historical and spatial dialogues and anatomies of modern and contemporary Indonesian art. Her main research has been on the first generation of nationalist Indonesian artists (pre-revolution and Sukarno era), activist artists and women artists (Suharto era), and since the turn of the 21st century on global collaborations between indigenous-contemporary and modern-contemporary artists. One of the first scholars within this subfield of modern Asian art, her focus has been more on producing data, over-all analysis and collaborative work (praxis) than on the more theoretical work which can re-impose invisibility on artists and contexts outside Euro-centrist practices of art history.
As in her curatorial work where she has sought cross-cultural collaborations rather than single-authorship, Wright decided early on that post-colonial scholarship included actively publishing books and articles collaboratively and/or bi-lingually in Indonesia and not solely in conventional academic publication venues to which most Indonesian artists, art publics, academics, curators and collectors have no access.
In addition to teaching and research, Astri Wright is also active as a curator, working with contemporary artists who draw on hybrid and global identities in their work.
Selected professional achievements
Selected exhibitions curated
Feb.29-March 12, 2008: Chief Curator (with Co-Curators Pat Martin Bates and Alexis Celona) for: "Myself: Women In The World". An exhibition for International Women's Day celebration. The Community Arts Council of Greater Victoria.
Aug 10-Sept 12, 2006: Chief Curator (with M.A. candidate Machiko Oya as Co-Curator) of: "Roots, Remakes, Reflections: Global/Canadian Kaleidoscopes." Nine Contemporary Asian-Canadian Artists working in various media in Victoria in the MacPherson Library Gallery, University of Victoria.
May 11-June 19, 2006: Curator: "Seeker, Sentry, Sage: Shades of Islam in Contemporary Art." The Maltwood Museum and Gallery (in the University Centre). With Exhibition Catalogue, Symposium, Weekly Film Showings, and a full reading List accessible to the public in the library.
9 March-6 April, 2006: Chief Curator (with Bill White, Coast Salish/Nanaimo, and University of Victoria Aboriginal Liaison Officer, as Co-Curator) of: "Salmon Stories, Set 1: Dirge." Photographs by Vancouver based photographer Peter Paul Harnisch, with a quest sculpture by Ken Lundemo, Washington State. The MacPherson Library Gallery, University of Victoria.
July 6-26, 2005: Curator of "Eva Campbell: Black Being/Body and Beyond: A Thirteen Year Retrospective." The first retrospective of Eva Campbell's painting. The MacPherson Library Gallery, University of Victoria.
Mar 28-May 7, 2003: Co-Curator. "Encountering Islam: Collecting, Scholarship and Contemporary Visions." Historical and Contemporary Islamic/Muslim Arts in BC, 10th C -21st C, Including highlights from the University Collection & work by contemporary artists. Curated by Dr.Marcus Milwright and Dr.Astri Wright. April-May 2003. In the contemporary Section: works by seven Muslim-Canadian artists. The Maltwood Museum and Gallery (in the University Centre).
Aug 13-24, 2002: Curator. "Journeys and Transformations: Four Japanese Artists in Victoria. Recent work in paint, pencil, video, photo and ceramics by Yumie Kono, Harumi Ota, Tad Suzuki and Yoko Takashima." The MacPherson Library Gallery, University of Victoria.
2001-02 Curatorial Research / Project Co-Director for CURA (Community University Research Alliance, SSHRC funded) project on Developing the Sointula (Malcolm Island,BC) Museum database, holdings, study-tools, and the Centennial Historical Photo Exhibition.
1988-92 Co-Curator of exhibition "Modern Indonesian Art: Three generations of Tradition and Change, 1945-1990," one of the four major Festival of Indonesia Exhibitions, travelling the USA in 1990-91. Research, 1987-89, selecting the works in Indonesia Jan.-Feb. 1989.
Selected publications
Monographs:
Seeker, Sentry, Sage: Shades of Islam in Contemporary Art. Exhibition Catalogue for May 11-June 19 Exhibition, Maltwood Art Museum and Gallery, University of Victoria, 2006. 56 pages; 76 reproductions, 15 bl/wh, 61 colour. ISBN: 1-55058-340-9 [Wright: Author, Curator, Photographer, Design-Consultant, Fund-raiser, and Editor]
Soul, Spirit and Mountain: Preoccupations of Contemporary Indonesian Painters, Kuala Lumpur: Oxford University Press; (1994) xxiv, 320 pp., 64 col. illus., 154 b/w illus. 
En Gang på Java (Once in Java), Oslo: Cappelen, 1989, 232 pp. [A fiction-alized account of an art-researcher's encounter with Javanese views on reality, society, religion and art; using academic (Ph.D. level) knowledge and first hand experience to write for the general public]
Co-authorship, Consulting, Research and/or Co-Curatorship:
Sumichan, Sardjana, Ed. Affandi. Volume 1-3 (215; 362; 240 pp), bilingual publication. Jakarta / Singapore: Bina Lestari Foundation and the Singapore Art Museum, 2007. [Wright: Research, Editorial Consulting and Co-Authorship, of bi-lingual publication]
Co-Author, with Agus Dermawan T. Hendra Gunawan: A Great Modern Indonesian Painter, Jakarta/Singapore: The Ciputra Foundation and the Archipelago Press, Editions Didier Millet, 2001. 236 pp, 133 reproductions, plus contextual photos.
Co-Author/ Co-Curator with M. Dwi Marianto and Hilda Soemantri, Revolusi & Evolusi Sudjana Kerton / The Revolution & Evolution of Sudjana Kerton. Bandung: Sanggar Luhur, 1999. 159 pp, 60 reproductions, plus contextual photos. Part written by Wright: "Sudjana Kerton: The Aesthetics of Revolution and the Birth of a Modern Artist," pp. 18-61. 
Articles
Forthcoming, 2011: "The Arc of my Field is a Rainbow with an Expanding Twist and all kinds of Creatures Dancing: The Growing Inclusivity of Indonesian Art History," in Eric Tagliacozzo, Ed. The State of Indonesian Studies (working title), Ithaca, NY: Cornell Modern Indonesian Project.
Forthcoming, 2011: "Titik Pertama, Titik Utama ~ First Dot, Main Dot; Creating and Connecting in Modern-/Indigenous Javanese/Global Batik Art," Nora Taylor and Boreth Ly, Eds. Modern and Contemporary Southeast Asian Art: A Critical Anthology (Ithaca, NY: SEAP, 2011).
"Affandi in the Americas: Bridging the Gaps with Paint and Personality," in Sumichan, Ed,. Affandi, Vol.1, 2007, pp. 134-199.
"Worlds Apart and Gently, Intently, Meeting: reflections on Abdul Aziz's Art," in Mary Northmore-Aziz, Abdul Aziz: The Artist and His Art. Bali, Indonesia Mariz Foundation, 2005, pp.128-145.
"Body Abroad, Soul at Home, and the Heart in Both Worlds (Sudjana Kerton in America)". In Sanggar Luhur, Sudjana Kerton; Changing Nationalisms. Retrospective Exhitibition Catalog, Jakarta: National Gallery, November 22-Dec 12, 1996, pp. 162-185.
"Undermining the Order of the Javanese Universe: Kartika Affandi-Köberl's Self-Portraits," Art and Asia Pacific, Vol. 1, No. 2 (June 1994), pp. 62-72.
"'Ikat' as Metaphor for 'Iban': Women's Creative, Ritual and Social Powers in 'Borneo'" in Penny Van Esterik and Lynne Milgram, Eds., The Transformative Power of Cloth in Southeast Asia. The Canadian Council for Southeast Asia Studies/The Museum for Textiles, 1994, pp. 135-163.
"The Contemporary Indonesian Artist as Activist", in Laurel Braswell-Means, Ed., Cultural Environments in Contemporary South East Asia, Vancouver/University of British Columbia: The North West Regional Council and Canadian Council for South East Asian Studies, 1993.
"Javanese Mysticism and Art: a Case of iconography and Healing," Indonesia, # 52 (October 1991), pp. 85-104. (Refereed by art historians and Southeast Asianists).
Summarize/seap.indo/1106966122 [Article Identifier: seap.indo/1106966122]
Full Curriculum Vitae available upon request.