Provost's Advocacy and Activism Award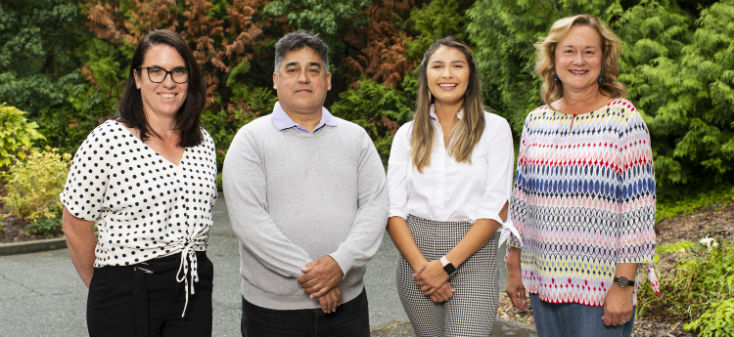 The University of Victoria acknowledges the presence of dedicated advocates and activists within our community. These individuals address systemic or institutionalized barriers as champions for others. Recognition from others, including the provision of resources, is crucial to fostering an environment that supports and natures these individuals or groups and their activism. These awards are open to current students, faculty or staff, and alumni who demonstrate dedication to the advancement of social equity through advocacy and activism.
2019 Award Recipients
This year's recipients are
Ms. Sage Lacerte, student in Gender and Indigenous Studies, for her local, regional and national work addressing violence against women and economic empowerment of women
Dr. Alexander Dunn, Music Performance Instructor, Department of Music, for his hard work and commitment to bring four Syrian refugees who form the Orontes Guitar Quartet to UVic
Ms. Sage Lacerte is a 3rd year undergraduate student in Gender and Indigenous Studies at the University of Victoria and is from the Nadleh Whut'en First Nation in central B.C. Sage is a strong Indigenous youth leader and activist and the national youth ambassador for the Moosehide Campaign, a grassroots Indigenous movement to end violence towards women and children. Sage is often invited to speak as a youth leader and change-maker at local and national events on the topic of gender justice and equality, Indigenous resurgence and reconciliation. She is a board member of the Victoria Native Friendship Centre, an urban organization serving Indigenous urban individuals and communities and has recently launched an impact investing forum for young Indigenous women in BC. She is a role model and leader for Indigenous and non-Indigenous women.
Dr. Alexander Dunn has garnered respect in the international music community as a virtuoso performer, acclaimed teacher, dedicated mentor and enthusiastic supporter of emerging young talent. Dr. Dunn has advocated by insuring that those that come from less fortunate backgrounds may excel. Dr. Dunn has partnered with Remember the River.org, a non-profit organization that brings guitars to refugee camps in the Middle East. As a Canadian arm of Remember the River, Dr. Dunn sends guitarists into First Nations and impoverished communities. In 2018, Dr. Dunn worked with the NYC based Institute for International Education (IIE). The Orontes Guitar Quartet received an IIE fellowship enabling them to escape war-ravaged Syria and to come to UVic to work under Dr. Dunn's mentorship. As a result, the quartet will perform across Canada in numerous events supporting refugees and people from war torn countries, bringing a unique narrative of music surviving in times of violence and war.
2018 Award Recipients
Ms. Karen Lithgow is an outstanding Biochemistry and Microbiology graduate student who has received multiple competitive national scholarships, published in top tier journals, and gained an international reputation for her infectious disease research achievements. Ms. Hannah Charnock is an extremely successful Chemistry undergraduate student who has maintained outstanding grades, excelled in her cutting-edge research projects, and been awarded a prestigious industry-academia award. Together they have pioneered the UVic Women in Science phenomenon that tackles the challenging obstacles encountered by women in science, and seeks to increase representation of women in scientific disciplines at all career stages. This endeavor is the epitome of transformative and innovative social change, and their success is evident through the groundswell of support received in their inaugural year. Their advocacy for gender equality will ensure a stronger and more inclusive environment at UVic that can serve as a role model for Universities across Canada and beyond.
Dr. Bruce Wallace is an outstanding community based researcher and advocate for the rights of people who use drugs to be involved in the development of programs, services and policies that impact their lives. He has long advocated for the establishment of supervised consumption services and raised awareness of the need for action to reduce the rising tide of drug poisoning (overdose) deaths in our community. He exemplifies the spirit of this award in his advocacy with community groups and agencies that are impacted by the harms of drug use. Bruce's voice is one of compassion, reason and responsibility in an area that is often fraught with myths and stereotypes about people who use drugs and the need for harm reduction services.
2017 Award Recipients
Macayla is a fourth year undergraduate student in the departments of Psychology and Indigenous Studies. With a friend, she established Saanich Parks and Recreation's first safe weekly drop-in pace for LGBTQ youth in 2015 and has maintained it since. Through Macayla's facilitation, this space has engaged in regular celebrations and parties, resource-sharing, discussion, and attendance to major events such as the Victoria Pride Parade. Macayla has also worked to support LGBTQ students at UVic, through peer support and safer space coordination with UVic Pride and as a facilitators for the UVic Asexual/Aromantic Caucus. Much of Macayla's work has also been focused around supporting students and youth with disabilities – as an invigilator for the Disability Resource Centre at Camosun College, and in volunteering with Best Buddies UVic, Lifetime Networks Victoria and Operation Trackshoes.
Jeannine is a tireless advocate for Indigenous students and Métis people. As a professor in the School of Social Work Jeannine promotes equity and inclusion in all of her actions on campus and beyond. Dr. Carriere has just completed the first book on Métis Child Welfare in Canada (with Cathy Richardson) which will be published next month. Her decades of Métis scholarship, research, teaching and mentorship have resulted in the federal government recognizing Métis status for the first time. In all of her work, Dr. Carriere pushes for positive change in support of Indigenous peoples, Indigenous child adoption and Indigenous leadership within the University.
For more information on the Advocacy and Activism Award, please contact:
Kamilla Milligan
Manager, Equity and Diversity
Equity and Human Rights