Catherine Gaul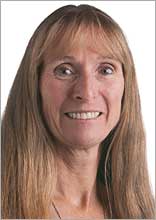 Position
Professor
Credentials
BEd (New Brunswick), MSc (SFU), PhD (Victoria)
Contact
Office: MCK 128
Description
Dr. Kathy Gaul is a Professor and Course Director, Foundations of Medicine, Island Medical Program. Kathy was the recipient of the 2008 UVic Legacy Award for Teaching.
Research interests
Exercise physiology
Pediatric sport performance
Women and exercise
Health benefits of exercise in cancer patients
Occupational physiology
Fitness and testing
Selected publications
Gibson, J.C., Stuart-Hill, L. A., Pethick, W., & Gaul, C. A. (2012). Hydration status, and fluid and sodium balance in elite Canadian junior women's soccer players in a cool environment. Applied Physiology, Nutrition and Metabolism, 37(5), 931-937.
Gibson, J., Martin S, Stuart-Hill, L., & Gaul, K. (2011). Nutrition status of junior elite Canadian female soccer athletes. International Journal of Sport Nutrition and Exercise Metabolism, 21(6), 507 -514.
Mulligan, G., Taylor, N., Glen, M., Tomlin, D., & Gaul C. (2011). Cross-disciplinary thermoregulation and sweat analysis laboratory experiences for undergraduate Chemistry and Exercise Science students. Advances in Physiology Education, 35(2), 206-212.