How UVic's aeronautical engineering team won a nation-wide competition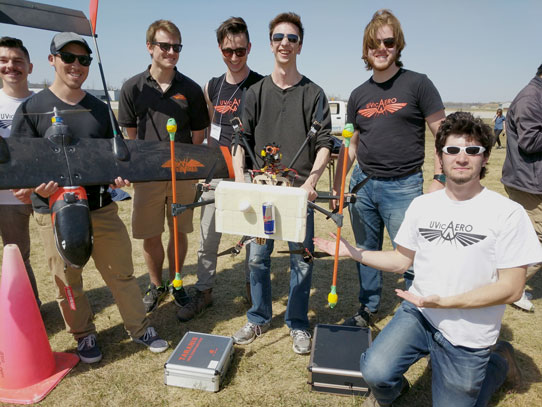 When we sat down at the awards banquet on the last night of the competition after a tireless weekend, we thought we placed third at best. So as the announcer called that another team took bronze, we assumed our shot at a podium finish was over. It wasn't until a few moments later when we found out that we took home the gold and the $2,500 prize.
We're UVic AERO, a group of engineering students that creates Unmanned Aerial Systems (UAS) -- an Unmanned Aerial Vehicle (UAV -- similar to a drone), a ground control station and a system that communicates between the two. We spend our time designing the system, machining and assembling prototypes, and taking to the sky with our newfound creations.
AERO competes annually in the Unmanned Systems Canada student competition against other Canadian universities. Each year, the competition releases a mock scenario, and our team has to design a system to successfully complete these tasks.
This year, the scenario involved a dangerous biker gang, suspected of human trafficking and cooped up in a safehouse. Our team had been summoned by the RCMP to provide detailed overhead surveillance of the area that provides law enforcement officials with the resources they need to conduct a safe operation. Teams were required to both deliver and retrieve a sophisticated listening device (or uncooked chicken egg) near the building and to search a nearby property for evidence that might help with the investigation.
What happens next
We're excited for the opportunity to defend our title in 2019 in Alma.  To that end we are have started the construction of new more powerful aircraft, both fixed wing aircraft and multirotor aircraft.  We are also continuing to develop our camera systems, radio links, and automated image analysis.
How to get the job done
AERO built a six-bladed multirotor, "The Wasp," from the ground up for the competition using 3D printing, laser-cutting and Computer Numerical Controlled (CNC) machining. The multirotor was outfitted with an off-the-shelf autopilot system and circuit boards designed by our own electrical members.
Imagery and high definition video are transferred in real-time from the aircraft to our flight team using an antenna that tracks the aircraft. These images are tagged with a geographic location in order to generate a map so that the flight team can pin point objects of interest.
The multi-rotor was designed to carry interchangeable payloads to complete different tasks: 
A three axis camera gimbal capable of getting high quality images and video of the biker gang hideout.
A device dropping payload, to place the egg at the drop location, without damaging it.
A scissor lift mechanism with a sticky pad on the bottom was used for the egg retrieval task. When landed, the scissor lift would extend the sticky pad down to the ground, attach to the egg, and then retract for the return flight.  
We also outfitted a fixed-wing aircraft, named the Skyhunter, with a high resolution camera and a zoom lens which could perform higher altitude site surveillance.
All of this happens with the hard work and dedication of our team members, spending evenings and weekends in the machine shop making parts, soldering electrical boards, programming microcontrollers, and drinking a ton of Red Bull.
All good plans need backups
Sixteen of our club members travelled to Southport, Manitoba on May 4-6 to compete for the top prize. Our plan was ready to be executed -- but as it goes, we needed a Plan B after our fixed-wing aircraft wasn't able to fly. Due to problems with connecting to GPS, we quickly refitted our multirotor to be capable of performing all the necessary tasks.
With a heavier payload, the battery life for our multirotor only gave us 15-20 minutes of flight time. That meant every second in the air mattered. Any big complications that cost us time while our UAV was in the air meant that we may not be able to complete the task. Also, as a safety measure, all UAVs are required to have fail-safes -- meaning the vehicle will intentionally crash itself if certain triggers were activated.
Fortunately, none of that took place and we were able to drop off our egg with no big complications. We were also one of only two teams that attempted the egg retrieval portion of the competition, coming within inches of picking it up!
Joining the team
The AERO club consists about 45 members from across various fields of study. We have subgroups that work on specific aspects of our club like electrical, aeronautical, mechanical, embedded systems, business and outreach.
Find out more about us on our Facebook page, or our website www.uvicaero.com .
We need your help!
We need to find a new place to test aircraft! Our previous test airfield has changed owners. If you know someone that may be interested in supporting local education and technology please contact James at president@uvicaero.com.