Fourth-Year Design Project teams featured in Victoria Times Colonist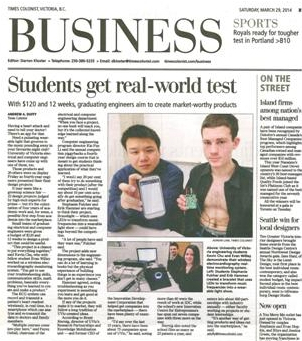 April 7, 2014 - ECE's Spring 2014 Fourth-Year Design Project demonstrations were featured on the front page of the Business section of the Times Colonist newspaper (March 29th). A wide variety of real-world projects were on display this term with twenty two teams presenting, and a large turnout from around campus, as well as from local high tech companies and the Victoria community.
The department would like to thank all our design project teams for their outstanding efforts this term.