Dr. Andreas Antoniou receives the IEEE Circuit and Systems Society 2005 Technical Achievement Award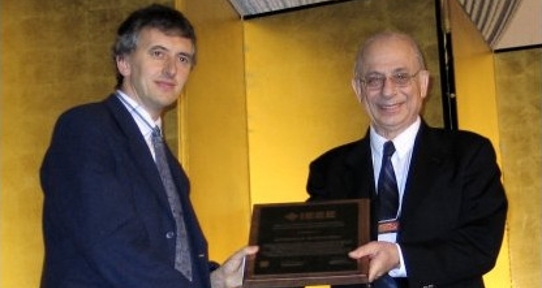 June 10, 2005 - Dr Andreas Antoniou has received the IEEE Circuits and Systems Society (CAS) 2005 Technical Achievement Award during the 2005 IEEE ISCAS Symposium.
This major award from the CAS Society is given to honor a person with outstanding technical contributions over a period of years within the scope of the CAS Society as documented by publications, books, patents, etc.
Dr. Antoniou has received this award for his contributions in the area of circuit design and digital signal processing.
Dr. Antoniou invented high-quality gyrator/GIC circuits, proposed design procedures for RC-active filters, developed design methodologies and algorithms for one- and two-dimensional digital filters, adaptive filters, and equalizers, and propagated the state-of-the art of digital filters and digital signal processing through his books and writings and through his teaching and lecture tours.
Dr. Antoniou is the author of Digital Filters: Analysis, Design, and Applications, McGraw-Hill, 1st ed. 1979, 2nd ed. 1993 and co-authored with Dr. W.-S. Lu, Two-Dimensional Digital Filters, Marcel Dekker, 1992. An updated and expanded version of his book on digital filters will be published by McGraw-Hill under the title Digital Signal Processing: Signals, Systems, and Filters in July 2005.
Dr. Antoniou was the founding chair of the department of Electrical and Computer Engineering at the University of Victoria and he is currently enjoying active retirement as a Professor Emeritus.
In the attached picture Dr Antoniou is receiving the award from the CAS Society President during the 2005 IEEE ISCAS Symposium in Kobe, Japan.