Campus Cycling Plan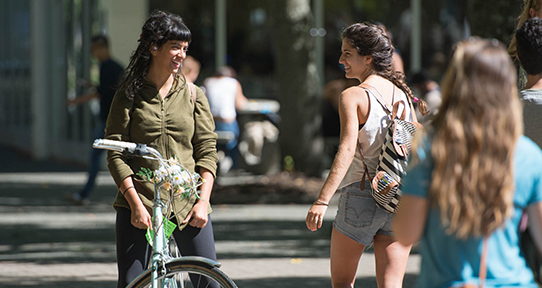 Why a Campus Cycling Plan?
The Campus Cycling Plan, a first for UVic, will provide a comprehensive and coordinated approach to support cycling as a safe, enjoyable and convenient mode of transportation on campus for students, faculty, staff and visitors.
The plan will serve as a framework to guide the development of future cycling infrastructure, including bicycle parking, cycling paths and end-of-trip facilities on campus, as well as providing policy direction on strategies to improve levels of comfort and safety on shared paths and roads.

Take our Survey before March 29
Plan Status Update
Phase I "Consult and Idea Generation" of the cycling plan was completed at the end of 2017. Phase I findings of the first survey and from the overall engagement activities are outlined in the Discussion Paper located in the Background and Documentation tab (see below). Phase II "Plan Development is now underway this Winter and Spring 2018 term.
Learn more about the Campus Cycling Plan
Putting the Plan together will come in three distinct phases, with plenty of opportunity for UVic's community to get involved.

Phase II "Plan Development" of the Campus Cycling Plan offers an opportunity for the UVic community to comment on cycling options that derived from the outcome of the Fall 2017 survey and outreach. However, please note the following:
The intent of the survey is to receive broad community feedback on each of the campus cycling plan options presented
Community feedback will be used to inform the planning process
Preferred options will require detailed costing, tree removal and traffic analysis prior to being considered for full or phased implementation
Topics for discussion and design include:
Enhancing cycling connections leading to/from the campus core
Ring Road
End-of-Trip facilities
Cyclists and pedestrian safety on shared pathways
Everyone is welcome to participate, whether you cycle, walk, skateboard, drive, carpool or use transit. Your feedback and ideas are important to us!                        
We invite the campus community, stakeholders, neighbours and community partners to share their current travel choices and what would encourage you to use active mobility options more often.
Multiple events and activities are planned for Winter-Spring 2018 to help the Campus Cycling Plan team better understand the issues and opportunities surrounding cycling on campus. Take our second survey from Feb 26 to Mar 29 and visit us at our Engagement Labs Feb 27 to Mar 1 - choose what works best for you!
The survey is for everyone! However you get around – on foot, wheelchair or transit… by car, bicycle or skateboard – we want to hear from you!
Take our Survey before March 29
The Winter-Spring 2018 Campus Cycling Plan survey (the second survey!) will be open from Feb 26 to Mar 23. This survey will further help us understand your priorities and listen to the issues and opportunities for cycling on campus. 
The first online survey (Oct 12 – Nov 24, 2017) was very successful with 1306 participants! Findings from this survey (Fall 2017) are available to view in the Discussion Paper 2018-01-26 located in the tab below "Background and Documentation."
Diversity, Equity and Privacy: We are collecting demographic data to enable us to identify and develop services to meet the needs of diverse users of our facilities. UVic is committed to inclusion and respect to all members of our community. A review has also been conducted by our Privacy Officer to ensure this survey meets UVic's privacy requirements.
Come on out to our Engagement Labs and see the proposed draft network designs, end-of-trip facilities suggestions and policy development ideas. These interactive labs will give you an opportunity to provide your feedback and ask questions, as well as complete the online survey. There will be displays and maps available for viewing and commenting. Everyone welcome!
All labs run from 11 am to 2 pm:
Tues, Feb 27 – McPherson Library lobby
Wed, Feb 28 – Student Union Building fairway
Thu, Mar 1 – CARSA lobby
October 12, 2017: Campus Cycling Plan Launch Party "Are You Ready to Roll?" 
UVic hosted an open event to provide attendees with an opportunity to complete the survey, offer ideas in person and hear the keynote speaker Gordon Price discuss the future of transportation.
October 17, 18, and 25, 2017:  Campus Pop-Up Booths
These booths were used to collect feedback at various locations around campus (SUB, Engineering Lab Wing, Petch Fountain, University Centre Lobby, CARSA lobby)
October 12 – November 24, 2017: Campus Cycling Plan online survey (MetroQuest)
UVic's Community Engagement Framework report provides for a consistent methodology to be used to determine the overall approach to an engagement program for campus land use planning and development plans and projects. An engagement approach, primarily in the involve category has been determined for this plan based on its scale, potential and future improvements to the transportation network, nature relative to the criteria listed and its review of the likely improvements.
Information will be provided to assist in keeping interested parties on campus and in the neighbourhood, up to date as plan development progresses.
For more information regarding the engagement approach or planning process, please contact 250-472-5433 or planning@uvic.ca.
In 2016, UVic renewed its Campus Plan. The plan sets out a vision for the physical development of the campus over the next 10 years with longer term considerations given for the next 25 years. The plan's direction is organized around a vision, open space framework, built form framework and mobility framework.
In developing the plan, UVic undertook broad public consultation with the campus community and neighbouring residents. Through the planning process, members of the campus community raised concerns with respect to bicycle-vehicle and bicycle-pedestrian conflicts. Cyclist-vehicle conflicts were primarily identified to be of concern on the main approach roads to campus and Ring Road, while concerns regarding cyclist-pedestrian conflicts were primarily identified in the academic core of campus, on pedestrian-oriented lands located within Ring Road.
These conflicts also persist, particularly at peak travel times, on several multi-modal pathways that connect the university to adjoining neighborhoods. Upon completion of the Campus Plan, the Campus Planning Committee established an implementation strategy that identified the development of a Campus Cycling Plan as a high priority.
The Campus Cycling Plan must consider the physical resources of the campus and is a response to the academic and research programs, student and faculty needs and the relationship to the environment and the community. The scope of the Cycling Plan will extend across a number of related topics. The plan will need to consider the development of cycling infrastructure in relation to future infrastructure planning, other modes of transportation and parking, open space, landscaping and urban design principles.
The development of a Campus Cycling Plan is a key action item outlined in both
UVic's Sustainability Action Plan (2014-2019)
 and
Campus Plan (2016)
.
Importantly, the development of a Campus Cycling Plan supports the Sustainability Action Plan's goal of increasing the use of transit, cycling, walking and carpooling to 70% of the transportation modal split by 2019.
UVic's Campus Plan also supports the Sustainability Action Plan's ambitious mode share target, as well as the goals and actions to achieve this outcome. The current level of transit, cycling, walking and carpooling transportation use is 60%.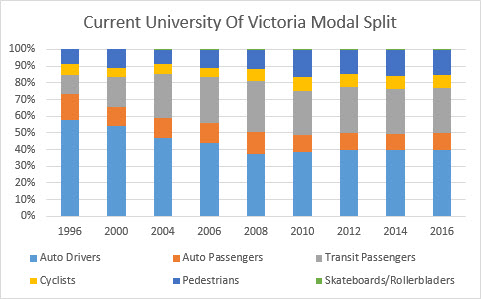 Active transportation is any form of human‐powered transportation. Walking and cycling are the most popular and well known forms of active transportation; however, skateboarding, wheeling, etc. are other forms as well. Active Transportation is any active trip you make to get yourself, or others, from one place to another ‐ whether it's to work, school, the store or to visit with friends.
Active transportation can help reduce automobile dependence and greenhouse gas (GHG) emissions, increase physical activity, improve public health outcomes, increase social connections, and reduce infrastructure demands in the long term.
UVic has made significant progress in expanding and improving conditions for cycling in recent years through a variety of programs and facilities:
New bicycle parking facilities including Class I and Class II facilities
End-of-trip facilities, including showers and lockers which vary on a building-by-building basis
The Campus Bike Centre, which opened in 2014, offers 234 Class I bicycle parking spaces as well as bicycle lockers, clothing lockers and a bike kitchen
The SPOKES program, which was established in 2003, is a unique bicycle upcycling and loan program where volunteers give new life to, and use of, old bicycles. Refurbished bicycles are loaned to students, faculty and staff for a small fee
Annual sponsorship and participation in Bike to Work Week
Short-term bike lock loan program
Bicycle registration program with Campus Security Services (free of charge)
Cycling amenity maps
Focused social-media and cycling campaigns promoting safe cycling behavior on campus
Bicycle related resources on a dedicated cycling page
For enquiries about the Campus Cycling Plan, please contact Mike Wilson, Director of Campus Planning and Sustainability at planning@uvic.ca or 250-472-5433.