The Public Health Benefits of Alcohol Regulation - CARBC leads new international report
With alcohol consumption in BC rising as government liberalizes alcohol policies, and decisions around legal cannabis distribution models falling to provincial governments, a recent collaboration between researchers at the University of Victoria and the Swedish government could contain valuable lessons around the importance of applying evidence-based policy to the regulation of alcohol and other legal drugs.
Tim Stockwell, director of UVic's Centre for Addictions Research of BC, led an international group of researchers contracted by Systembolaget—the Swedish government alcohol monopoly responsible for take-away alcohol sales—to measure the health and safety benefits of retaining the monopoly. Leading alcohol researchers from Australia, the UK, Finland, Sweden and the US were also members of the team. The report by Stockwell and his team, including Social Dimensions of Health PhD student Adam Sherk, was released today in Sweden.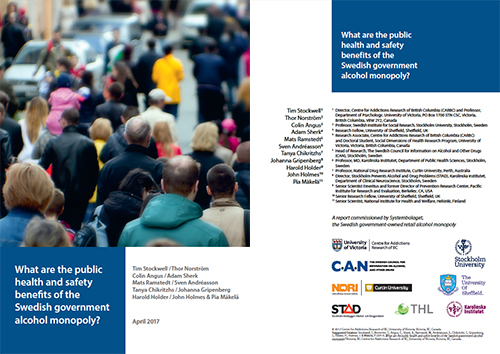 View the report summary (English / Swedish).
View the infographic (or click the image below).
Read the UVic media tip.
Read Tim Stockwell's accompanying op-ed in The Hill Times (subscription; see preview): How should we regulate legally available substances that pose health risks? A lesson from Sweden