Flat and folded cards
Holiday greeting cards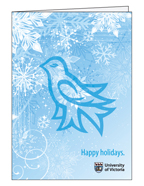 Save your aching wrist - we can print your departmental greeting inside the card for you. All it will need is your autograph, or we can print the names of your staff/faculty as well. If you want to make your card unique, design your own and have us print it for you. We can also print your return address on your envelopes.
Invitations
Invitations can printed as a single sided card, perhaps with a border, or as a folded card with your departmental or UVic logo on the front and event information on the inside.
We have a variety of paper stocks to choose from for your invitations. Envelopes are available in a variety of sizes to fit, and we can also print your return address on them..
Keep in mind the atmosphere of your event when choosing paper and font: will it be formal, casual or somewhere in between?
Thank you cards
We can print thank you cards on your choice of cover stock, fold them and supply envelopes for you.
Please be sure your artwork has cropmarks so we can see where to cut and fold your cards.
Brochures
Brochures can be used as an information piece about your department or to promote a program or event and can be printed on any type of paper from 20# bond to heavily textured or gloss text.
Standard flat sizes include 8½" x 11", 8½" x 14", 9" x 16" and the printed sheets are usually folded into three or four panels.