Working together to reduce UVic's greenhouse gas emissions through sustainable transportation
- Shelly Selivanov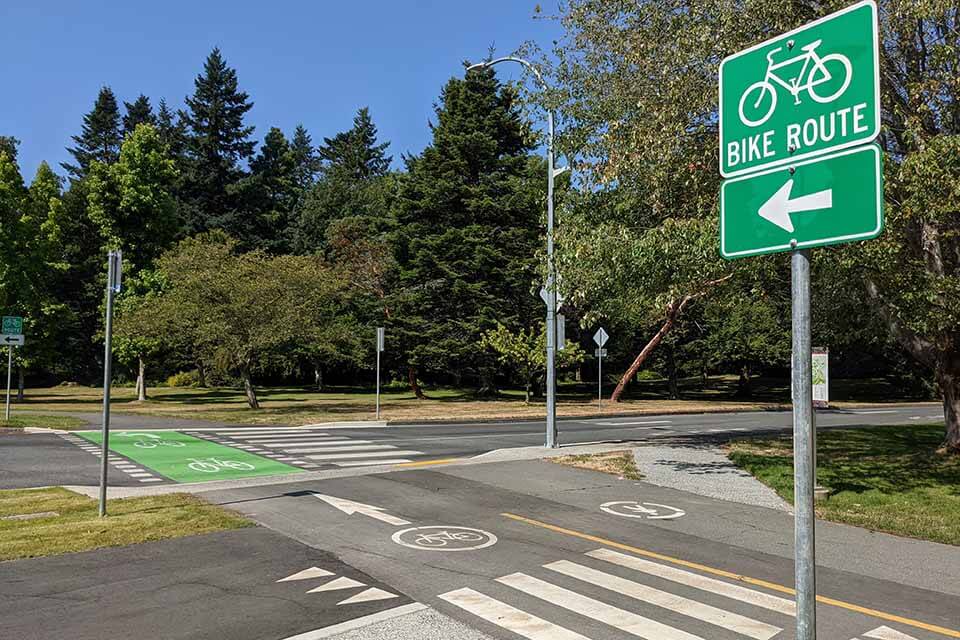 Whether it's cycling, walking, carpooling or using transit, low-carbon and zero-emission transportation options can benefit our health and the health of our planet. UVic's Sustainability Action Plan sets out a goal of increasing sustainable transportation methods to 70 per cent of the total trips to campus. To track the university's progress towards this goal, comprehensive traffic surveys are conducted every other year. The last survey found that sustainable transportation methods made up 63 per cent of all trips to campus.
To increase the use of sustainable transportation to campus, two new separated cyclist and pedestrian pathways have been developed at the University Drive and Ring Road intersection, allowing for a smoother and safer transition to the heart of campus. There is also ongoing construction on new separated pedestrian and cyclist pathways between Midgard Avenue at Gordon Head Road and Ring Road. This new pathway is the western segment of the Campus Greenway.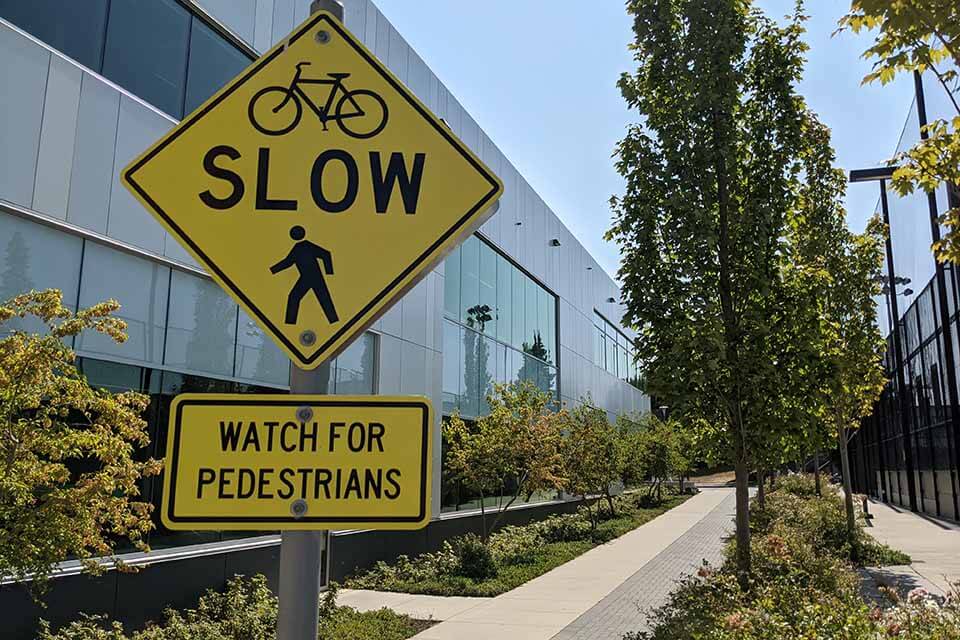 Cycling
The new cycling pathways at University Drive, Ring Road South and on the Greenway are part of the implementation of the 2019 Campus Cycling Plan. The Campus Cycling Plan promotes active transportation and provides a vision for creating an All Ages and Abilities (AAA) cycling network on campus. Developed with extensive engagement and support from students, faculty, staff and visitors, the plan is a guide for future campus cycling infrastructure, including bicycle parking, cycling paths, showers and change rooms. It also provides policy direction on strategies to improve levels of comfort and safety on shared paths and roads.
When biking on campus, you may see "SLOW" pavement markings as you transition from the separated cyclist pathways into the heart of campus. In shared space areas on campus, cyclists are asked to please slow to walking speed and yield to pedestrians.
Once you bring your bike to campus, make sure to keep it safe by locking it up by using a U-lock. If you forget your lock, you can visit the Loans Desk at either the McPherson Library or Fraser Law Library and they will loan you a free lock for three days. New locks are also available for sale at SubText in the SUB building and at the UVic Bookstore. You can also keep your bike safe by registering it with Project529 using the free Garage 529 app. Once registered, drop by Campus Security Services during regular office hours to receive a Project 529 decal for your bike.
Bikes can be parked in one of the many covered and uncovered short-term bike parking spaces around academic and administrative buildings or in the Campus Bike Centre located beneath the Jamie Cassels Centre. There are also nearly 150 bike lockers at UVic, in the Campus Bike Centre and across campus that provide space to store your bike and gear. To rent a bike locker, visit Campus Security or Residence Services (for students in student housing).
The Campus Bike Centre is also home to the SPOKES Bike Loan Program, which gives new life and use to old bikes. Since 2003, the program has been diverting waste from the landfill, improving community health and taking action on climate change. SPOKES will reopen this fall so stay tuned for information on the SPOKES website for details on bike loans, hours of operation, and how to get involved as a volunteer.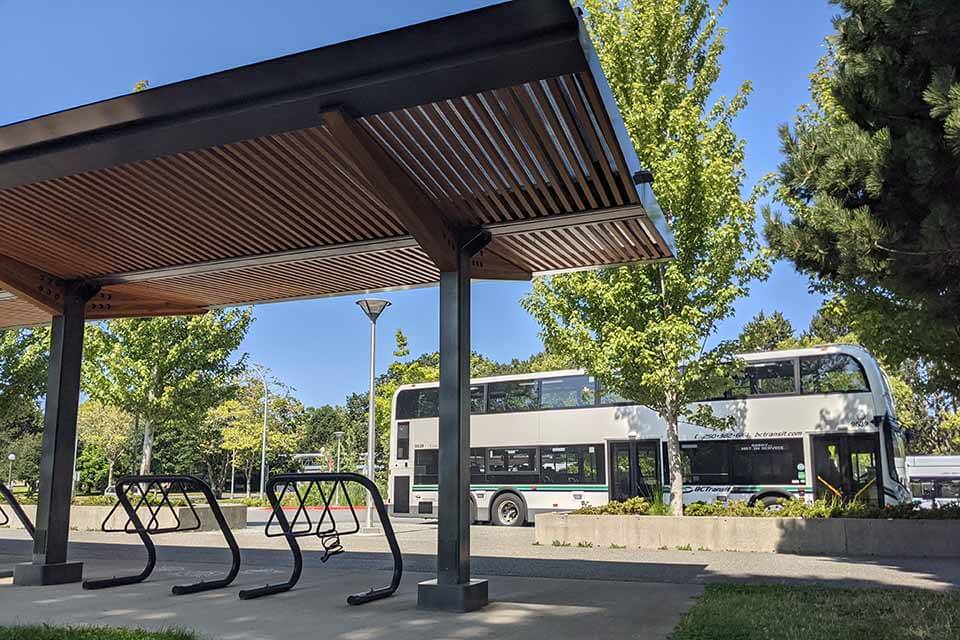 Transit
Aside from cycling and walking, more than 26 per cent of campus commuters take transit to UVic. For students travelling to campus, the U-Pass provides four months of unlimited access to BC Transit on Greater Victoria buses. All students enrolled in at least one on-campus course credit are automatically charged the U-Pass fee, and can activate the U-Pass using their UVic ONECard. For employees, the E-Pass program offers monthly Victoria Regional Transit passes at more than 50 per cent off the regular price. E-Passes are available for purchase at Campus Security during business hours. To give you flexibility on your commute, almost all BC Transit buses are also equipped with bike racks. Most bikes can be accommodated; however, e-bikes are only allowed on the rack if they weigh less than 25kg (55lbs).
Car sharing
Sometimes it's not possible to walk, cycle or take public transit to campus but there are great options to make driving to UVic more sustainable. Evo car share has now arrived at UVic and provides a 100 per cent hybrid fleet equipped with ski and bike racks, with room for your friends. Just pick up a car at UVic, go anywhere and for as long as you want. When you're finished park the car anywhere within Evo's home zone. Students are eligible for a free membership and 45 free driving minutes using the code "SCHOOLVIC" during registration. There are also 10 electric vehicle charging stations on campus for the campus community and guests to top up their electric car batteries 24/7 in metered parking spaces.
If you are planning to drive and park on campus, rather than buying an annual parking permit and driving to campus each day, try the Flex 25 bundle and commit to using alternative transportation options for some of your commutes. You can also purchase a Value parking permit, valid at Ian Stewart Complex, Velox and Lam Circle at a 35 per cent discount from a General permit. Just remember that when driving to campus, you can reduce your greenhouse gas emissions and environmental impact by carpooling with friends rather than driving alone.
Learn more about sustainable transportation choices.
Photos
In this story
Keywords: sustainability, transportation, health, administrative, student life
Publication: The Ring