Victoria's housing crisis: students shine light on empathy
- Anne MacLaurin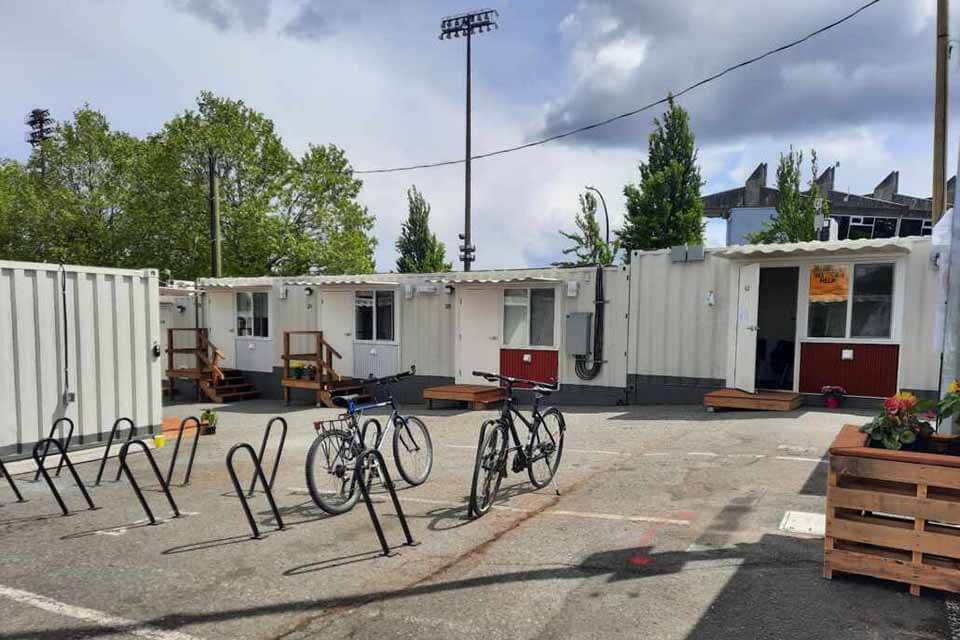 Why are people houseless? What are the myths surrounding the unhoused population in Victoria? What systems and cycles are in place that keep people without secure shelter?
These are just some of the questions UVic geography students tackled during a recent community-based research project. The students learned there are many reasons someone ends up unhoused—and most often it's not by choice.
"Our community-based projects are rooted in empathy," says geography assistant professor Crystal Tremblay. "Everyone has a story and the students felt compelled to connect the stories to people to show the face of homelessness," adds Tremblay.
Through a partnership with the Greater Victoria Coalition to End Homelessness, Island Health and the UNESCO K4C Salish Sea Hub, the geography students created story map—an interactive website for the community to learn more about the people living in the transitional tiny home community being built at 940 Caledonia Ave.
The fourth-year geography course, taught by Tremblay and mapping instructor Ken Josphenson, gave students an opportunity to apply their skills to a real-world situation. The course is also co-led by Tanya Clarmont and an Elders Advisory, supported by the Victoria Native Friendship Center (VNFC), guiding students and projects with decolonizing and anti-oppressive ways of being through respectful and reciprocal research.
Story map uses videos, interviews and infographics as a way for people to connect and learn more about homelessness and the tiny home solution. Making Room: A Transitional Tiny Home Community is for 30 people currently living outside, unhoused. Built from re-purposed shipping containers the tiny home community will operate for 18 months, staring April 2021.
"The students were very excited to work with community partners on the story map project," says Tremblay. "The course is focused on teaching students how to think creatively about addressing important needs in our community through community-led partnerships, amplifying voices and raising awareness in a community context."
To build out the content of the story map, the students curated existing resources and amplified projects that are contributing to community and the housing efforts in Victoria.
I am very grateful to be a part of the community-based participatory research project with the Greater Victoria Coalition to End Homelessness. I got to learn from the community partners and different people involved in fixing, solving and mitigating the housing crisis; I feel a stronger connection to community and that the work I'm contributing to is making a positive difference to support accessible housing for all.

—Shayla Brewer, UVic geography student
Community-based research courses such as Tremblay's geography offering typically include a breadth of community partners such as the Saanich Peninsula Environmental Coalition, the Victoria Native Friendship Centre, the Inclusion Project, Inter-Cultural Association, and the Rainbow Health Cooperative.
"Many of our partners enjoy working with the students," says Tremblay. "I am often asked if they can continue to be a partner the next time the course is offered."
Making a difference in people's lives is what drives many UVic geography students to collaborate with partners and produce a useful product, such as story map. Through community-based research projects and other initiatives, UVic is tackling the 17 UN Sustainable Development Goals (SDGs) outlined in the UN's 2015 Global Sustainable Development report —including improving health and education and reducing inequality in all countries.
Photos
In this story
Keywords: homelessness, community, research, sustainability, student life
People: Crystal Tremblay, Ken Josphenson
Publication: The Ring