Studying physics of ocean waves to improve coastal safety
- Kim Dias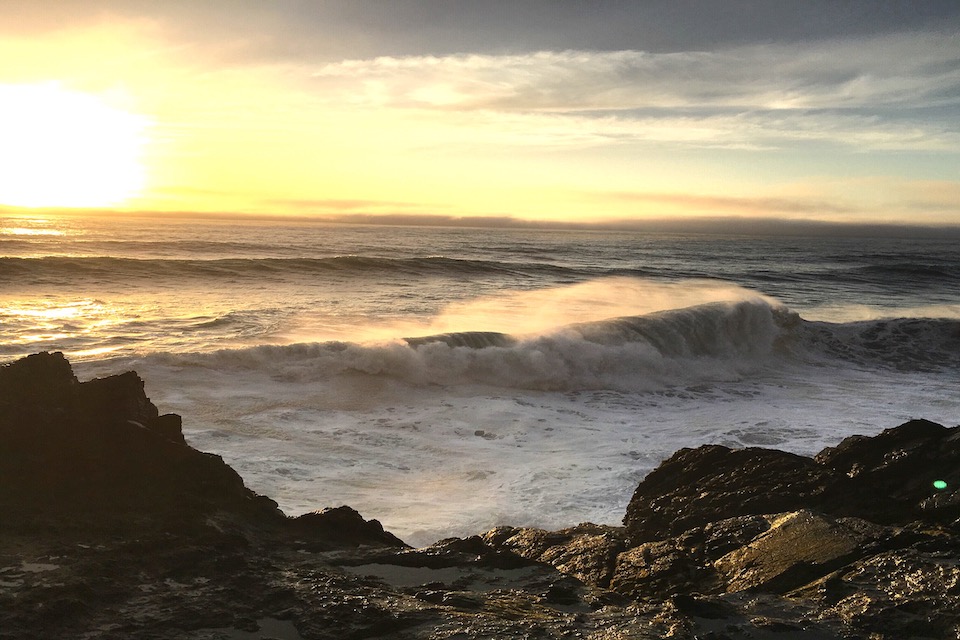 Living on an island, it's easy to be familiar and comfortable with the ocean. But this can lead to a false sense of security.
The ocean naturally fluctuates, making its behaviour hard to predict, and can appear deceptively calm right before a wave twice as large as any other appears. Even a wave that isn't particularly large can be dangerous if it catches people by surprise. In September this year, two Ucluelet locals were hiking on the Wild Pacific Trail on the west coast of Vancouver Island. They stepped onto a lookout above the sea and were swept off the cliff by an unexpectedly large wave. Both hikers survived, but suffered injuries.
University of Victoria researcher Johannes Gemmrich studies extreme wave events on this part of BC's coast, in the Pacific Rim National Park. He aims to increase the safety of beach visitors by improving the ability to forecast extreme wave events and by raising visitors' awareness of potential dangers, reducing the amount of search and rescue incidents.
People should be aware that there are unexpected runups on the beach and they occur regularly, several times a day. You can't know when it will happen, but you should be aware that it can happen. There's an old saying, never turn your back to the sea, and it is true.
–Johannes Gemmrich, UVic researcher in physics and astronomy
Gemmrich's research, funded by the Search and Rescue New Initiatives Fund (SAR-NIF), combines physics with public safety and climate concerns. He and his team use a combination of observational, theoretical and modelling approaches to better understand the conditions that lead to dangerous wave events. These events can include strong rip currents, unexpected runup on beaches and dangerously large waves.
"There are basically two ways that large wave runup generates on the beach," Gemmrich says. "One is that there is a large wave in the open ocean and it washes up on the beach. The other is that there is one wave that catches up with another once it's in shallow water, close to the beach. Then you have two waves coming in together at the same point."
Before Gemmrich's research began, most extreme waves went undetected or unreported. Either no one was there to witness them or nothing bad happened, meaning there was nothing to report. All evidence of extreme wave events was anecdotal, with no indication of frequency. Now, however, Gemmrich has recorded observations of extreme wave events and has an idea of how frequently they occur. His team is also working on methods to predict extreme wave events.
Coastal community safety
Gemmrich's research will be particularly valuable to people living in coastal communities. Right now, extreme wave events appear to happen at random, but Gemmrich's research will make them easier to predict. An end goal of his research is for site-specific forecasting tools to be put in place. Results and warnings will be made available to the public through the CoastSmart initiative, a pilot project led by Parks Canada, the District of Tofino and the District of Ucluelet to raise awareness of beachside hazards.
Gemmrich has two master's students from UVic working on this project, Carmen Holmes-Smith and Leah Cicon (School of Earth and Ocean Sciences). "The Tofino and Ucluelet area gets so many visitors every year who are unaware of the dangers of the ocean," Cicon adds. "Extreme wave events and extreme runup are not well understood phenomenon so we're essentially trying to uncover correlations to improve our understanding. So it's a little bit of a treasure hunt to find those dependencies."
Gemmrich and his team are at the halfway point of their three-year project, and Parks Canada—a close collaborator in the project—is already using their real-time data daily.
Photos
In this story
Keywords: Earth and ocean sciences, physics and astronomy, oceans, sustainability, environment, research, community, administrative, student life
People: Johannes Gemmrich