Three UVic scientists named Canada Research Chairs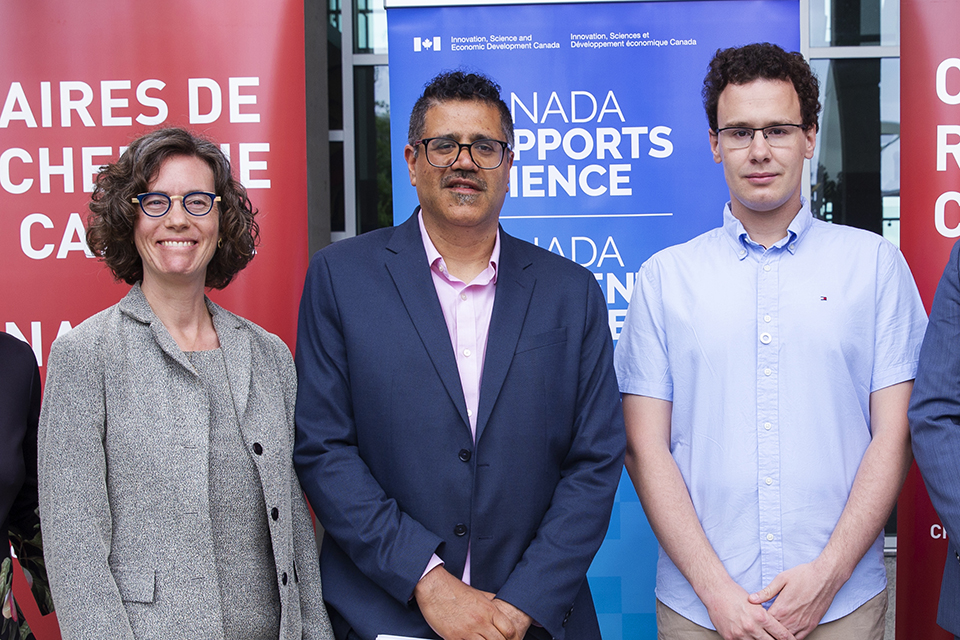 Better understanding of ocean carbon cycles to predict climate change, unlocking access to genomic data and developing models to analyze complex neuroimaging datasets have earned three University of Victoria scientists awards as Canada Research Chairs.
The three prominent researchers are among 346 new and renewed Canada Research Chairs announced on Friday by federal Science and Sport Minister Kirsty Duncan at the University of Victoria. Each of the UVic chairs are for five-year terms and carry an annual stipend of $100,000.
"Our government recognizes that when our institutions better reflect the diversity of Canada, science and research are stronger and their impacts on the lives of Canadians are more profound," says Duncan. "I am encouraged to see improved equity, diversity and inclusion among our Canada Research Chairs and look forward to seeing how their unique perspectives will help shape a better future for us all. I would like to thank our universities for embracing research excellence and inclusion."  
"The Canada Research Chairs Program provides support for UVic's leading researchers to investigate and better understand the complexities of the world around us," says David Castle, UVic's vice-president research. "The government's investment in this important program helps transform discoveries from our labs and field work into scientific innovation for the benefit of Canadians and people everywhere."
Ibrahim Numanagić, an assistant professor of computer science, is awarded a new chair, the Canada Research Chair in Data Science. Numanagić's research specialty is using algorithms and rapid development tools for data sequencing in biological applications.
"My research is focused on using computer science to efficiently analyze and process genome sequencing data," says Numanagić. "The main goal is to provide life and health-science researchers tools and methods for rapid data exploration that can help in their everyday research. I hope my Canada Research Chair award will allow me to expand this research to allow better access to genes that harbor important clinical information that will result in easier and cheaper clinical diagnostics."
Roberta Hamme, a chemical oceanographer and associate professor in the School of Earth and Ocean Sciences, is reappointed Canada Research Chair in Ocean Carbon Dynamics. Hamme studies air-sea exchange, how natural processes transport gases into ocean depths and biological productivity.
"The ocean absorbs nearly half of all the excess carbon dioxide released by human activities, yet we don't know enough about where this happens or how we expect it to change as the ocean warms and acidifies," says Hamme. "My research uses robotic profiling floats and high-precision dissolved gas measurements to determine the ocean's natural mechanisms for absorbing carbon dioxide and sending it in the deep sea. Such information will help Canada to quantify our ocean sector's role in the global carbon cycle and climate change." 
Farouk Nathoo, an associate professor in the department of mathematics and statistics, is renewed as Canada Research Chair in Biostatistics for Spatial and High Dimensional Data. Nathoo is developing new statistical approaches to help scientists process and understand the size and complexity of datasets that describe brain anatomy, function and connectivity and to jointly analyze imaging and genetic data. 
"The Canada Research Chair award enables my research by providing teaching relief, which gives me more time to focus on research and helping attract graduate students," says Nathoo. "It has helped me build a collaborative research team, with emphasis on spatial statistics, high-dimensional problems where the number of unknowns increases with the size of the data and computational methods focusing on the analysis of neuroimaging and spatiotemporal data."
UVic has 41 allocated Canada Research Chairs in natural sciences and engineering, health sciences, social sciences and humanities. The Government of Canada is investing more than $275 million for 346 new and renewed Canada Research Chairs at 52 institutions across Canada. 
Read the federal government news release.
-- 30 --
Photos
Media contacts
Dorothy Eggenberger (Science Communications Officer) at 250-721-8745 or scieco@uvic.ca
Jennifer Kwan (University Communications + Marketing) at 250-721-7641 or researchcomm@uvic.ca
In this story
Keywords: research, award, computer science, Earth and ocean sciences, mathematics
People: Ibrahim Numanagic, Roberta Hamme, Farouk Nathoo