Connecting land, water and community
- Anne MacLaurin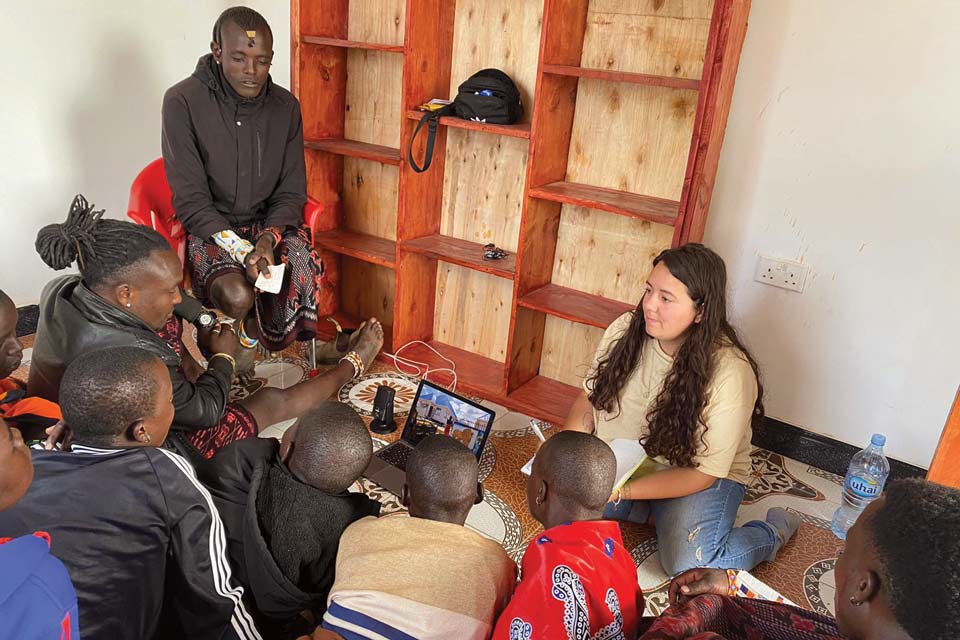 For UVic geography grad student Kate Herchak, a six-week research experience in Tanzania was a journey about identity—as well as education.
"It was dusty and hot riding in the jeeps but the land was so vast and beautiful," says Herchak "The openness of it all reminded me of Nunavut."
Herchak is Inuk on her father's side from Kuujjuaq, Quebec with ties to Rankin Inlet Nunavut. 
"My dad is a survivor of the '60s Scoop, so I was born and raised in the south, by my mom," says Herchak. "I have only been home to Nunavut twice."
As an urban Inuk removed from her culture, Herchak is on a path to reclaim her Inuk ways of knowing, being and doing in the world. Her work with Maasai youth explores context, culture and risk: how youth maintain cultural connections and knowledge despite increasing pressure to relocate to larger cities. This work has important links to Indigenous communities in Canada and around the world.
It is important for Indigenous people to connect with other Indigenous people on an International community level to share our cultures and way of knowing, being and doing."

—Geography grad student Kate Herchak
Herchak's thesis work is a key part of a broader, multi-faceted UVic geography research project on the international collaboration. For several weeks last summer, Tanzanian youth empowered with photography and video equipment shared how they and their peers maintain connections with their own culture and traditions, gathering information and knowledge.
It's one part of the two-year Indigenous Knowledge Bridging of Land and Water Stewardship in Tanzania and Canada project, funded by the Social Science and Humanities Research Council (SSHRC). This project aims to access and mobilize Indigenous-led knowledge that will enhance land and water governance and self-determination for Indigenous Peoples in both countries, while also increasing research capacity.
Herchak was pleasantly surprised by some similarities between the Maasai and Inuit cultures. Throat singing for example, is a cultural practice performed by men in Maasai culture, but in Inuit culture, it is the women who are the throat singers. 
"Despite the differences, I felt a sense of home among the Maasai people," says Herchak.
UVic geographer Crystal Tremblay led the delegation and ongoing collaboration with the Maasai and several partners including EMAYO, Enguserosambu Forest Trust, the Kesho Trust and the Carcross/Tagish First Nation in the Yukon.
Photos
In this story
Keywords: international, Indigenous, youth, community, research, graduate research, geography, interdisciplinary
People: Kate Herchak, Crystal Tremblay
Publication: The Ring