Passion for people
- Anne MacLaurin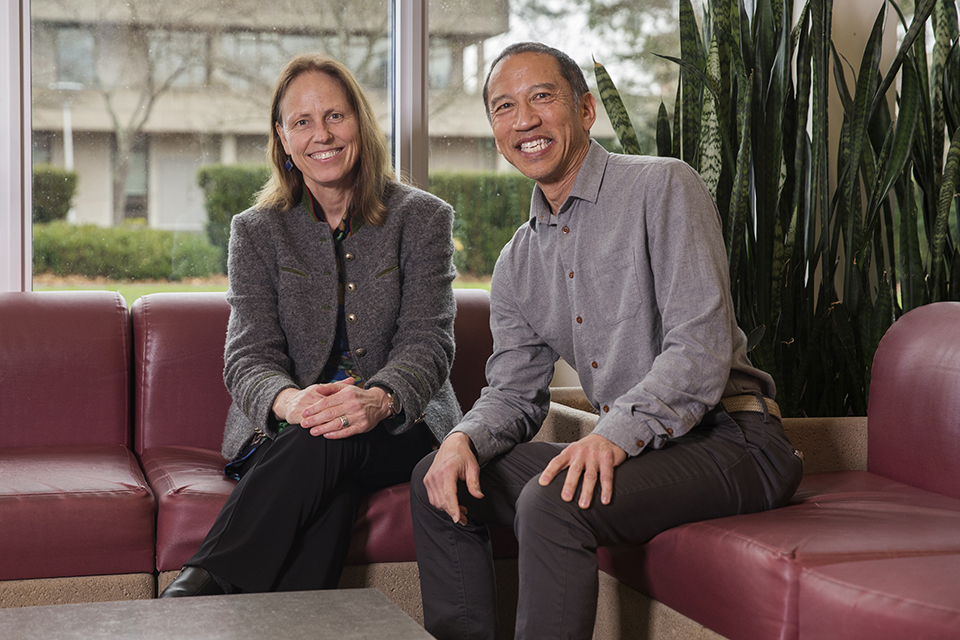 Two social sciences researchers demonstrate how community engagement leads to positive societal change
Geographer Jutta Gutberlet and psychologist Jim Tanaka have devoted their careers to helping others—especially children and families and those who live in poverty.
As the 2018 recipients of the Provost's Engaged Scholar Award, Gutberlet and Tanaka's commitment to communities locally and internationally will be celebrated at a March ceremony.
The award honours tenured faculty members who have demonstrated outstanding scholarship in their field, as well as inspired teaching and community engagement. Gutberlet and Tanaka will hold the five-year title of University of Victoria Provost's Engaged Scholar and receive a one-time award of $10,000 each to support their research, teaching and community engagement.
"Jutta and Jim are wonderful role models for community-engaged scholarship at UVic," says Valerie Kuehne, vice-president academic and provost. "Their collaborative approach with individuals, families and communities to create lasting solutions to important challenges highlights their passion for leading positive societal change."
Community activist
For over 20 years, Gutberlet has passionately conducted community-engaged research with poverty-stricken communities in Brazil and other countries in the southern hemisphere.
As a community activist and engaged scholar, Gutberlet has gained the trust of some of the most vulnerable members of society and partnered with them to create stronger communities.
Her waste diversion and recycling projects in São Paulo, Brazil, have been so successful that many recyclers have organized into cooperatives and networks, are engaged in municipal waste diversion programs and have turned recycling into a livelihood and a way to provide for their families.
In Victoria and Vancouver, Gutberlet and her team have had similar success with marginalized groups by exploring the livelihoods of recyclers (locally known as "binners") and finding solutions to poverty and homelessness, and ultimately to help the environment.
Technology innovator
Tanaka, an internationally recognized expert on facial recognition, has devoted his career to improving the lives of children and adults with Autism Spectrum Disorder (ASD).
Research has shown that many people with ASD have difficulty recognizing faces and facial expressions, which can create difficulties in their everyday lives.
Through the UVic Centre for Autism Research, Technology and Education (CARTE), which he created, Tanaka and an innovative team made up of UVic faculty, students, community professionals and families are dedicated to the research and development of facial recognition tools for children and adults with ASD.
This work is supported by a range of hands-on outreach activities, successfully bridging research, education and community engagement.
By creating "different tools for different minds," Tanaka and his team have improved the lives of thousands of individuals with ASD and their families.
Photos
In this story
Keywords: geography, environment, community, international, technology, autism, psychology
People: Jutta Gutberlet, Jim Tanaka
Publication: The Ring