$2M grant powers UVic research leader to battle syphilis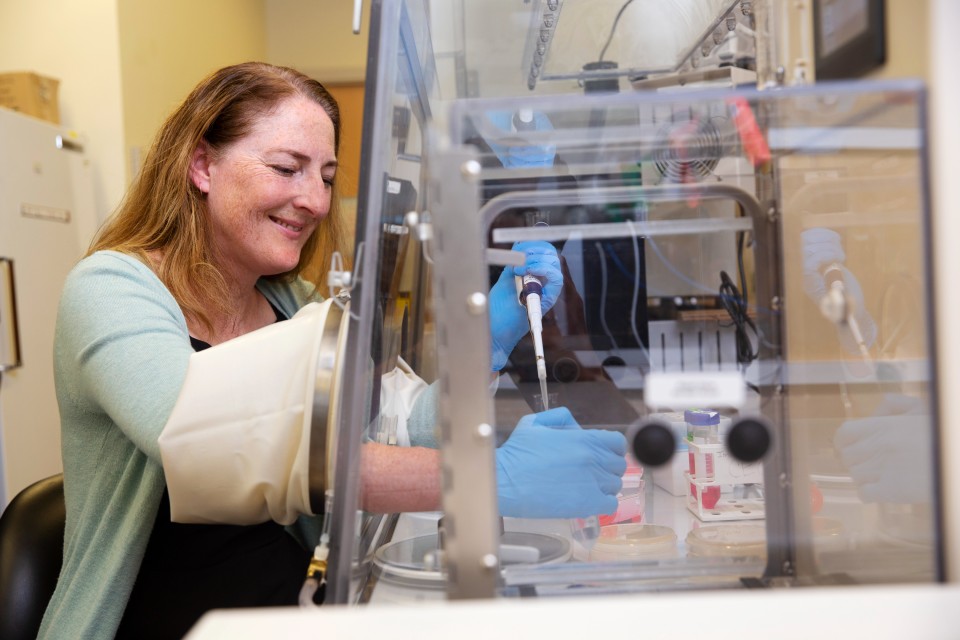 Syphilis, one of the world's first global diseases, is resurging again, with millions of new cases occurring worldwide every year. Left untreated, syphilis can damage the heart, brain, eyes, blood vessels and bones, and can eventually lead to death. Congenital syphilis—where the infection is passed from mother to child during pregnancy—is a severe, disabling and often life-threatening infection seen in infants. Up to half of all infected infants die shortly before or after birth.
University of Victoria microbiologist Caroline Cameron has received $2 million US from Open Philanthropy, the largest grant the US-based organization has given to a single Canadian university. Open Philanthropy identifies outstanding giving opportunities, makes grants, follows the results and publishes its findings. Its mission is to give as effectively as it can and share the findings openly so that anyone can build on them. The grant will fund Cameron's research for developing a direct diagnostic test and vaccine for syphilis.
"It's always exciting when a philanthropic organization reaches out to you about your research program—but this support means so much more. The funding from Open Philanthropy means those organizations are recognizing the need to invest in syphilis research," says Cameron. "So little is known about the bacterium that cause syphilis. If we want to eradicate the disease there is a lot of work to be done and to do it scientists need support from philanthropists, funding agencies and policy-makers."
The Cameron Laboratory is one of only a few labs in the world—and the only one in Canada—studying Treponema pallidum, the bacterium that causes syphilis. "The number of disease cases versus the number of researchers is disproportionate—and the number of cases is going up," explains Cameron.
"We are honoured that Open Philanthropy are providing this level of funding for a UVic research team," says UVic President and Vice-Chancellor Kevin Hall. "This significant investment recognizes the high-impact research being carried out by Caroline and her team on this pressing, global issue. We share Open Philanthropy's belief that scientific research is one of the biggest contributors to improving human well-being, and partnerships like this one will help us tackle more of the world's biggest problems."
Syphilis remains prevalent in low and middle-income countries, and is now increasing in high-income countries. In Canada, syphilis rates have reached their highest level in over three decades. Alberta's rates of syphilis infection are the highest since 1948. Open Philanthropy's donation provides invaluable research support to address some of the greatest challenges associated with this disease.
Current syphilis diagnostic tests have limitations with sensitivity, specificity and the ability to differentiate current versus previous infections, and there is no vaccine to prevent infection. Cameron's team is working to understand how the bacterium causes infection in order to develop better diagnostic tests and identify vaccine candidates. Once a syphilis vaccine is developed, current serology-based diagnostic tests for syphilis will need to be replaced by diagnostic tests that directly detect the pathogen.
"If we hope to reduce and ultimately eradicate this disease, we need to develop this technology now," says Cameron. 
The Cameron lab collaborates on these technology development projects with international research institutions and industry partners including the University of Washington in Seattle, the Institute of Tropical Medicine in Antwerp, Belgium, and SISCAPA Assay Technologies in Washington, DC.
The team's research goal is to eliminate a disease plaguing humans for over five centuries, and at the same time reduce risks for those infected to acquire and transmit other sexually transmitted infections including HIV. Chris Somerville and Heather Youngs, Open Philanthropy scientific research program officers, saw the potential in Cameron's research and reached out to her directly.
"Developing effective diagnostic tests and a vaccine for syphilis could prevent hundreds of thousands of deaths," says Youngs. "We believe that Dr. Cameron's work fills an important gap in diagnostic technologies and is a step toward drastically reducing the burden of this disease."
"I am extremely grateful to Open Philanthropy and look forward to advances that will now be possible because of their generous support and commitment to improve global reproductive health," says Cameron.
-- 30 --
A media kit containing high-resolution photos is available on Dropbox.
Photos
Media contacts
Caroline Cameron (Biochemistry & Microbiology) at 250-853-3189 or caroc@uvic.ca
Dorothy Eggenberger (Science Communications) at 250-721-8745 or scieco@uvic.ca
Jennifer Kwan (University Communications + Marketing) at 250-721-7641 or researchcomm@uvic.ca
In this story
Keywords: research, philanthropy, biochemistry, disease, health, microscope, industry partnerships, partnerships, Open Philanthropy, SISCAPA Assay Technologies
People: Caroline Cameron, Kevin Hall