Indigenous scholar embraces new role
- Anne MacLaurin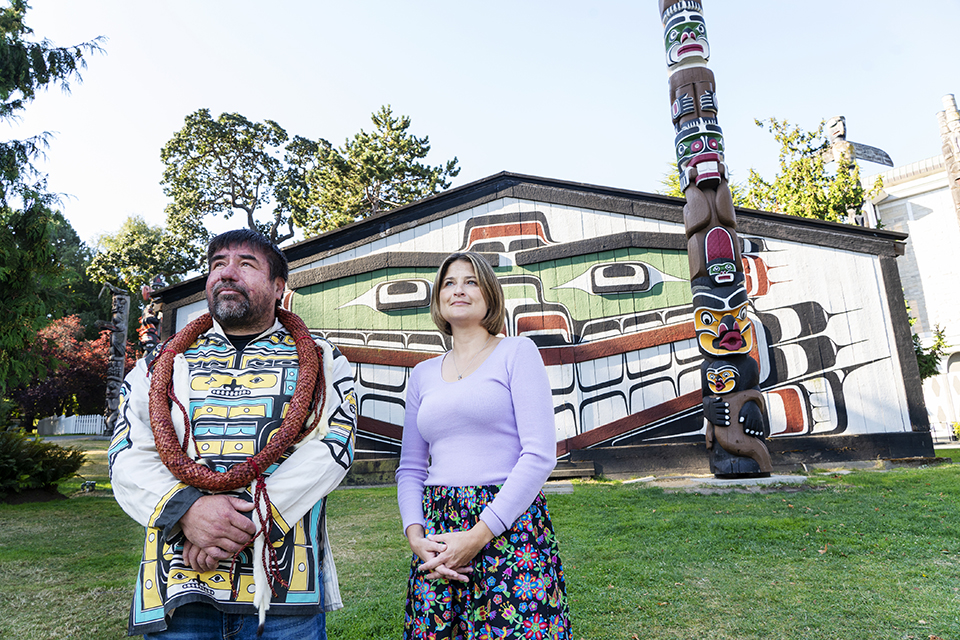 Emily Haigh, the inaugural Chief Mungo Martin Research Chair in Indigenous Mental Health at UVic, was born in Toronto and is Anishinaabe-Métis from the Robinson Huron Treaty Territory. Her family on her mother's side is from Northern Ontario Métis communities and the Thessalon First Nation, and her father is English.
"My maternal grandfather (Bellerose, Thibault), from the Algoma District (Thessalon First Nation) in Northern Ontario, came from a long line of fishermen," says Haigh. "He grew up with his parents and four siblings in a two-bedroom house with an outhouse."
Haigh describes her grandfather as a person who placed a high value on education—often at family gatherings—reminding all the grandchildren of the importance of learning.
Honoured and humbled by family's generosity
In July 2022, Haigh arrived at UVic to begin her five-year term. On Sept. 22, an Indigenous naming ceremony was held at Wawadiťła, also known as Mungo Martin House, the ceremonial big house built seven decades ago by the late Chief Mungo Martin.
"I am so honoured and humbled by the Mungo Martin family for their willingness to permit the university to use the name of their respected relative for the role at UVic and for having this vision as part of a legacy," says Haigh.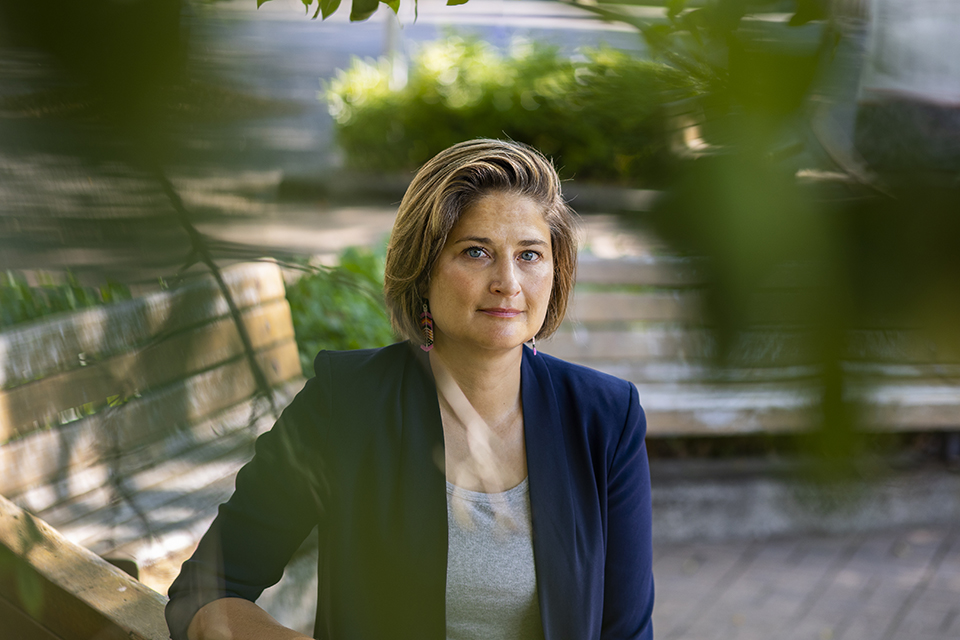 She has already travelled to Fort Rupert to meet with Chief David Mungo Knox, great-grandson of Chief Mungo Martin, and looks forward to building a strong relationship.
Chief Mungo Martin was a world-renowned Kwakwaka'wakw artist and revered figure in Pacific Northwest Coast and contemporary Indigenous art. He contributed greatly to the creative arts, which play an integral role in shifting cultural perceptions of mental health.
"I was struck by what I read about Chief Mungo Martin who navigated two worlds—Indigenous and settler—and at the time was regarded by many as a bridge through his totem pole restoration work," says Haigh.
Haigh, as the Chief Mungo Martin Research Chair in Indigenous Mental Health, sees part of her role as being a link between mainstream approaches to psychology and Indigenous knowledge and ways of being.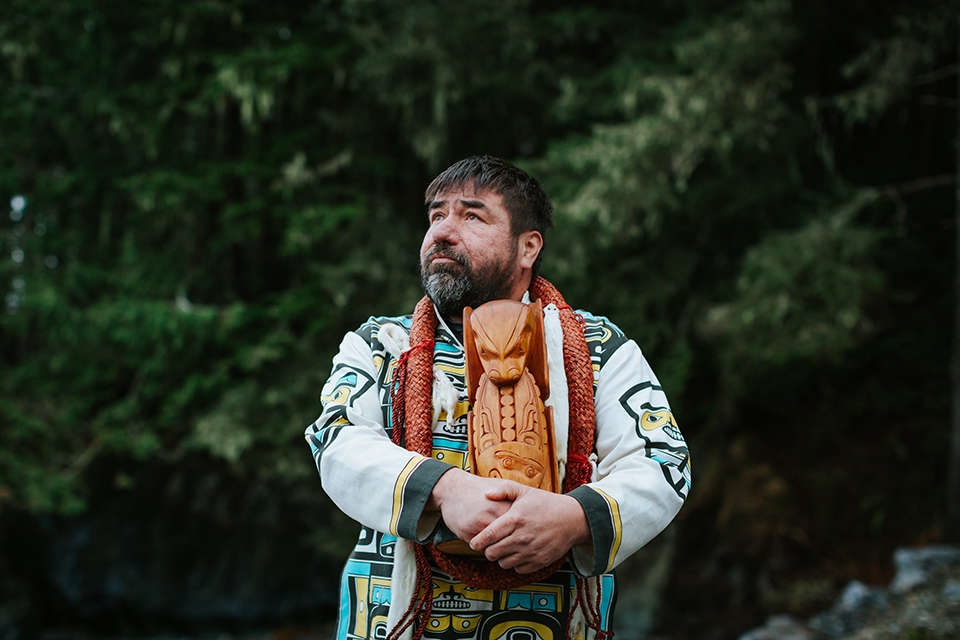 The research chair is funded by a $1.5-million gift, announced in December, from UVic political science alumnus Bruce McKean who has said he hopes the research chair will create knowledge and leadership consistent with Indigenous values—reinforcing and advancing those values for the benefit of all Canadians.
McKean originally suggested the name of the research chair to reflect an important memory from his childhood when he would visit Thunderbird Park with his mother, standing amidst the scent of cedar shavings and watching Chief Mungo Martin work on his carvings.
A collaborative approach
Haigh points to the many decades of systemic harm and abuse toward generations of Indigenous Peoples in Canada, and part of her work will be to help address some of these structural issues towards Indigenous resurgence.
My goal is to primarily serve Indigenous Peoples—a collaborative approach that will benefit Nations.

—Emily Haigh, psychologist and UVic's new research chair in Indigenous mental health
Haigh notes that community-engaged research is ongoing and she also points to the incredible amount of work done at UVic on projects such as LE,NOṈET, the first of its kind in Canada to offer participating Indigenous students culturally relevant supportive programs, including community and campus-based experiential learning, leadership and community building, and needs-based financial aid.
Haigh has followed the research of UVic psychologist Chris Lalonde, co-principal investigator of the LE,NOṈET project, whose work recognizes cultural continuity as a protective factor against depression and suicide in Indigenous communities.
A journey that led to UVic
Haigh grew up in Ontario and graduated from McGill University with a bachelor's in psychology. Throughout her undergrad and graduate education, Haigh was supported by scholarships and bursaries from Indigenous organizations.
"Even when I moved to the US to pursue graduate school, I was supported all the way," says Haigh. "I always intended to give back to those who helped me through six years of graduate training."
"I am one of those people who wanted to be a psychologist from a very early age," she adds. "I wanted to help people who were distressed or sad."
Haigh recalls being approximately seven years old and creating a game called "people problem helper" that she played with her family. Reflecting on her childhood game, Haigh observes it was probably helping her understand her father's depression.
"I am comfortable sharing this, that my father struggled with depression, and at that time he was pursuing treatment. I must have heard references of this role of a psychologist—a 'people helper'—and it had a strong impact."
"My family is very close," Haigh adds. Her brother is a wildfire officer and her sister just completed an Indigenous law degree (JD/JID) at UVic.
Haigh's deep-seated need to help others in emotional distress is a drive she brings to her new role. Her training as a psychologist in the area of depression, suicide and self-harm is the foundation she brings to her new position in UVic's psychology department.
The timing of the new research chair position couldn't be more perfect for Haigh, who has been wanting to return to her Canadian roots for some years.
Haigh describes how she was inspired by UVic's well-established reputation and its commitment to truth, respect and reconciliation, as well as decolonization practices across disciplines.
"When I reflect on my journey—when I got tenure at the University of Maine—I recognized I had jumped through all the hoops, earning the freedom to refocus my work to study a personally meaningful area of Indigenous knowledge, health and healing," explains Haigh.
The journey eventually led to UVic, with this opportunity to work with Indigenous communities, something Haigh just couldn't pass up.
"I believe I am one of 16 Indigenous psychologists practicing or teaching at Canadian higher educational institutions," says Haigh. "Part of my mandate is to mentor future Indigenous psychologists—something I did not have in my own career."
Decolonizing psychological approaches
Haigh is committed to identifying students at UVic who are interested in pursuing a career in psychology with a focus on collaborating with Indigenous communities.
"I am teaching a new course this fall called Introduction to Indigenous Mental Health and Healing," says Haigh. "It is full of wonderful students interested in this critical topic."
For Haigh, success will be helping to educate, mentor and teach the next generation of psychologists who will bridge the gap between Indigenous knowledge and ways of knowing with western approaches to psychology. Haigh will use a community-based approach in her research that includes listening to the needs of Indigenous communities and collaboratively moving toward better mental health.
The Chief Mungo Martin Research Chair in Indigenous Mental Health is a commitment to decolonizing psychological approaches in a culturally safe environment.

—Haigh
The role of the chair also supports UVic's commitment to the United Nations Sustainable Development Goals (UN SDGs), in particular UN SDG Goal 3 which focuses on good health and well-being.
Photos
In this story
Keywords: arts, Indigenous, administrative, faculty, staff, Indigenous, philanthropy, psychology, health, mental health, research
People: Emily Haigh, Chief David Mungo Knox, Lois Harder, Robina Thomas
Publication: The Ring