Maintaining cultural connections during a pandemic
Human and Social Development, Law, Social Sciences
- Sarah Tarnopolsky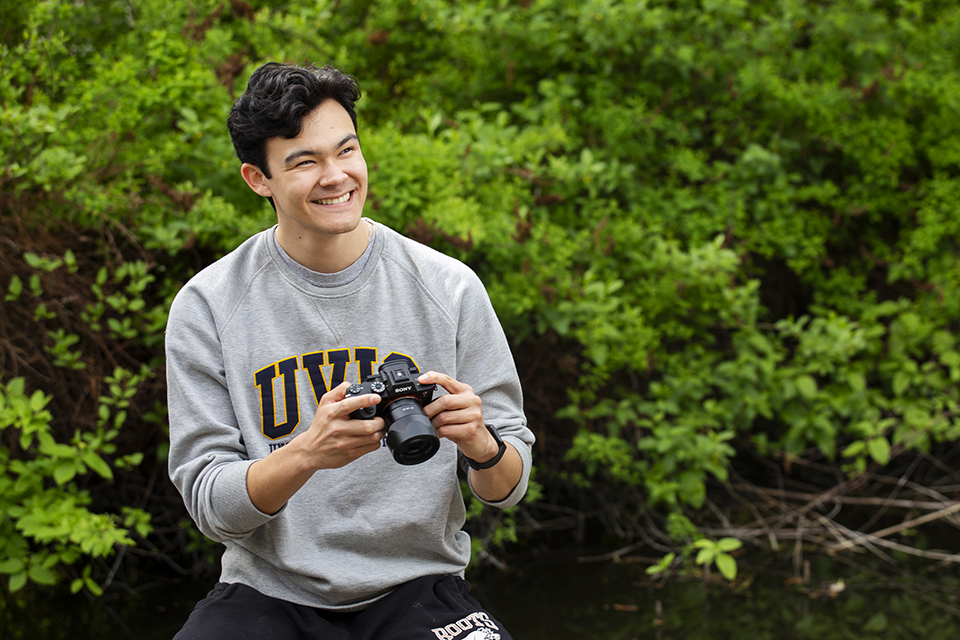 "Working with our Indigenous Elders was a humbling experience," says Devin Owpaluk. "I've never had a cultural connection with my work before."
Devin, who is Inuit, completed an internship with the Office of Indigenous Academic and Community Engagement (IACE) in the summer of 2020. As part of that work, he helped create videos of Indigenous Elders sharing prayers and words of guidance for virtual student orientation and graduation ceremonies. Reflecting on the experience, Devin says he learned many things that will serve him well in the future, including the Elders' teachings about perseverance, strength and how to stay grounded during stressful times.
The internship wasn't just about gaining professional skills. It felt like a way to support fellow students through a hard time. I'm so grateful I had this opportunity to give back and connect more with my Indigenous community.

—Devin Owpaluk
Maintaining connections with Elders
IACE created a virtual version of the Elders' Voices program after hearing from many Indigenous students that they needed continued access to cultural supports in order to successfully transition to online learning. Lalita Kines, interim co-executive director at IACE, explains that Elders are the cultural and spiritual foundation to the Indigenous community at UVic.
The Elders are the keepers of sacred stories, songs, language, culture and traditions. The guidance and support they offer to students, staff and faculty members is even more important during challenging times.

—Lalita Kines, interim co-executive director, IACE
As a cultural protocol assistant, graduate student Jennifer Bowen visited Elders in their homes to provide training on how to use new iPads and video-conferencing software. The Elders are so invested in their role supporting students that they were keen to learn this technology to maintain these connections virtually from their homes. Using these tools, Elders were able to video-chat with individual students, lead talking circles, attend online social gatherings and continue to participate in various committees at UVic.
Maintaining a sense of community
Communications assistant Lisa Kenoras had the opportunity to film and share cultural events that would normally be celebrated in person, such as Indigenous Week of Welcome, the Indigenous Recognition Ceremony and Orange Shirt Day. Two other students, Keenan Andrew and Ella Martindale, worked as student liaisons, creating virtual student engagement events and helping maintain a positive and inclusive online community.
View this post on Instagram
The paid internships were funded through a partnership with the Mastercard Foundation's COVID-19 Recovery and Resilience Program, which focuses on supporting Indigenous youth during the pandemic. In total, five students gained employment and skills training, while providing invaluable assistance to the university's roll-out of virtual cultural resources, teaching tools and engagement initiatives aimed at maintaining Indigenous students' academic success, cultural connection, and overall wellbeing.
Emergency bursaries
The partnership with the Mastercard Foundation also supported hundreds of Indigenous students through emergency bursaries, disbursed by both IACE and the Indigenous Student Support Centre (ISSC) in the Faculty of Human and Social Development. As an Indigenous advisor with ISSC, Shauna Underwood heard many of the students' concerns.
It was shocking how many Indigenous students were struggling with new or unforeseen circumstances due to the pandemic," she says. "Thanks to donor funding, we were able to respond to their needs quickly, giving out lots of bursaries that made a tangible difference to their capacity to continue their education.

—Shauna Underwood, Indigenous advisor, ISSC
After receiving one of these emergency bursaries, a student in the faculty wrote:
"This lightens the financial burden COVID-19 has been. It is hard to find work that fits with school responsibilities. With this support, I have been able to catch up on my financial obligations. Thank you so much."
Technology bursaries
Students' urgent technology needs were becoming more apparent as the 2020 spring and summer terms unfolded. Many were struggling with computers crashing and technology dying, and those living in remote communities often had internet bandwidth issues and poor connectivity. Some students were living in large family households, sharing technology and internet. Others reported frustrations trying to complete assignments on their phones. For many, finances were a barrier to upgrading connectivity and equipment. IACE gave out over 50 technology bursaries to address these needs.
Kinwa Bluesky, a PhD candidate in Law currently working on her dissertation, received a bursary that enabled her to purchase a new MacBook, and wrote the following note of thanks.
When the pandemic hit, I suddenly had 3 tw/eenagers at home full-time, each one needing their own tech for remote learning—Zoom calls and classes. Chi miigwetch for being so forthcoming and innovative in your approach to support Indigenous students and their families.

—Kinwa Bluesky, PhD candidate, Law.
For another student, Catherine Lafferty, the technology bursary allowed her to pay for printing at the university library—especially useful just before mid-term exams—and paid for some of her home internet bill. "Now that I am working from home more often, I need an unlimited data plan and the bursary allowed me some flexibility in my choices which will get me through the rest of the school year," she wrote.
In total, more than 150 bursaries funded by the Mastercard Foundation supported students through some of the toughest challenges created by the pandemic.
Long-term impact of the partnership
When COVID-19 forced the university to find new ways to support Indigenous students, the partnership with the Mastercard Foundation enabled it to respond quickly and learn how to create a supportive community for Indigenous students, regardless of their location and situation. Those changes will have long-term benefits for Indigenous students now and far into the future.
Support for UVic initiatives
Photos
In this story
Keywords: Indigenous, administrative, community, funding, student life, philanthropy, internship