Ingenious ideas: 2021 Climate Solutions Challenge
Science, Humanities, Engineering, Continuing Studies, Law, Peter B. Gustavson School of Business
Four top proposals have been selected in the 2021 Climate Solutions Challenge (the Challenge), a campus-wide contest for actionable climate ideas. The Challenge is an initiative of the Climate Solutions Navigator with support from the Strategic Framework Impact Fund.  
Held from March to May 2021, the Challenge involved mentorship from over 20 climate leaders on campus who provided guidance on prospective applicants' ideas in an online "mentor shop." The Challenge attracted high-quality climate action proposals from over 40 faculty, staff and students. 
In late May, the four finalists pitched their ideas to a panel of faculty and staff including President Kevin Hall and representatives from the Climate and Sustainability Action Plan Integrated Steering Committee and the Climate Solutions Navigator Working Group. The Review Panel welcomed the excellence and passion that they saw in the pitches.
It's so great to see the drive, innovation and expertise we have on climate action and sustainability amongst our campus community. I absolutely share your passion and commitment. Great work winners and finalists!—UVic President Kevin Hall
The top-ranking proposals and runners-up in each of the Challenge categories have been awarded cash prizes of $1,250 and $750 respectively. Each proposal details a unique approach, and potentially impactful climate innovation opportunity for the UVic. Challenge organizers will be working with others at the university to explore the implementation of the winning proposals. All ideas received during the Challenge were shared with UVic's climate and sustainability action planning committee for implementation consideration. 
As UVic charts its path to accelerated climate action, these necessary and well-developed solutions couldn't come at a better time. We have every expectation that these ideas will be considered as part of next steps, and their proponents help to inspire a better future at UVic. —Kristy Faccer, vice-chair, Climate Solutions Navigator
2021 Challenge participants were invited to submit proposals in two categories. The winning proposals in each category are:
Looking Past COVID to Climate
What lessons can we take from the dramatic changes of the current COVID-19 crisis into opportunities for climate action?
First Place: Climate citizenship education as a leverage point for university impact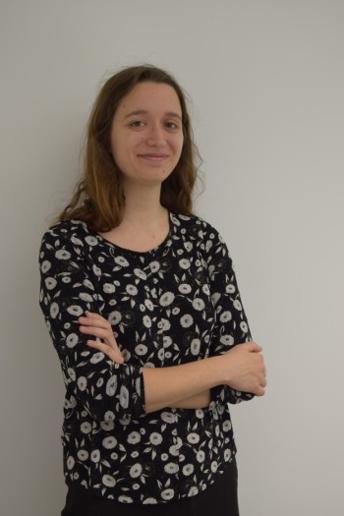 Heather Norton, a graduate student in the Department of Mechanical Engineering, submitted a proposal to inspire behavioural change through a climate citizen education course for all first-year students that will also fulfill academic course credit requirements.
Runner-up: The Default veg initiative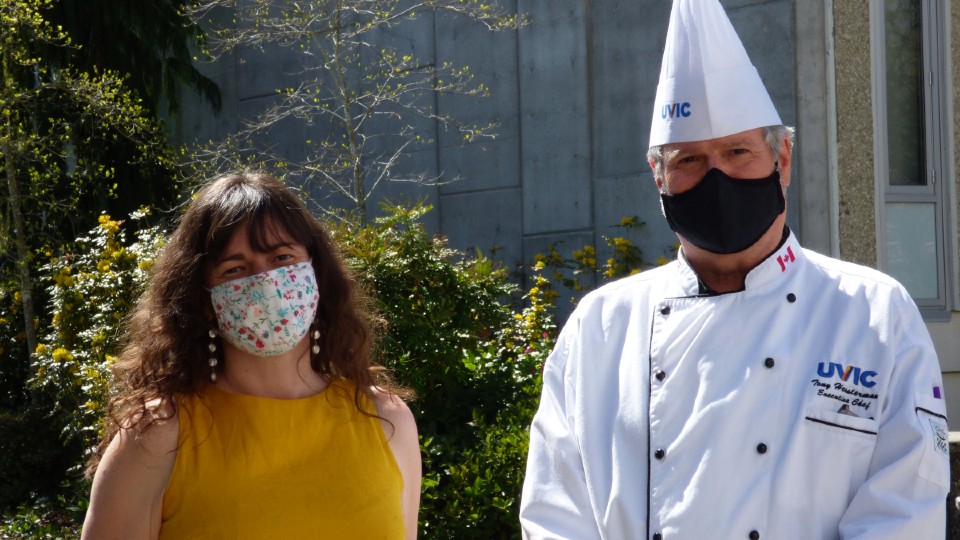 Holly Cecil, Nicole Fetterly and Deanne Taillieu, a staff and student team from the Faculty of Law, detailed how plant-based food could become the default option for campus dining and for patrons to see the climate benefits of these choices through improved labelling on food products.  
Measuring and managing for climate
What tools or approaches could improve the measurement and management of the real costs (including social and environmental) in UVic decision-making processes?  
First Place: Climate-friendly decision analysis framework: the quadruple bottom line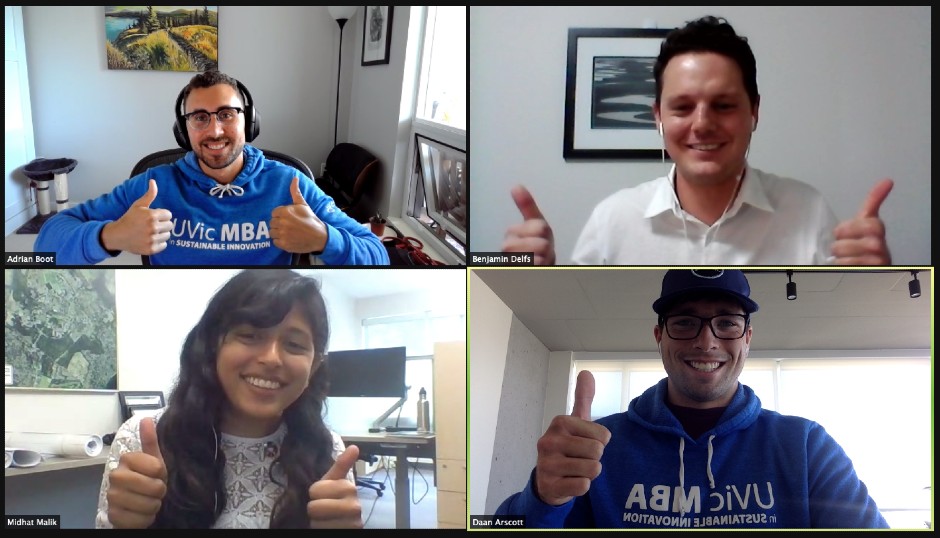 Adrian Boot, Benjamin Delfs, Daan Arscott and Midhat Malik, graduate students at the Gill Graduate School in the Gustavson School of Business submitted a proposal outlining an internal carbon pricing mechanism at UVic and a Quadruple Bottom Line (QBL) framework which analyzes the true costs and implications of decisions across UVic's purpose, people, profit and planet objectives. 
Runner-up: Return to travel action plan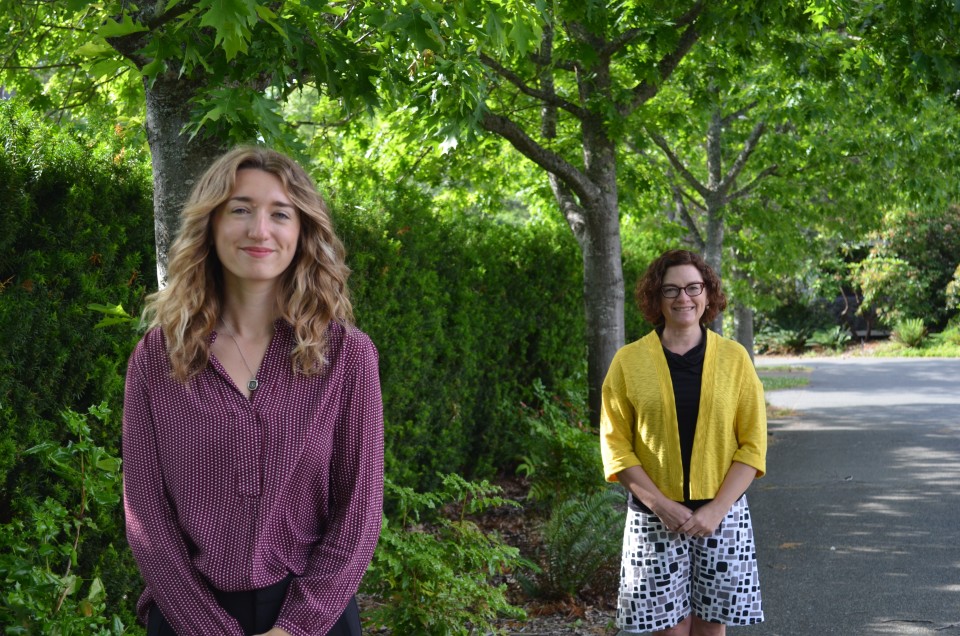 Heather Ranson and student Rachael Bond a faculty and student team from the Gustavson School of Business, submitted a proposal calling for air travel carbon emissions for all university-related travel to be measured through travel accounting procedures and managed through a carbon budget for travel for each department.
The panel of judges also identified three additional outstanding submissions deserving of an honourable mention. These proposals will be recommended directly to relevant departmental leaders with notes from the judges highlighting their merits. They include:
Ellie Gilchrist (Hands-on food systems continuing studies program): A new Continuing Studies food systems program led jointly by the School of Environmental Studies and the Indigenous Studies Program that provides hands-on sustainable food systems learning and teaching opportunities to both UVic students and community members.
Shea Wyatt, Dwight Owens and Jennifer Putland (UVic@Home): A proposal to decrease campus emissions by discouraging commuting in single occupancy vehicles, increasing opportunities for remote learning and working, and the creation of a state-of-the-art virtual conferencing centre on campus.
Emma Harrison, Isaac Dekker and Hayley Smith (Local waste streams to energy): An impactful emissions reductions proposal based on converting local waste to energy in concert with local partners. 
In this story
Keywords: administrative, climate, sustainability, student life
People: Kevin Hall, Kristy Faccer, Heather Norton, Holly Cecil, Nicole Fetterly, Deane Taillieu, Adrian Boot, Benjamin Delfs, Daan Arscott, Midhat Malik, Heather Ranson, Rachel Bond, Ellie Gilchrist, Shea Wyatt, Dwight Owens, Jennifer Putland, Emma Harrison, Isaac Dekker, Hayley Smith