Top 10 newsmakers of 2018
Fine Arts, Social Sciences, Libraries, Law, Humanities
As 2018 swings to a close, we're looking back at another great year of memorable moments and compelling news about our people, projects, ideas, creativity and research.
The launch of the world's first law degree combining the study of Indigenous and non-Indigenous law. A new choir for seniors with dementia in Victoria. And the acquisition of Johnny Cash memorabilia from the family of the music legend's business manager.
Here are just some of the many UVic stories online, in print, on TV and radio from the past 12 months. Bring on 2019!
---
Indigenous law degree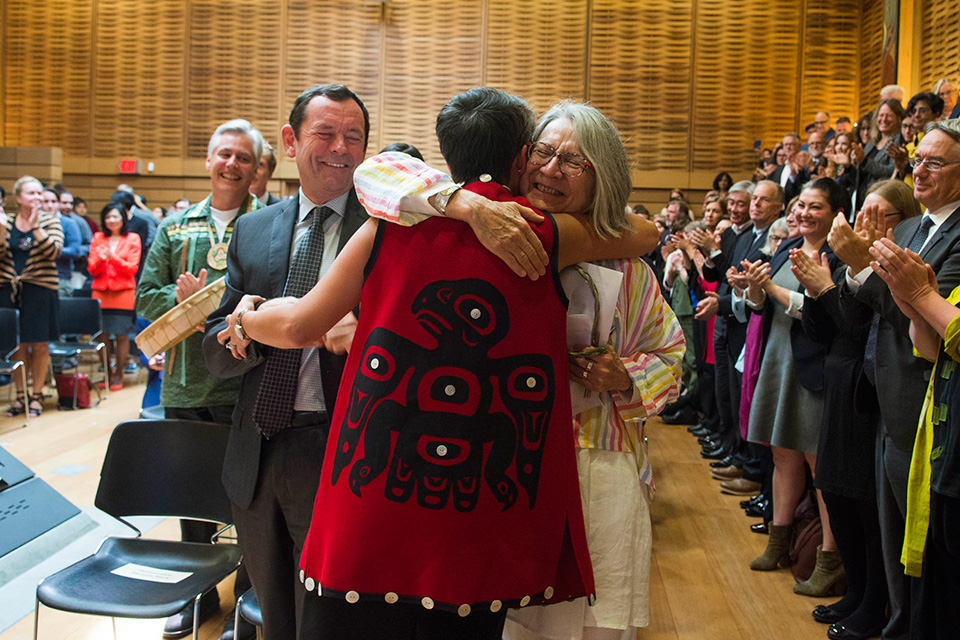 Early this year, the provincial government announced funding to support UVic's Indigenous law degree program—the world's first to combine the study of Indigenous and non-Indigenous law.
In September, UVic welcomed the first cohort of students from across Canada who will graduate with professional degrees in both Canadian Common Law (Juris Doctor or JD) and Indigenous Legal Orders (Juris Indigenarum Doctor or JID.) The establishment of the program has been acknowledged as one of Canada's most far-reaching responses to the Truth and Reconciliation Commission.
Extensive national coverage followed both these milestone events.
---
Voices in Motion Choir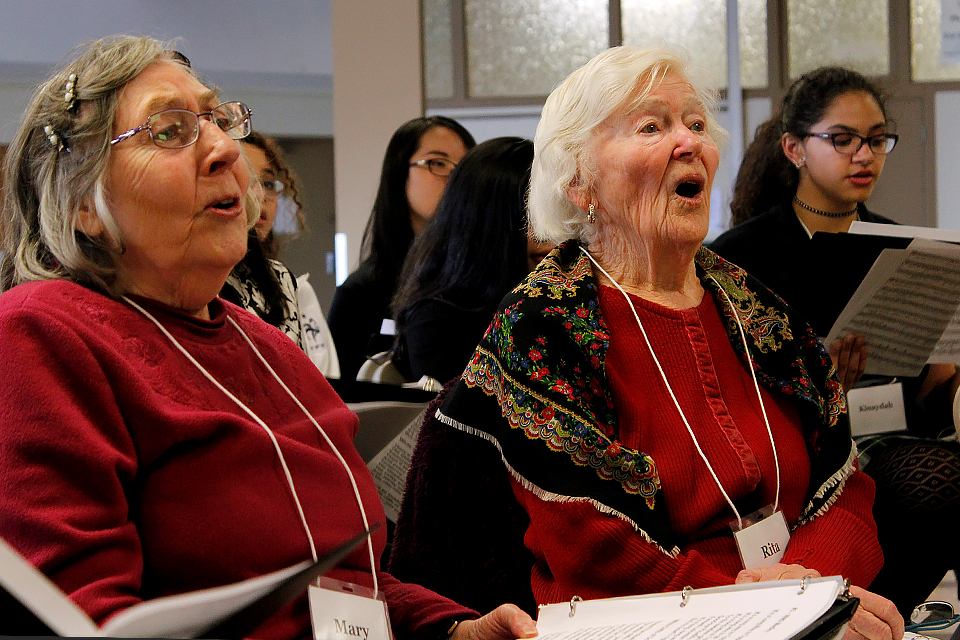 The Voices in Motion choir is a community choir for people living with dementia, their family caregivers and high school students. It's also a research project led by Debra Sheets (nursing) and includes Stuart MacDonald (psychology), Andre Smith (sociology) and Mary Kennedy (music) in partnership with Island Health.
The choir project launched a pilot phase in January and has since doubled in size. The goal of the project is to provide participants with a welcoming, supportive and musical experience, and also to investigate what impact choirs have on the cognitive, physical and mental well-being of people living with dementia.
The project sparked wide interest of local and national media.
---
Family of Johnny Cash's manager donates cache of memorabilia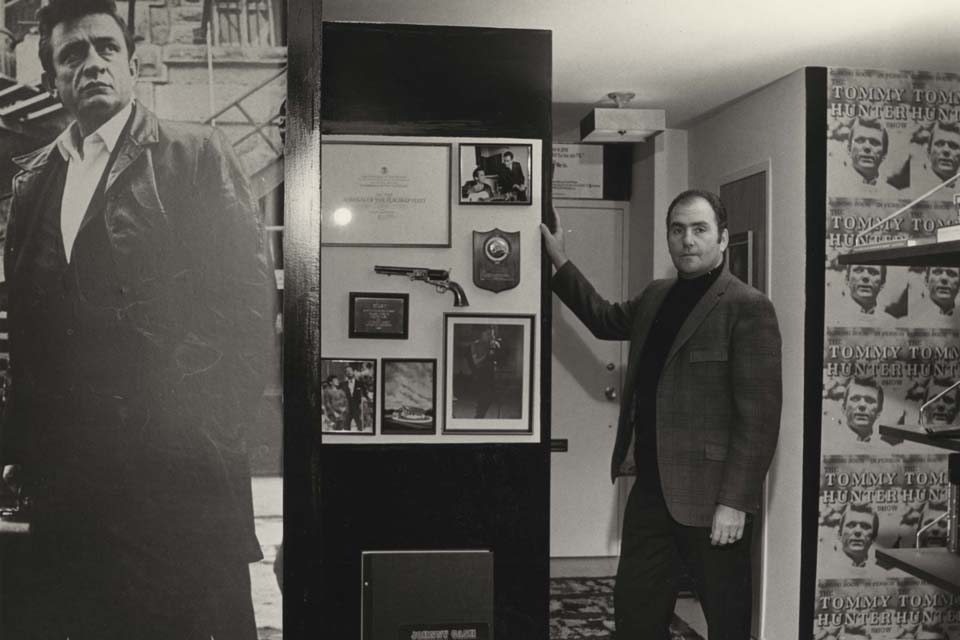 An extraordinary collection of memorabilia chronicling the highs and lows of the astonishing relationship between music legend Johnny Cash and his former business manager Saul Holiff is now available for scholarly research, thanks to a new archive donated by the Holiff family to UVic Libraries.
Some of the material is also featured in the UVic online exhibit, "Volatile Attractions: Saul Holiff, Johnny Cash, and Managing a Music Legend," including letters, diaries, journals, audio recordings and a rare photo of Cash being baptized in the Jordan River.
The acquisition made headlines across Canada.
---
The Swiss Schindler, no longer forgotten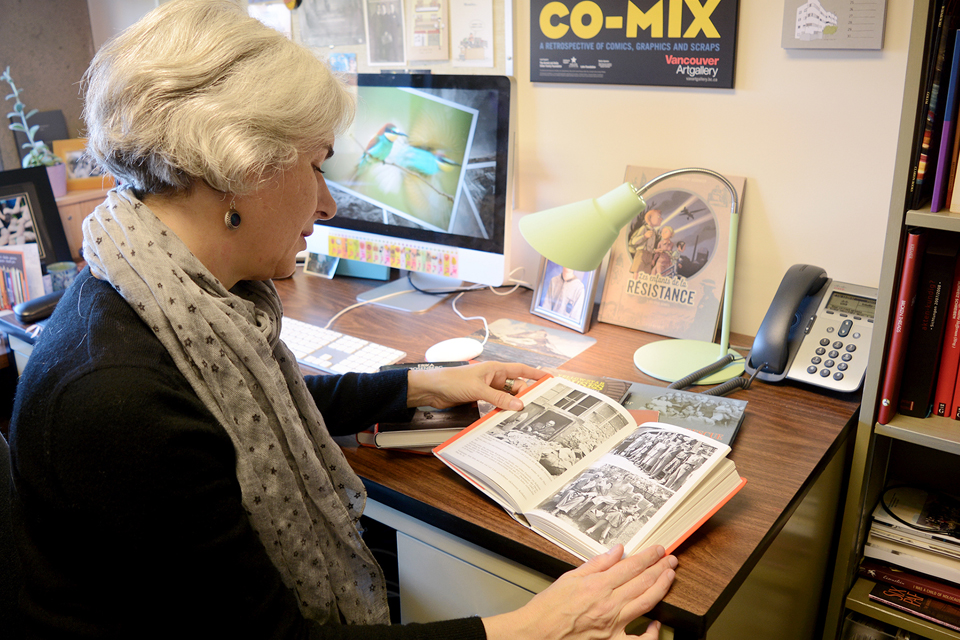 Research by Charlotte Schallié (Germanic and Slavic studies) about the heroic efforts of a largely unknown Swiss diplomat named Carl Lutz who helped save more than 60,000 Hungarian Jews during the Second World War, also involved the work of his step-daughter, five humanities students at UVic and a local Jewish community member.
The story behind Lutz's story caught the attention of the CBC News Network, which aired its national coverage earlier this year.
---
ONC partners to explore seamounts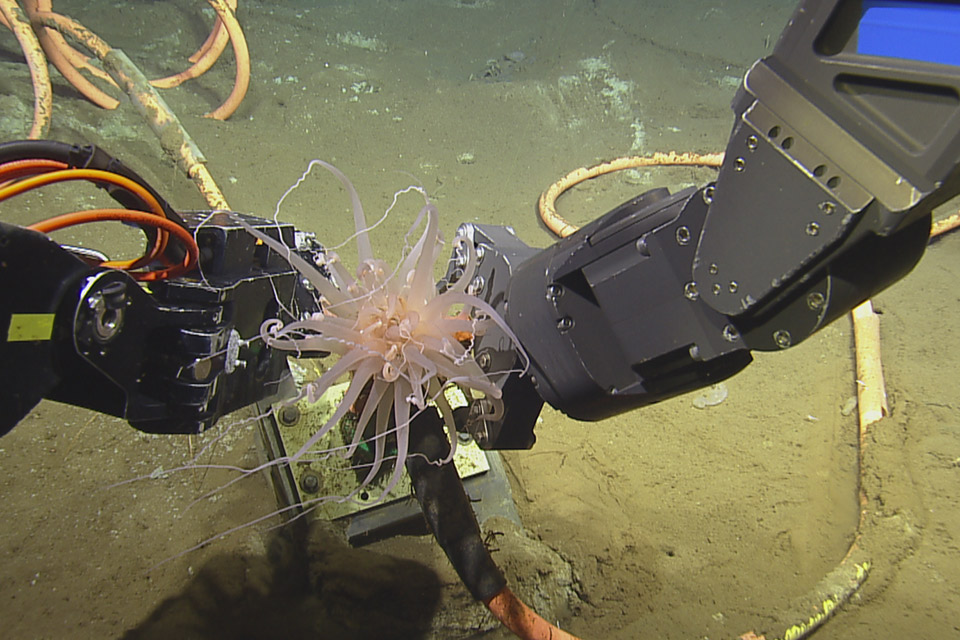 Ocean Networks Canada, a UVic initiative, joined partner organizations for the Northeast Pacific Seamounts Expedition to map and collect benchmark data on these important but little-known habitats and biodiversity hotspots. Seamounts are underwater mountains whose ecosystems are home to more than 100 marine species.
The expedition was live-streamed and included the discovery of six previously unknown seamounts. ONC also deployed equipment to continuously monitor local ocean conditions and help inform the science behind decision-making on management and protection.
---
Indigenous ancestral site connects youth to their roots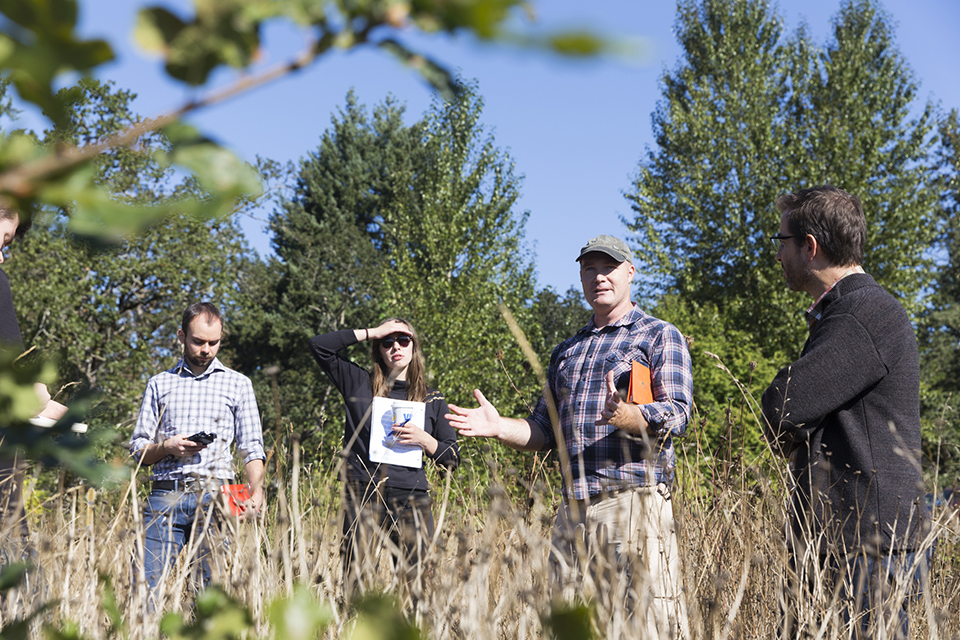 Brian Thom (anthropology) and UVic alumna Dianne Hinkley from Cowichan Tribes helped develop an innovative curriculum at an ancient ancestral site in what is now known as the Cowichan Valley, within walking distance of three local schools. As part of the project initiated by Cowichan Tribes in 2017, Thom and anthropology graduate students were invited to partner with Elders, school district staff and others to commemorate the sacred ancestral site and develop interpretive materials and school resources.
This spring, the project launched its new website. A reporter from the Canadian Press visited Ye'yumnuts with Thom and Hinkley, and the subsequent article was carried extensively across Canada.
---
Costs and harms of substance use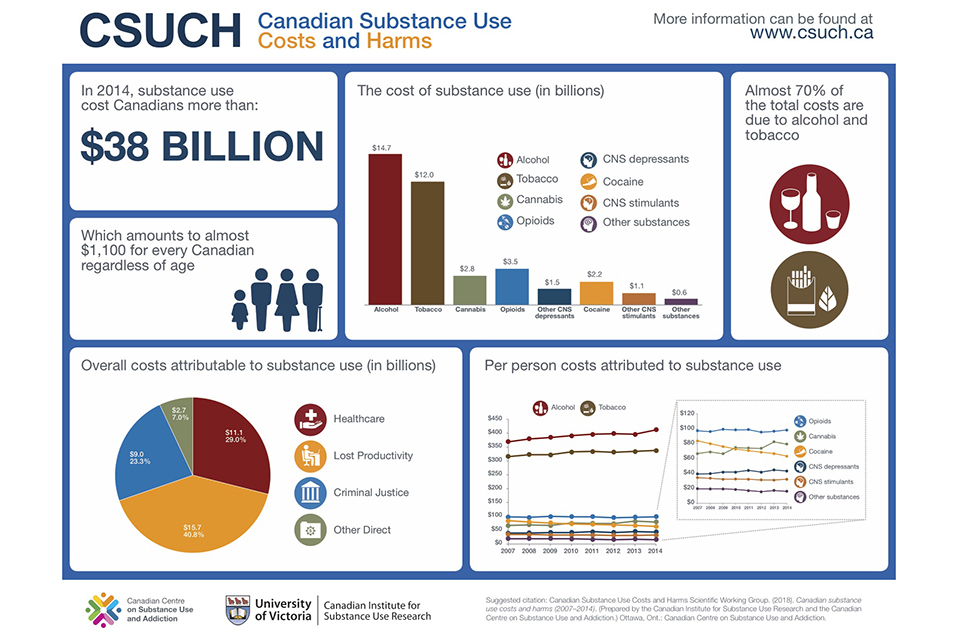 Following the release of a report on the cost of substance use in Canada published by UVic's Canadian Institute for Substance Use Research (in partnership with the Canadian Centre on Substance Use and Addiction), Tim Stockwell and PhD student Adam Sherk explained study findings and potential impacts for Canada.
This comprehensive study examined the costs and harms associated with substance use including health care, lost production, criminal justice and other direct costs.
---
Talking politics and privacy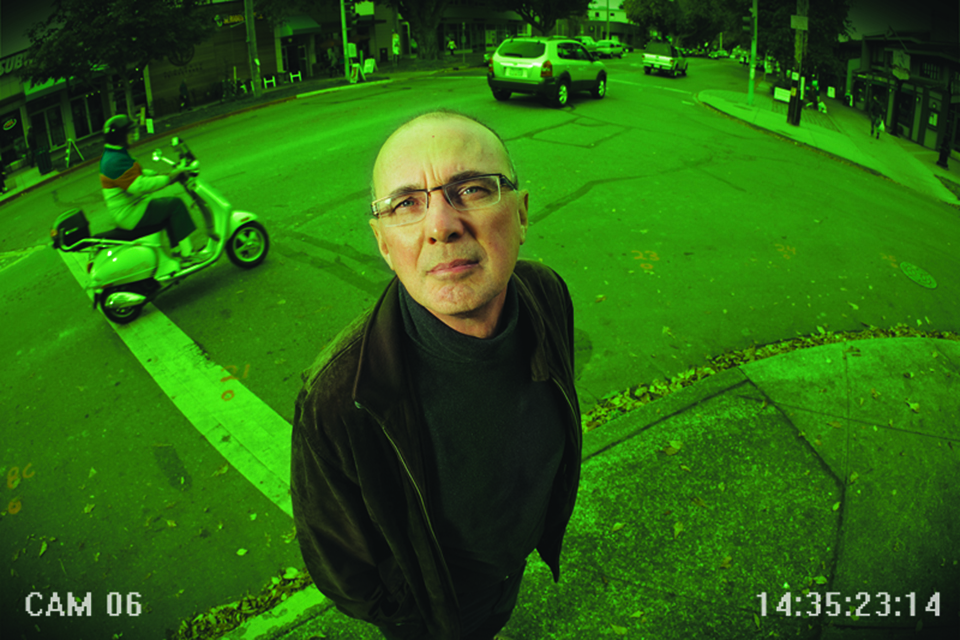 UVic privacy expert Colin Bennett (political science) was a "go-to" expert for local, provincial and national media in the wake of the data-hijacking controversy and coverage on the Cambridge Analytica leak.
Bennett provided insights on how personal data is captured, the pressing need for transparency, importance of online privacy rights and healthy practices for data collection. His commentary included an op-ed this summer.
---
Humans and orcas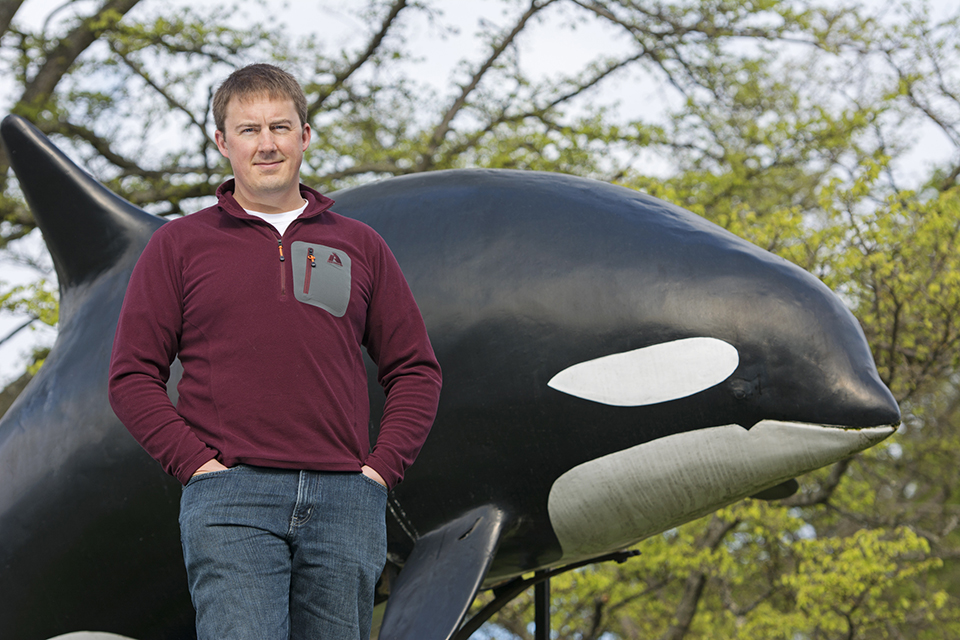 Media also turned to UVic expert Jason Colby (history) for informed perspective on breaking news about the southern resident orca mother who carried her dead calf for seven days. Colby is a specialist on the history of people and marine mammals in the Pacific Northwest.
He spoke with the Associated Press for an article that earned international attention and was also interviewed separately by Seattle's NPR station, Vice, CBC Vancouver's "BC Today" and "The Early Edition," in addition to many other media outlets, as well as authoring an op-ed.
Read more about Colby on UVic News
His op-ed in The Scientist
The AP story was picked up globally, from the New York Times, Chicago Tribune and Japan Times to Yahoo News UK, Vancouver Sun and Times Colonist
---
From Syria to UVic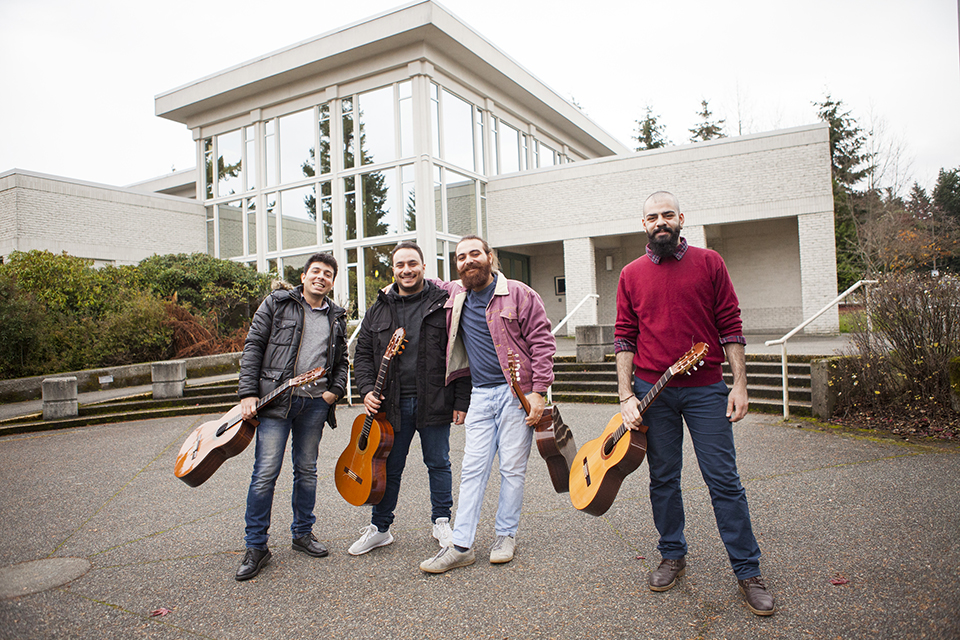 Internationally renowned guitarist Alexander Dunn (music) played a vital role in bringing the Orontes Guitar Quartet to UVic as recipients of an Artist Protection Fund Fellowship grant. This is the first time the US-based organization has placed APF fellows in Canada, putting UVic in the company of Harvard, Brown and NYU.
The Globe and Mail's arts reporter came to campus this winter to interview Dunn and the four musicians.
---
Photos
In this story
Keywords: top stories
Publication: The Ring