Spring 2018 Convocation
Peter B. Gustavson School of Business, Law, Fine Arts, Human and Social Development, Education, Science, Co-op, Humanities, Engineering, Social Sciences, Graduate Studies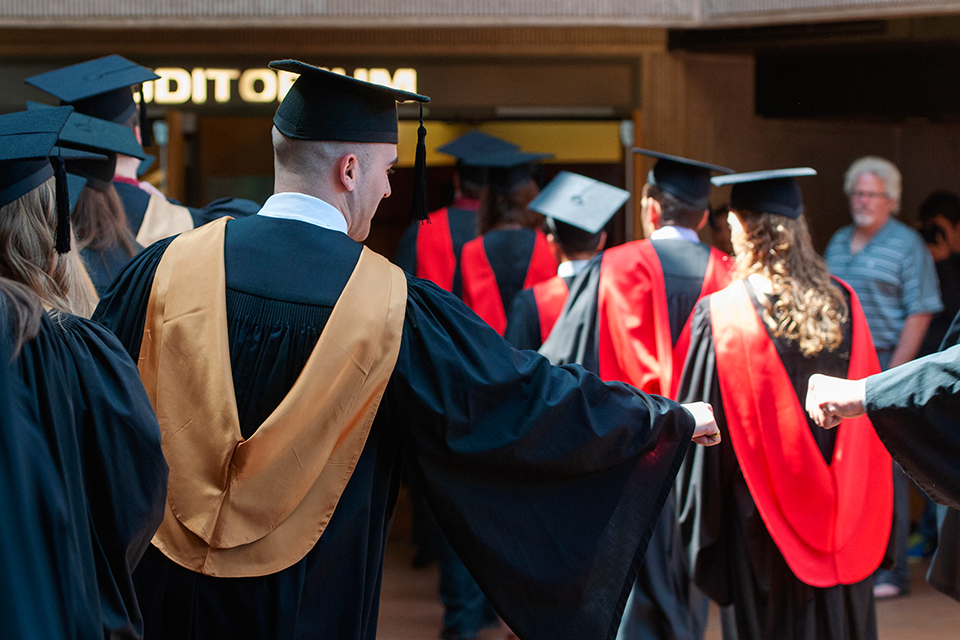 Thousands of UVic students and their families and friends will gather on campus this June to celebrate the achievement of an academic milestone. During Spring Convocation from June 11–15, ceremonies will be held to confer 3,776 degrees, diplomas and certificates. Congratulations, grads!
Convocation ceremonies will be webcast live and available for six weeks following Convocation. View the schedule.
Featured convocation stories
Honorary degree recipients
Honorary degrees—the university's highest academic honour—will be presented to four exceptional individuals during the Spring Convocation ceremonies:
Joseph Arvay, QC, Honorary Doctor of Laws (LLD)
Amb. Nicholas Kuhanga, Honorary Doctor of Education (DEd)
Sandra Richardson, Honorary Doctor of Laws (LLD)
Robert Waisman, Honorary Doctor of Laws (LLD)
Read more about our honorary degree recipients.
Spring 2018 major medal winners
Governor General's Gold Medal: Tianhaozhe Sun—PhD, Earth & Ocean Sciences
Governor General's Silver Medal: Connor Bracewell—BSc, Computer Science & Mathematics
Lieutenant Governor's Silver Medal (thesis): Jiayi Chen—MASc, Electrical and Computer Engineering
Lieutenant Governor's Silver Medal (other than thesis): Yan Xu—MSc, Mathematics
Jubilee Medal for Humanities: Emily-Anne Wiesenthal—BA, Gender Studies
Jubilee Medal for Science: Lauren Wotton—BSc, Biology
Jubilee Medal for Social Sciences: Veronica Plihal—BA, Psychology       
Maxwell A. Cameron Memorial Award (two awards): Hayley Atkins—BEd, Secondary Teacher Education and Melissa Rickson—BEd, Elementary Teacher Education
Victoria Medal in Fine Arts: Kyron Basu—BMus, Voice
The Law Society Gold Medal and Prize: Raya MacKenzie—JD, Law
Certificate of Outstanding Academic Distinction in the Faculty of HSD: Auden Neuman—BSc, Nursing
The Canadian Society for Mechanical Engineering Medal: David Bernard—BEng, Mechanical Engineering
Department of Computer Science Graduation Medal: Heng Liu—BSc, Computer Science & Mathematics
IEEE Victoria Section Gold Medal in Biomedical Engineering: Ryan Chan—BEng, Biomedical Engineering
IEEE Victoria Section Gold Medal in Computer Engineering: Graeme Lyall—BEng, Computer Engineering
IEEE Victoria Section Gold Medal in Electrical Engineering: Rylan Heise—BEng, Electrical Engineering
IEEE Victoria Section Gold Medal in Software Engineering: Heather Cape—BENG, Software Engineering 
Photos
In this story
Keywords: convocation, student life, alumni, degrees, graduates, graduation
Publication: The Ring