Screenwriting grad aims for a place in the stars
- Lisa Abram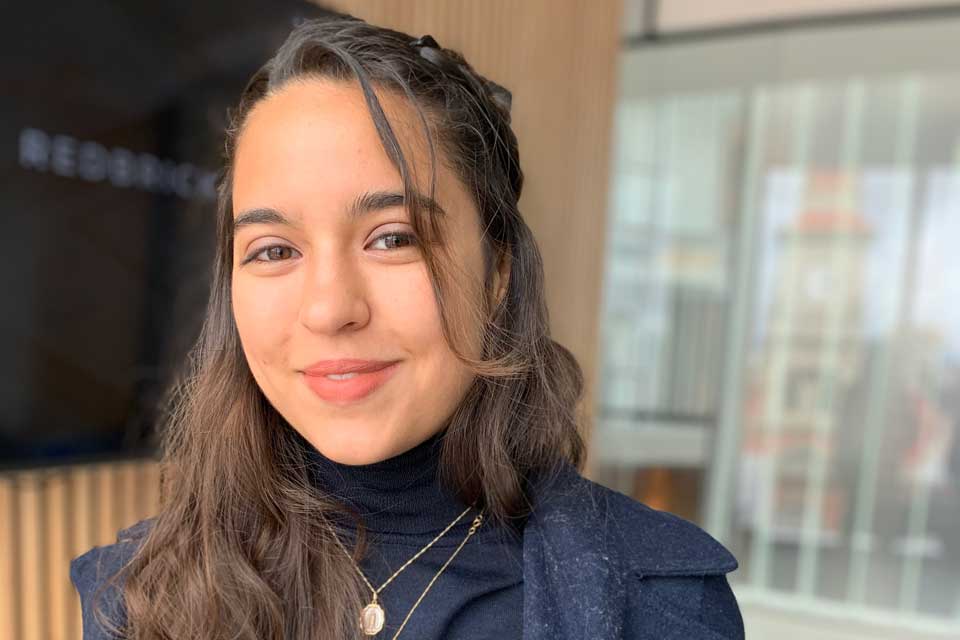 Paula Raimondi Cantú is a storyteller with purpose
Paula Raimondi Cantú, who graduates this November with a UVic writing degree, is a triple threat: curiosity seeker, risk taker and determined achiever. These elements of her character align with a passion for telling stories that need to be told, from the perspective that she knows best—her own.
Cantú's five-year journey through the writing program carried her through several co-op and work study positions, building skills and supporting her quest to hone the craft she hopes will be her life's work: screenwriting. 
From marketing coordinator and content editor to communications assistant and editorial assistant, Cantú excelled at each university placement.
Cantú showed particular resilience under the strain of ever-changing COVID protocols, balancing her studies and a work-study placement at the UVic Libraries. Having flown home to visit family in Mexico for winter break, travel restrictions meant she had to work remotely for her coursework and in her new role as the library communications assistant.
Unfamiliar with the communications tools used by librarians, Cantú embraced learning new software and created a help guide for UVic's Wellness Week—Indigenous Approaches to Holistic Wellness—complete with electronic and print resources for all UVic students, in support of Associate University Librarian–Reconciliation Ry Moran's mandate to lift up Indigenous voices and to advance decolonization within the library.
From her perspective as a student, Cantú began to take notice of faculty and instructors' efforts to decolonize language used in the curriculum, classroom and lecture hall settings—heightening her awareness of Moran's efforts to examine the "big picture" of decolonization and reconciliation across the university.
"It has been a sincere pleasure working with Paula in the library. We have really valued her curiosity, hard work and commitment to our work.  Her efforts on building our social media list of Indigenous influencers and other initiatives will continue to enrich the library for years to come," says Moran.
In addition to taking a full course load, Cantú carved out time to be the founder and creative director of an online magazine, Epopeya, a multidisciplinary art publication that celebrates the creative expression of self-identified people of colour, with design and layout support from fellow UVic students and sisters, Rachel and Sarah Lachmansingh.
In addition, as part of her work study responsibilities, Cantú designed a program book showcasing the writing talents of UVic students whose submissions were selected for the libraries' on the Verge student writing contest.
"It was a real pleasure to work with Paula on the on the Verge publication, and I appreciated all her time and dedication to the project, going above and beyond what was expected from a work study student. Her professional work ethic was exemplary," says Grants and Awards Librarian Christine Walde.
"The on The Verge publication is a project I will remember fondly for years to come. I was given the creative freedom to design a booklet with all the winner's submissions. With this independence and trust, I felt obliged to these amazing writers to do my best in representing the resilient theme of their work," says Cantú. "In a way, this project was an opportunity for me to continue practicing what I enjoy about positions in the arts and communications, which is to honor and elevate the voices of those who share their stories with the world."  
Cantú also seized a networking opportunity to talk to the leadership of the Whistler Film Festival about her career goals—a connection that's become a contract position for the upcoming celluloid celebration.
"In my time at UVic, I learned to be a writer who wears many hats. Telling a story goes beyond putting words down on paper (though writing is still an important aspect of it, of course). Taking classes in magazine publishing, media and film production, and copy editing gave me a varied set of skills that I've been able to use and strengthen in positions where storytelling plays an important role. I've acquired tools that will hopefully help me continue telling stories, including my own," adds Cantú.
While Cantú is well on her way to fulfilling her dream job as a successful contributor in a writers' room, or as an award-winning screenwriter telling stories of equity-deserving groups, one thing is certain: Cantú can do anything she sets her mind to, and she does it with joyful aplomb.
Photos
In this story
Keywords: convocation, writing, student life, international, decolonization, literature, co-op
People: Paula Raimondi Cantu, Ry Moran, Christine Walde
Publication: The Ring