on the Verge Writing Contest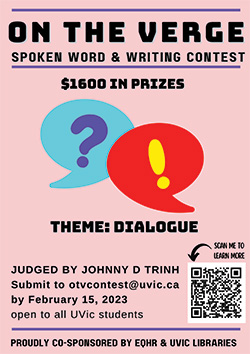 on the Verge Writing Contest showcases and celebrates emerging UVic student voices with an annual theme under the broad rubric of equity, diversity, and human rights. The contest is co-sponsored by UVic Libraries and Equity and Human Rights (EQHR) with significant support from other units on campus.
Dialogue
Dialogue is essential to navigating our world. As we connect, clash, collaborate, and encounter a dynamic range of ideas and ideologies, we shape the future through our engagement with each other. Sometimes our discussion produces deeper understanding and transformation of hearts and minds; other times, attempts at dialogue further the divide between people and groups, cementing ideas and divisions.
What impact does dialogue have on our relationships and vital social issues? How do our values and traditions influence the ways in which we engage in dialogue? How can dialogue surpass the boundaries of identity and belief? Where and why does dialogue fail? And how can we reconnect using the power of our voices to bridge the distances that divide us?
Johnny D Trinh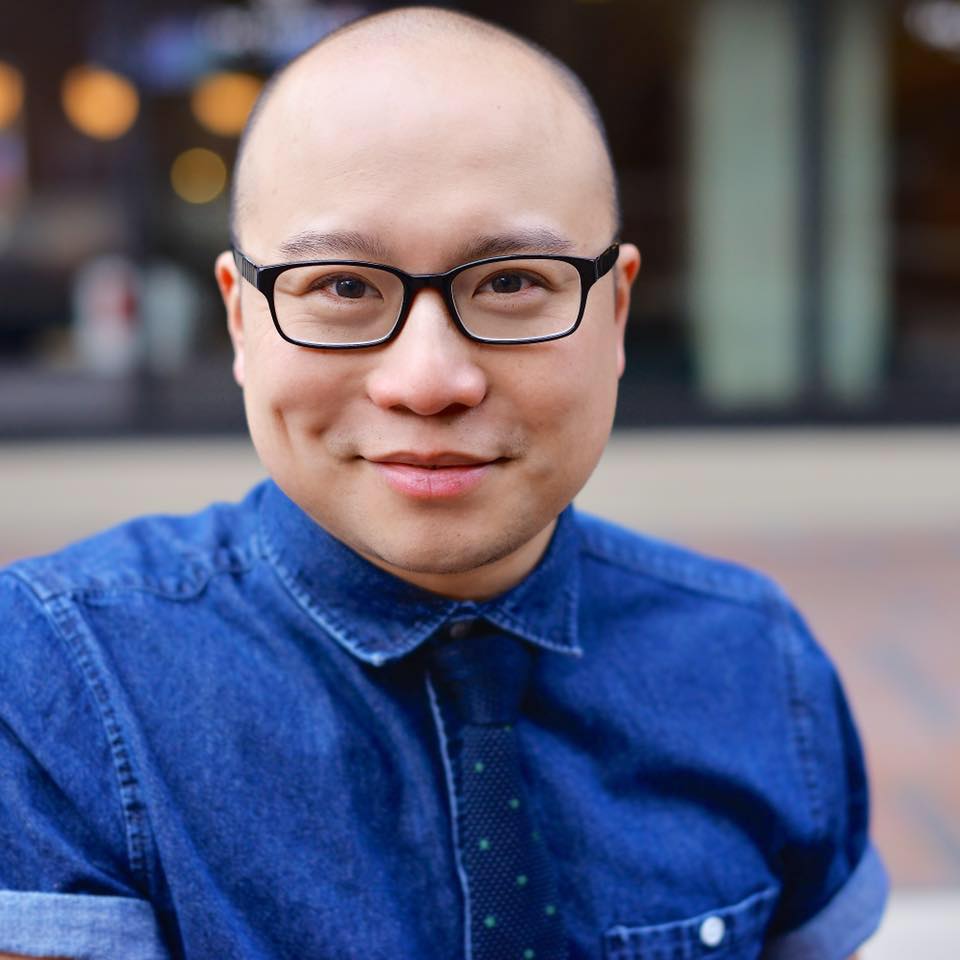 Johnny D Trinh is an interdisciplinary, spoken word artist based in Vancouver, British Columbia. Johnny is the Artistic Director of Vancouver Poetry House and Festival Coordinator for Vancouver Asian Heritage Month Society. Johnny is also the Founder and Artistic Producer of Stage to Page Performance Society, bringing cross-disciplinary mentorship to help spoken word poets grow. Johnny's pedagogy is rooted in the constant goal of fostering a sense of empowerment, agency, and compassion through socially engaged, community based art. Johnny recognizes that many of us are uninvited settlers on this Indigenous Turtle Island, and continually works to negotiate that through accountability, solidarity, and integrity of practice. Johnny holds a MFA in Interdisciplinary Studies from the University of Regina, a diploma in Music Theatre Performance from the Randolph College for the Performing Arts, and Hon. BA in Drama from the University of Waterloo. Johnny is member of the League of Canadian Poets, and alumni of the Banff Spoken Word Residency and Dell'Arte International School of Physical Theatre Summer Intensive, and a TEDxSurrey Speaker and Coach. "It takes a community to build an artist ... whether we are nurtured by it, or resist against it."
Photo credit: K. Ho
All entries will be evaluated on the following criteria:
Excellence and proficiency in writing and technique
Engagement with the theme in a meaningful way
Awareness of equity, diversity, and human rights dimensions related to the theme
Fit within the word/time limits for submission
Guidelines:
Open to UVic students only
Only one entry per student will be accepted
Graphic novel/comic formats will be accepted
Visual and graphic works are eligible
Submissions must be original and unpublished
Enter one of the four categories below:
Poetry (150 lines maximum)
Fiction (1500 words maximum)
Non-fiction (1500 words maximum)
Spoken word (3-minute maximum; video or audio file formats accepted)
Contest winners will receive the following:
Cash prize in each category: $250 first place; $150 second place
Award certificate
Winning entries will be published in DSpace (UVic Libraries' open access institutional repository) and highlighted on other UVic sites, including EQHR
A big thank you to the UVic Libraries, Equity and Human Rights (EQHR), VPAC, and our fabulous Faculty and Departmental sponsors: Business, Continuing Studies, Education, Engineering, Fine Arts, Humanities, Human and Social Development, Law, Science, Social Sciences, and the UVic Writing Department.
Johnny D Trinh will hold a workshop in March 2023. Details will be updated closer to the date.
Read the winning entries in the 2022 on the Verge publication.
Fiction, 1st place: Lisa Basson
Fiction, 2nd place: Meghan Romano
Non-fiction, 1st place: Shannon Stewart
Non-fiction, 2nd place: Joey Mauro
Poetry, 1st place: Juliette Blake Jacob
Poetry, 2nd place: Melissa Cistaro
Spoken word, 1st place: Zinhle Dewa
Spoken word, 2nd place: Shayan de Luna-Bueno
Read past winners of on the Verge and the UVic Diversity Writing Contest in the UVicSpace collection for the contest.