Understanding the effects of COVID-19 on the brain
While we know COVID-19 can negatively affect the brain, we don't really know how or why. Dr. Leigh Anne Swayne and Dr. Marie-Ève Tremblay (both Division of Medical Sciences) and their research teams are working with Dr. Darwyn Kobasa of the National Microbiology Laboratory to help fill in that knowledge gap.
The neurological symptoms developed by some COVID-19 patients range from acute, very severe outcomes like stroke to more common ones like headache, trouble thinking clearly, and anxiety and depression. Those more common symptoms can last for quite a while after the infection has cleared.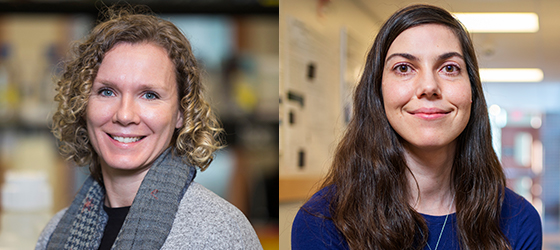 "Several key neurological symptoms are consistent with those seen when the body mounts a defense against an infection, in a process called inflammation," explains Dr. Swayne. "The body releases factors into the bloodstream called inflammatory mediators, and these can make their way into the brain." 
"To do this work, we use our skillset in microscopy and biochemistry, as well as capitalize on our expertise in the biology of neuroinflammation, immune and glial cells, and neuronal connection structures," says Dr. Swayne.Dr. Swayne and Dr. Tremblay are focusing their research on the brain's immune and glial cells, which become "reactive" thanks to the inflammatory mediators. In this reactive state, the two types of cells start to destroy neuronal connections, which can impair decision-making and cause anxiety and depression.
This work will provide new understanding of how COVID-19 changes the brain, which will help with diagnosis and treatment strategies. The research team also plans to test select interventions, which could lead to new treatment options for neurological symptoms in patients with COVID-19 or who are recovering from the virus.
Dr. Swayne (lead) and Dr. Tremblay (co-lead) recently received $30,000 from the first University of Victoria Research Accelerator Fund (RAF) campaign for this research. It is one of six awards from the seed fund, which was started to support and boost research at the university, for work on COVID-19 projects.