Community wellness at heart of arts-based research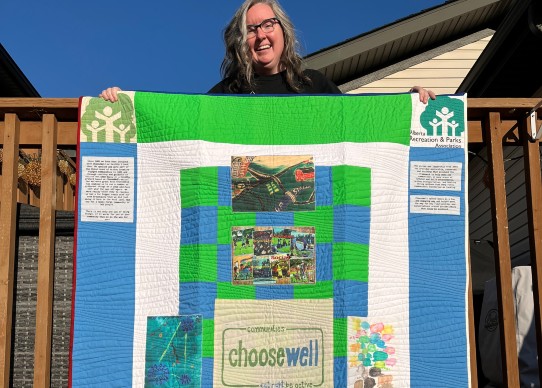 Over the past decade, Karyn Hurlbut has lovingly stitched together nearly 50 quilts for family and friends.   
When the time came for the Fort Saskatchewan-based public servant to submit her thesis for a Master of Arts in Community Development (MACD), Hurlbut turned to a textile tradition that stretches back to medieval times.  
If quilts stitch together layers of material, she reasoned, then she could create the same patchwork effect with stories she would collect for her arts-based research. 
Hurlbut asked 28 long-time champions for Alberta's Communities ChooseWell to use visual arts to explore how the community health program had changed their lives and communities over the past decade. A volunteer for Communities ChooseWell, Hurlbut anticipated the research would give the organization a long-term view of the program outside of the regular three-year funding cycle.    
If she could draw on a recreational passion to accomplish this, all the better.  
"I anticipated I had to do something interesting or different for people to participate [during COVID]," she says. "I wanted to make it fun for people during the hard time we were going through." 
Arts-based research in action 
Hurlbut sent the six people who participated paint kits and asked them to create a picture in the style of their choosing, accompanied by a one-page narrative. She printed their artwork onto fabric. The group then worked together to design the quilt, which Hurlbut spent more than 40 hours sewing together. The result: a textile narrative of the ChooseWell champions' experiences.  
"The quilt takes individual artworks and creates a community story," Hurlbut says. "It allowed space for both the individual and the collective. It is also beneficial that a quilt will last a long time and is an interesting way for me and the ChooseWell program to share the results of the evaluation." 
One ChooseWell champion chose to highlight various community activities in a photo montage. Another participant used a watercolour painting of speech and thought bubbles to depict different conversations and thoughts about community health and wellness over the years.
"The creativity of the participants is what helped reach the depth of findings and analysis that I was able to portray," she says. "Their willingness to be uncomfortable and put the paintbrush to paper was inspiring."
Life-long learner  
Hurlbut describes herself as a continual student. She graduated with an undergraduate degree in sports, recreation and tourism from the University of Alberta in 2013. As her career in recreation and then community development progressed, Hurlbut realized she wanted to learn more. 
"I was hearing the term community development, and I was using it, and I thought, 'I don't fully understand what it means," she says.   
Hurlbut went about changing that, taking a graduate certificate program in sustainable community development, before deciding to enroll in the master's program in UVic's School of Public Administration.  
She started the program during the pandemic, and Hurlbut found the online format gave her purpose outside of her regular job. When the opportunity came to take part in a residency at UVic in June, Hurlbut jumped at the chance to meet the people she had been getting to know virtually for the past two years. And, of course, she packed her quilt for her thesis defense.  
"It was really great to connect with people and have people come to my defense and support me and cheer me on," she says.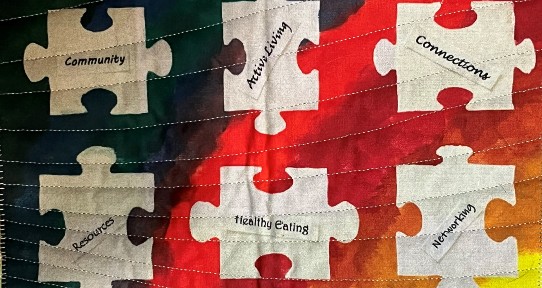 Commitment to social change  
School of Public Administration Director Astrid Brousselle says although primarily an online program, the MA in Community Development includes a two-week in-person residency at the end of June each year. 
Students in the MACD come from diverse backgrounds and experiences and typically work full-time in community organizations and non-profits while completing their graduate program. Brousselle says the program also welcomes applications from students with volunteering experience to apply.
"These amazing students are drawn to the MACD program by a shared commitment to develop as leaders and continue work to advance social change and social justice in their communities and around the world," Brousselle says. 
This year's residency was based on the themes of sustainable community development and Indigenous prosperity. Guest speakers included Susanne Thiessen, an assistant professor in Indigenous Community Development in the School of Public Administration, whose talk was entitled, 'Where is your grandmother from?' and outgoing Victoria Mayor Lisa Helps who spoke about city family.  
"The residency brings people together so they can develop their own sense of community around the program, while debating about ideas and developing their skills and knowledge," says School of Public Administration Director Astrid Brousselle.
"Outstanding community leaders are also invited to share their experiences so students can see that change is possible."
Open heart, open mind
For Hurlbut, who has since returned to the recreation sector, she felt both professionally and personally changed by her studies.
"I'm viewing community differently," she says.
"[The master's] helped open up some of the complexities of our world and how change occurs and how we can think about things differently."
In late October, she will present her quilt and research at the Alberta Recreation and Parks Association (ARPA) Conference and will give the quilt to the ChooseWell team to keep. She hopes the organization feels assured by her evaluation. She has also submitted an article to a scientific journal for publication.
"Sometimes it's hard to know, when bogged down day-to-day, that you've made a difference. I think this helps show they are making a difference every day to communities across Alberta," she says.
Hurlbut would not hesitate to recommend the Master of Arts in Community Development to other professionals, but she has some advice.
"Going in with an open heart and an open mind is important to get the most out of it."