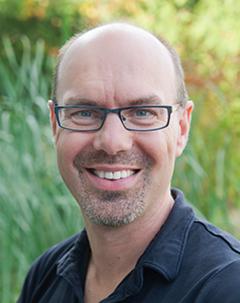 Professor; Academic Director, Custom MBA program
Contact:

Office: BEC 446

colgate@uvic.ca 250-853-3873
Credentials:

BSc in Banking and Finance, University of Ulster; PhD in Financial Services Marketing University of Ulster
Area of expertise:

Customer service, sports coaching in the business context
Related Links:
Biography
Known for his passion for excellent customer service and his innovative teaching style, Dr. Mark Colgate serves as an associate professor of service excellence and an associate dean with the UVic Gustavson School of Business. He helps to inspire students, new faculty members and guide the school's brand, culture and growth.
Mark's primary research areas are service excellence, financial services marketing and sports coaching. His research, which has been published in journals such as the Sloan Management Review, the Journal of the Academy of Marketing Science, the Journal of Service Research and the Journal of Business Research, advances our understanding of the science of service excellence. He brings a coaching, mentorship approach that blends the science of service with the front line delivery of sales and service in a professional way. His goal is for practitioners to benefit from the academic framework and models to provide an unforgettable customer experience.
Mark's teaching reflects his research and he has taught many courses in marketing management, service excellence, the 8 moments of power, and financial services marketing at undergraduate, postgraduate and executive levels.
In 2013, Mark received the prestigious UVic Harry Hickman Award for Excellence in Teaching. He has earned similar awards throughout his career including teaching excellence awards from the University of Auckland, New Zealand and in 2003, 2004 and 2007 from his students at the Gustavson School of Business.
Mark joined UVic in 2002 and is a regular professor at the China European Business School in Shanghai, the leading business school in China, and he has also taught in the U.K., Ireland, New Zealand and Canada. He's consulted for many service organizations including the Commonwealth Bank of Australia, TELUS, ASB Bank, the Bank of Ireland, the Bank of New Zealand, Kiwi Experience, Sony, Toyota and Enerco.
Teaching
Courses taught
Collaboration in Organizations (MBA)
New Venture Marketing (MBA)
Marketing Management (MBA)
Special Topics: Coaching for Higher Engagement and Performance (MBA)
Service Marketing (MBA)
Consulting Methods (MBA)
Introduction to Business Decision Making (BCOM)
Selected Topics in Management - Coaching in Higher Performance and Engagement (BCOM) 
Service Marketing Management (BCOM)
Selected Topics: The 8 Moments of Power in Business (BCOM)
ACE Programs, 8 Moments of Power (Executive Programs)
BC Ferries, Service Excellence (Executive Programs)
Whistler Experience (Executive Programs)
Summer Institute. Service Excellence (Executive Programs) 
Selected publications
Journal publications
Read, M.J.B., Colgate, M., Corwin, V. & Tax, S. (2012).  Helping create service 'experts': The opportunity for an athletic approach in service organizations.  International Journal of Mentoring and Coaching.
Colgate, M., Tong, V., Lee, C. & Farley, J. (2007). Back from the brink: Why customers stay. Journal of Service Research, 9(1), 76-89.
Tax, S., Colgate, M. & Bowen, D. (2006). Preventing customers from failing. Sloan Management Review, Spring, 23-30.
Colgate, M. & Lang, B. (2005). Positive and negative consequences of a relationship manager strategy: New Zealand banks and their small business customers. Journal of Business Research, 58(2), 195-204.
Sajeev, V. & Colgate, M. (2001). The role of price perceptions in an integrated model of behavioral intentions. Journal of Service Research, 3(3), 232-241.
Colgate, M. & P. Danaher. (2000). Implementing a customer relationship strategy: The asymmetric impact of poor versus excellent execution. Journal of the Academy of Marketing Science, 28(3), 373-385.
Awards & grants
Recognition & awards
2013 - Harry Hickman Teaching Award, University of Victoria

2007 - Teaching Excellence Award, Peter B. Gustavson School of Business, University of Victoria

2005 - Service Excellence Award, Peter B. Gustavson School of Business, University of Victoria

2004 - Commerce Students Society Teaching Excellence Award, Peter B. Gustavson School of Business, University of Victoria

2004 - Service Excellence Award, Peter B Gustavson School of Business, University of Victoria

2003 - Teaching Excellence Award, Peter B. Gustavson School of Business, University of Victoria