Eileen L. MacGregor Gordon Scholarship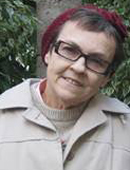 Eileen was born in Victoria, B.C. in August 1947. She earned a Bachelor of Arts degree in English (minor in History) from UVic in 1970, and worked as a freelance journalist writing for several local publications (including Monday Magazine; Times-Colonist; Islander; Elder Statesman; The Island Grower; and The Fernwood News) throughout the seventies and early eighties. During this time Eileen began honing her skills as a playwright. Eileen's play, Once in a Blue Moon, was produced as a radio drama for CBC radio's Hornby Collection (1978), and her dramatic monologue, Voices, was produced for Vancouver's New Play Centre's Sunday Showcase (1981).

Eileen took a leave from writing and raised her two daughters as a single parent. She re-trained as an early childhood educator, specialised in infant and toddler care, and worked assisting and educating various members of the community. Eileen leaves a legacy of working with, and caring for, children and individuals with diverse needs.

In the mid nineties Eileen once again became active in Victoria's playwright community. Working after hours and at night, she returned to her writing roots through the Belfry's Playwrights' Cabaret (Charles Tidler, dramaturge) where she developed and presented numerous plays (1995 – 2008), and workshopped her play The Christening with Metchosin's Blue Moon Theatre (Lesley Preston, director, 1998). Eileen's play, The Harvest, was awarded first prize for plays by the Community Art Council of Greater Victoria (1999).

Eileen received encouragement from UVic professor emeritus Joan Coldwell and author Rona Murray. Eileen was elated when her play The Starlight Tour was named the winner of the 2004 Rona Murray Award for Playwriting and she became a finalist in Theatre BC's Canadian National Playwriting Competition. Eileen's dramatic monologue The Friendship Quilt was performed at the Reminiscence Theatre Festival in the UVic Phoenix theatre's Barbara McIntyre Studio (2006). Eileen was diagnosed with stage four cancer in 2002. With determination, and against the doctor's prognoses stating she had six months to live, she worked through her illness producing plays until she was no longer able to write in 2009.

 

Eileen's plays are greatly inspired by her interest in history and express a mindfulness of the many communities of which Canada is comprised. For example, The Starlight Tour explores aspects of contemporary social relations between Native and non-Native Canadian communities, and was influenced by Eileen's experiences living in Coast Salish territory, and by her own Metis relatives. Similarly, Eileen's experience working with Victoria City Hall archivist A.J. Helmcken acted as a departure point for her Victorian themed play, Dr. Trimble's Christmas Turkey. Themes of life and death – and the transition times in between – recur in a number of Eileen's works. The Friendship Quilt relates the entire life span of an elderly woman. By weaving the protagonist's narrative into the simple premise of discussing a handmade quilt, Eileen layers decades of the woman's experiences into the relatively short format of the dramatic monologue. In The Harvest, concerns of a senior couple, their relationships with each other and their children, are presented during the events of an autumn harvest celebration. Death himself is in attendance at the party. As a connoisseur of many vintages of both wine and people, Death dances his way into the protagonists' lives displaying an otherworldly wisdom and an often macabre sense of humour.

UVic was a place where Eileen found her wings as a writer and she wished to return to UVic in her senior years to attend writing and theatre classes. However, after a valiant and graciously fought eight year battle with cancer, Eileen passed away in June 2010 before she was able to realise this goal.

Eileen made it possible for both of her daughters to attend university and to obtain their degrees. Each of her daughters took after her: the eldest pursuing a degree in education, the youngest working in fine arts. Eileen will be remembered for her kindness, strength, artistic talent, personal integrity and incredible sense of humour.

Eileen was a gifted writer who taught us to "always follow our bliss" by remaining true to our passions. It is our sincerest hope that this scholarship will assist others to do the same.

If you have any questions about Eileen's life, or are interested in her work, please contact Robbyn Gordon Lanning at robbyn@uvic.ca.