Paul Walde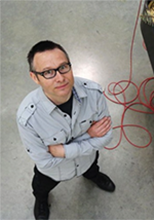 Position
Professor
Visual Arts
Contact
Office: A244C
Credentials
Area of expertise
Painting, media practices
Brief Biography
Paul Walde is an award winning artist, composer, and curator. Walde's body of work suggests unexpected interconnections between landscape, identity, and technology.
Recent exhibitions of his work include: Au Loin Une Île at Mains d'Œuvres in Paris, France (2018), Records and Wireframes at Dundee Contemporary Arts as part of the NEoN Festival of Digital Media in Dundee, Scotland (2017) and The View from Up Here at the Anchorage Museum and the Nordnorsk Kunstmuseum in Tromsø, Norway (2016 and 2017).
In 2013, he completed Requiem for a Glacier, a site-specific sound performance featuring a fifty-five-piece choir and orchestra live on the Farnham Glacier in the Purcell Mountains. Requiem for a Glacier was subsequently developed into a multichannel sound and video installation which has been the basis of solo exhibitions at WKP Kennedy Gallery in North Bay, On (2017); L' Université Laval Art Gallery in Quebec City, QC; Art Gallery at Evergreen, Coquitlam, BC; Oxygen Art Centre in Nelson, BC, (2014) and The Langham Cultural Centre in Kaslo, BC (2013).
Walde's work can be found in public and private collections in the Canada and the US including the Musée des Beaux-arts de Montréal, The Anchorage Museum, and Museum London.
Walde is a graduate of the University of Western Ontario (BFA) and New York University (MA). In addition to recent grants from the Canada Council for the Arts and the BC Arts Council, he is the winner of The Prescott Fund Award from the National Arts Club in New York City and the Kenny Doren Award from ED Video in Guelph. In addition to his studio practice, Walde is an active lecturer, curator, teacher and writer and has attended residencies at Pouch Cove, Newfoundland, the Banff Centre for the Arts and the Anchorage Museum. From 2007 to 2010 he was the Artistic Director and Visual Arts curator of LOLA, the London Ontario Live Arts Festival during which time he presented projects by such international artists as Brian Eno (UK), blackhole factory (DE), Yoko Ono (US) and Paul D. Miller aka DJ Spooky (US). Often blurring the lines between producer and curator he has also presented the work of such Canadian artists as: Michael Snow, Kelly Mark, Dave Dyment, Gordon Monahan, and Michelle Gay.
In 2012 he relocated to Victoria, British Columbia, where he is Associate Professor  of Visual Arts and Department Chair at the University of Victoria, and in 2018, the recipient of the UVic REACH Award for Creativity and Artistic Expression. Walde is also a founding member of Audio Lodge, a Canadian sound art collective and EMU Experimental Music Unit a Victoria-based sound ensemble.