Tanjulia Akter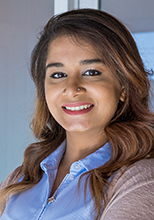 Position
Software Engineer
Electronic Arts
Credentials
Tanjulia works as a software engineer on the Electronic Arts Frostbite Engine, and is helping the company fulfill its mission of providing innovative tools and workflows that enable Electronic Arts to lead the industry in content creation. She is helping make an ecosystem of modular components that are efficient, adaptable to trends and allow for quick iteration of any artistic idea into reality.
As a member of the team, Tanjulia partners with several groups spanning all aspects of asset creation including character and world building, animation, rigging, audio and scanning, with whom her team collaborates to bring art for modern games to life. Her responsibilities include requirements gathering; architectural tool design, implementation, and debugging; and working on complex problems with artists and other engineers in the domain of tool, pipeline and workflow development to improve quality and optimize processes.
It has given me the opportunity to set my foot into the industry and gain experience before graduation. It helped me figure out what I wanted to work on, and the Co-op placements have helped me gain the skill set required for such work.