Dr.

Phalguni Mukhopadhyaya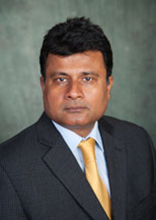 Position
Professor, Director of Graduate Program
Civil Engineering
Contact
Office: ECS 318
Credentials
BTech (NIT, India), MS (City University, London), PhD (University of Sheffield), P.Eng
Area of expertise
Energy efficient buildings, high performance thermal insulations, hygrothermal response of building envelopes, bio-based construction materials, retrofit technologies
Background
Dr. Mukhopadhyaya researches on various issues related to building envelopes and structures. His current research focus is on heat-air-moisture (HAM) transport through building envelopes and materials and its impact on the durability, energy efficiency and sustainability of the built environment.
More specifically, application of innovative engineered high performance exterior building envelope materials and systems for enhanced durability and energy performance of built environment has been the primary theme of his research in recent years.
Laboratory based performance characterization, in-situ performance assessment and application of numerical modelling tools are three fundamental blocks for these research activities.  
Research
Energy Efficient Buildings
High Performance Thermal Insulations (e.g. Foam, Aerogel, Vacuum Insulation Panel (VIP) etc.),
Hygrothermal Properties of Construction Materials
Moisture Management in Building Envelopes
Wood-Frame Constructions
Novel and/or Bio-based Construction Materials
Technologies for Retrofitting Building Envelope and Structures
Announcements
Currently accepting applications from qualified and motivated individuals who want to pursue MS and/or PhD. Please contact by e-mail for further information and discussion.
We are now accepting the abstracts for the 3rd International Conference on New Horizons in Green Civil Engineering (NHICE 03), April 25 – April 27, 2022, Victoria, British Columbia, Canada, (http://nhice.engr.uvic.ca) and the deadline is October 30th 2021.
You can download the Proceedings of the 1st Conference here. 
You can download the Proceedings of the 2nd Conference here.