Farewell to Jamie Cassels
After seven years in the role, Jamie Cassels finishes his time as University of Victoria president and vice-chancellor this fall. 
Cassels has been a faculty member at UVic for nearly 40 years and has served in senior leadership roles for more than half that time. He will be succeeded by Kevin Hall whose term begins November 1.
As president, Cassels helped to advance the university in countless ways, while leading with humility and professionalism. He helped shape the university's priorities around vital research and our work tackling global challenges like climate change and reconcilliation. And with the Jamie Cassels Undergraduate Research Award, he leaves a lasting legacy of undergraduate research and hands-on learning at UVic.
Thank you, Jamie!
In conversation
Cassels sat down with Chancellor Shelagh Rogers to reflect on his seven years as president of the University of Victoria.
Reflections from our community
"As the president of the University of Victoria you have unflinchingly brought the dignity and the heft of your office to stand with the Chair in Transgender Studies, with the Transgender Archives, and with the Moving Trans History Forward conferences. The symbolic value of the visible support of the president of a major Canadian university has given trans people around the world a greater sense of hope and of pride."
Aaron Devor
Chair in Transgender Studies and professor
---
"This past year has been particularly challenging for many people on campus and I am immensely grateful for your selfless and committed leadership during these unprecedented times. Your leadership gave folks piece of mind and effectively steered the university to its current strong position."
Essie Mehina
Graduate student
---
"Jamie is a genuine person with a tremendous responsiblity and a fancy title. 
Jamie, thank you not only for your leadership, but for your inclusiveness. I look forward to seeing you around campus as you go back to teaching and as you embark on your next 40 years here, at the University of Victoria."
Ian Yates
Staff member, UVic Facilities Management
---
Watch all the videos
Jamie Cassels Centre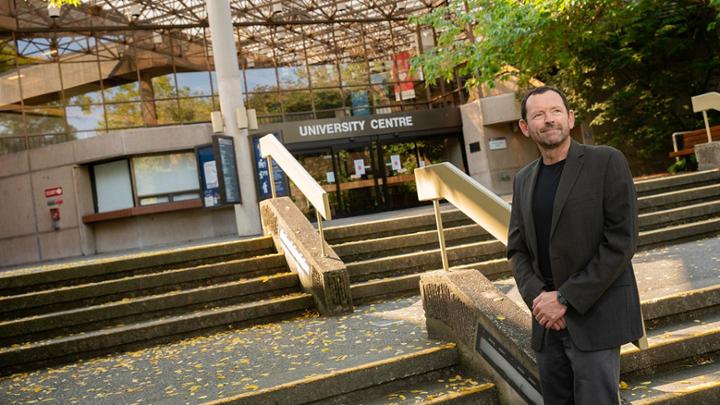 In recognition of Jamie Cassels' extraordinary contribution and nearly 40 years of service to UVic, the University Centre will be renamed the Jamie Cassels Centre
Accomplishments
Under Cassels' leadership, UVic has grown an impressive list of accomplishments over the past seven years. Here are a few highlights:
2013
Held Campus Conversations, a chance for faculty, staff and students to share their hopes and aspirations for our university
2014
Organized the first UVic Campus Update, our regular townhall series
Opened the Centre for Athletics, Recreation and Special Abilities, home to our UVic Vikes and recreational opportunities for the entire community
2015
Unveiled the UVic Edge brand that celebrates our unique combination of dynamic learning, vital impact and extraordinary environment
Established the President's beyond borders fund to encourage student mobility
2016
Opened the new Continuing Studies Building wing to support lifelong learning
Established the Department of Civil Engineering with a green focused program
2017
Held the first President's Extraordinary Service Awards to celebrate outstanding employees
Established the REACH Awards to recognize the teaching and research achievements of faculty, instructors and graduate students
Implemented a sexualized violence policy to ensure UVic is a safe environment in which to learn, work and live
2018
Nominated and recruited Dr. Ian Manners as a Canada 150 Research Chair
Launched the world's first joint degree in Common Law and Indigenous Legal Orders
Released the Strategic Framework that articulates our shared understanding of UVic's vision, values and priorities
Co-hosted the National Building Reconciliation forum with Universities Canada
Announced a new student housing and dining facility - the largest campus project in UVic history to be built using Passive House standards
Transferred the Dunsmuir lands to the Pauquachin First Nations, representing many years of respectful dialogue and UVic's commitment to reconciliation
2019
Opened the Queenswood Campus with a new home for Ocean Networks Canada
Launched investments to advance the Strategic Framework, including funds for experiential learning; the impact fund; fellowships in research-enriched teaching; graduate student support; and the Impact and President's Chairs
2020
Launched UVic's response to COVID-19 before Canada and the WHO declared the emergency, allowing UVic to be better prepared
Advanced supports for students with a new Student Wellness Centre and 24/7 mental health service