Post-docs Tara Horrill and Vidhi Thakkar and PhD student Amber Bourgeois win prestigious awards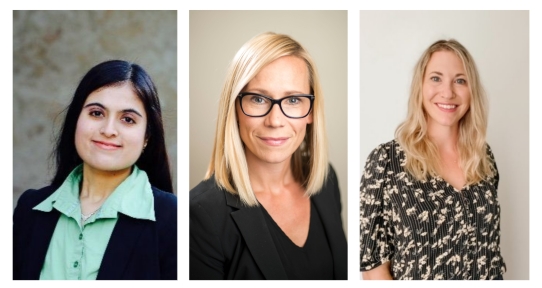 Tara Horrill (PhD, RN) announces her postdoc fellowship with Dr. Kelli Stajduhar, UVic Nursing, and Dr. Annette Browne at UBC Nursing funded by Michael Smith Foundation for Health Research Trainee Award! Read more at the MSF website.
Two other researchers supervised by Dr. Stajduhar, PhD student Amber Bourgeois and post-doctoral fellow Vidhi Thakkar, have received the Canadian Institutes of Health Research (CIHR) HSIF fellowship award. 
The Health System Impact Fellowship (HSIF) program gives PhD students and postdoctoral fellows on-the-job learning opportunities in health system organizations. The fellows bring their unique skillsets, new ideas and innovative approaches to help address real-world health system challenges.
Amber Bourgeois is a nurse practitioner in medical oncology at BC Cancer - Victoria and PhD student in her second year in the School of Nursing at the University of Victoria (UVic). 
During this research fellowship, Amber will be co-supervised by Dr. Leah Lambert, executive director and senior scientist, nursing and allied research and knowledge translation, BC Cancer, and Dr. Kelli Stajduhar, whose programs of research focus on equity-oriented care for people living with cancer. This fellowship will provide Amber with opportunities to advance key methodological, theoretical and applied skills necessary for undertaking health services and policy research with an equity lens, and undergo formal training in knowledge translation. Amber's research aims to explore the barriers to accessing cancer treatment and care for populations who are living with social disadvantage on the basis of structural inequalities.
Vidhi Thakkar's HSIF research is a program evaluation of an innovative program to support patient caregivers in palliative care. The COMPASS program will be implemented to improve their health. She is mentored by Jonathan Schmid and Kristine Gagnon at the Victoria Hospice and Dr. Stajduhar.
Congrats to all three winners!