Welcoming students back, together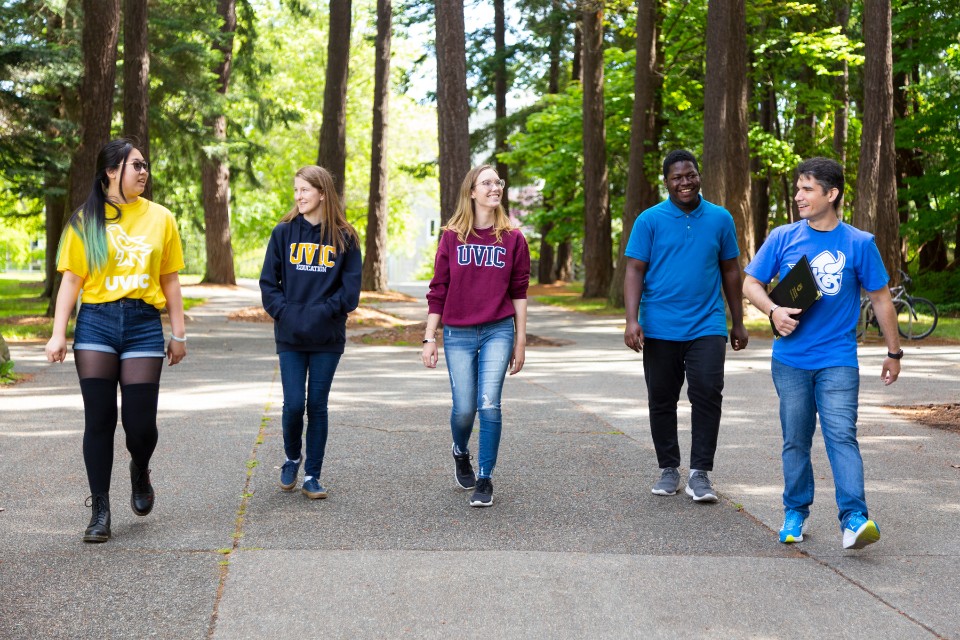 It's not unusual at UVic to see a stir of activity and excitement around this time of year as students and their families start to arrive on campus for the start of school. This year, as the university prepares to welcome about 22,000 students after more than a year of mostly virtual programming, the scale of our usual September return to campus has increased dramatically. And the excitement is palpable! 
"Students are both excited and nervous for the start of term," says Joel Lynn, executive director, Student Services. "We're proud of our in-person learning and co-curricular opportunities, which are key components of the UVic experience. Anticipation is high and it is great to see students starting to come back together on campus."
A complex time for students
Alongside this growing anticipation and enthusiasm are some of the more challenging realities brought on by the COVID-19 pandemic. As BC's Provincial Health Officer, Dr. Bonnie Henry, has indicated many times, youth aged 18-24 are some of the most affected in terms of financial and social impacts of the pandemic and overall issues of mental health and affordability remain key challenges for our students. Some members of our community are feeling anxious about the return and some international students are navigating travel restrictions and delays in their study permit processing. Plus, there is a double cohort of new-to-campus first- and second- year students who will need more support in making connections and finding their way.
It's a complex time for sure. Providing a welcoming campus environment will be more important than ever this September.—Joel Lynn, executive director, Student Services
Orientation & welcome events
The Office of Student Life has ramped up their offerings to help with the unprecedented return to campus this fall.
Informed by provincial health guidelines, we are following our new Communicable Disease Plan  and expect to be at Step 4 of our restart plan this fall. Most orientation and welcome programming will have a mix of virtual and in-person offerings to accommodate students who can't be on campus for the start of term.
In addition to their regular first-year programming, the team has developed events, workshops and resources specifically for second-year students who may not be familiar with campus. This is the case for Hannah O'Shea, a second-year science student: 
I've been there a few times, but I don't know campus at all! It's going to be hard to find my way around and I don't know the names of many of the buildings. But I'm really excited about the second-year tours UVic is running – I was scared they wouldn't do anything like that for second years. I've already registered for all of the second-year orientation events. — Hannah O'Shea, second-year science undergraduate 
Q/A with Hannah O'Shea: Second-year student experience this fall
This year, the annual #ThisIsUVic Opening Celebration will take place virtually on September 3 where the entire first-year incoming class will learn about the UVic community, participate in UVic traditions, meet Thunder and more.
During the first week of September, first- and second-year students will have the opportunity for in-person small-group campus tours and social activities. Faculties are also hosting welcome events specific for each audience, and international and Indigenous virtual and in-person orientation programming is on offer too.
I'm so excited to come to Victoria and be on campus! Last year I joined a lot of the cultural events organized by the Global Community and I made some friends that way. Moving to another country and leaving your family is really complex. I think it'll be easier because I know I have some people in Victoria who are waiting for me to arrive. I can't wait to get to Victoria and see my friends in person.— Ana Paula Santana Bertho, graduate student in History
Q/A with Ana Paula Santana Bertho & Daniel Gudiño:  International student experience this fall
For the broader student audience, back-to-school programming runs August 16-31 and offers virtual opportunities to meet other students, prepare for the new academic year and learn about resources and services. All students can join the in-person welcome events during the first week of September, including a campus-wide welcome from Indigenous communities, ThunderFest and UVSS' Campus Kick-Off at the Student Union Building.
Supports throughout the year 
"We know that students thrive and succeed at UVic when they're fully engaged in social, academic and co-curricular activities," says Lynn. "We need to create opportunities for connection and support that extend beyond that first week of events too."
That's where the New Student Connect Program comes in. Launched in 2020 and redesigned for 2021, the program matches first-year students with upper-year mentors who can answer questions, share resources and guide new students through their first year on campus. Students in the Connect program are also given access to a virtual community-building and campus resource-sharing channel hosted on Microsoft Teams. This fall, students entering their second year at UVic will be offered a unique, transitional Connect channel curated specifically for their cohort as they navigate campus life in person. In addition to this virtual resource, the Connect team will be planning in-person social events for year two students in the first term.
There are a range of other opportunities to connect with peers throughout the year too, including the Global Community, student clubs and organizations, Vikes Recreation Sports Clubs, and so much more.
How can faculty and staff help?
"Students are living not only an academic, but a social experience. It's very important to welcome them and create an environment where they feel comfortable to be who they are," says Bertho.
When you're out on the campus, reach out to students looking lost or anxious. The Ask Me Campaign is a simple way to help welcome students to UVic. Faculty and staff are encouraged to wear an Ask Me button for the first week of the term to signal to all students that you are available to help. Pronoun buttons are also available. Pick up a button for yourself or a bunch  for your unit at the Welcome Centre in the Jamie Cassels Centre Aug. 15 – Sept. 15 (or until supplies run out).
In the classroom, remember that peer-to-peer connection is a core element of student success. Instructors may choose to start their first class with an ice breaker activity or round of introductions. You can also provide students with services and resources available to them, such as the Student Wellness Centre.
"If you see a student with a campus map or looking lost, I encourage you to walk over and introduce yourself," says Lynn. "Gestures like this may seem simple, but they're so important. It's little interactions like this that can help to build community and make students feel like they belong."
Photos
In this story
Keywords: administrative, students, COVID, student life
People: Joel Lynn, Hannah O'Shea, Ana Paula Santana Bertho, Daniel Gudino