Better medicine
- Clare Walton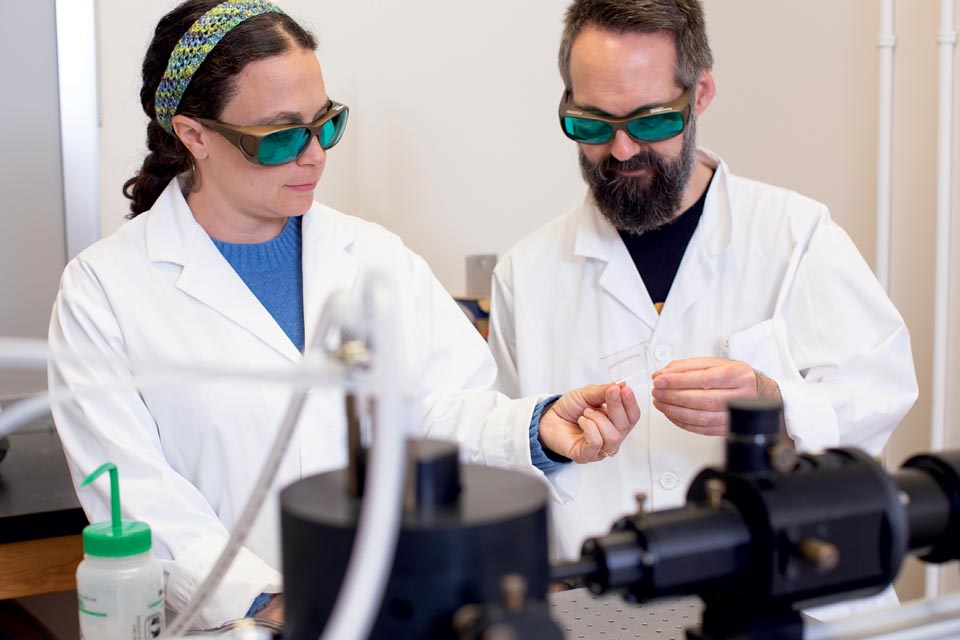 UVic is working with multi-disciplinary health-science teams across Canada to create safer, more effective drugs.
UVic researchers and students are part of a unique, collaborative training program to help students learn from different influences as they strive to improve drug specificity, safety and efficacy.
UVic chemistry professor Matthew Moffitt and drug-delivery specialists at four Canadian universities are working to improve the future of drug delivery by training graduate students to create better options for chronic-disease treatment and to make existing treatments more specific and safer for patients.
Through a multi-institutional graduate training program, master's and doctoral degree students study tiny particles that work as drug carriers within the body called polymer nanoparticles and tackle the problem of targeting chronic illnesses, such as cancer, through the creation of discerning drug-delivery systems.
The Polymer Nanoparticles for Drug Delivery (PoND) program was born out of the NSERC's Collaborative Research and Training Experience grant program, CREATE. The grant aims to support the creation of highly qualified students and encourages collaboration. PoND is unique in its instruction, putting focus on exposing students to a range of approaches to drug-delivery materials research.
"PoND was inspired by academic collaboration. A group of professors from different institutions started discussing problems of drug delivery and noticed how much better we were at prob.lem solving when we combined our different research focuses," says Moffitt. As a partnership of UVic, the University of Toronto, Laval University and Concordia University, the program provides students with access to eight academics, with specialities ranging from physics to chemistry and biology.
The program's unique focus on academic collaboration and on facilitating experience with industry sets PoND apart from other graduate programs, says chemist and PoND PhD student Liza Silverman. "Being able to connect with experts who special.ize in areas outside of my own helps to develop my research project in ways that would not be possible otherwise."
"When we created the PoND program we wanted to acknowl.edge how broad this field is by providing training that allows stu.dents to experience the full breadth of the scientific discipline by exposing them to different academic perspectives," says Moffitt.
Each student is co-supervised by two professors and instruction is divided into short modules that cover different practical skills and theories on drug delivery to ensure exposure to a wide range of academic perspectives.
Students will develop a diverse range of skill sets that will allow them to work comfortably both in academia and within an industrial setting. They will be better equipped toengage with industry because of the varied instruction they receive, the internships they complete and the networking opportunities built into their degree.
Mandatory internships with industry partners, as well as conference-style networking opportunities called Research Days, are integrated into the program. "Being able to connect face-to-face with industry partners really adds value to your academic experience," says Silverman. "Presenting your research to industry and receiving feedback on your work provides valuable insights on how your skills can transfer to an industrial setting after complet.ing your degree."
Through Research Days students come together with their cohorts to connect with industry and gain knowledge of different approaches to the challenge of improved drug delivery. Both the MSc and PhD programs also require students to complete an internship of four or eight months with an industry partner.
"Creating opportunities for students to partner with and learn from companies who have an interest in drug delivery helps ensure the training we provide balances research and industrial experience," says Moffitt.
Although still a young program, PoND first received CREATE funding in 2017. This novel approach to training is already in the process of bridging knowledge gaps across the field and has implications for improving the way cancers are treated.
"Drug delivery is all about improving on existing drugs, making them more selective and targeted in their approach to treat.ment," says Moffitt. "Many of the projects within PoND are tackling the issue of taking a highly toxic and non-selective cancer drug and improving upon it, so that the drug's toxins are limited to only a patient's cancerous tissues."
PoND students and researchers are working on multiple projects to understand the full journey of a drug, from when it enters the body to how the nanoparticles target a tumour and affect a patient.
—
More stories from the Torch special section: Future Health
Photos
In this story
Keywords: health, research, chemistry
People: Matthew Moffitt, Liza Silverman
Publication: The Torch