Art for everyone
- John Threlfall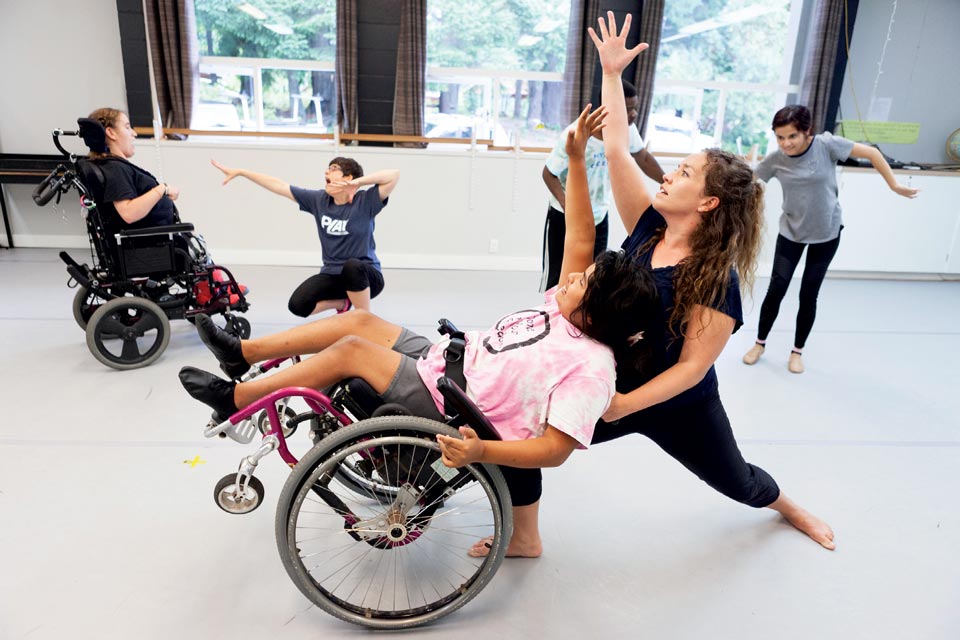 Theatre grad Tiffany Tjosvold's Embrace Arts Foundation ushers in a new stage of dance training for mixed-ability artists.
When American actress Ali Stroker made history in 2019 by becoming the first wheelchair user to be nominated for—and win—a Tony Award, it was simply another indication that mixed-ability performance instructor Tiffany Tjosvold (BFA '12, BEd '14) was on the right track.
Tjosvold founded the Embrace Arts Foundation in 2017. She was inspired to establish a non-profit devoted to creating mean.ingful artistic opportunities for individuals of all abilities after a series of connected circumstances: dealing with her own debilitating chronic condition, completing her applied theatre training at UVic and, most importantly, receiving an anonymous donation to travel to Uruguay for certification with the acclaimed organization, DanceAbility International.
"I received an envelope with all the money—in cash—to go take the program," she recalls. "To this day, I still don't know who the money was from, but it was a sure sign that there were people in the community who wanted this."
As a Phoenix Theatre student, Tjosvold worked with the disability community and grew aware of the inaccessibility of Victoria's performing arts scene. "For my fourth-year project, I worked with Community Living Victoria and adapted a theatre group for their inclusive Teen Community Connections program, and in my last semester I did a directed study on increasing community dance access," she says. "I count my applied theatre degree as some of the most valuable learning and train.ing I've ever done—it led me to realize there were so many things I could do."
Her own arthritic condition led to an epiphany when she found herself unable to do any of the dancing for which she had trained. "I don't think I was really aware of how exclusive some of the spaces I was working in were … until I couldn't be in them myself." Frustrated by the overall experience, Tjosvold decided to do something about it.
Fusing her practical experience with the Phoenix's entrepreneurial spirit, she created Embrace Arts, with classes, camps and school programs for kids, teens and adults built on the idea of embracing movement, music and artistic expression. But Embrace Arts also boldly moves beyond typical programming by mounting inclusive dance projects, shows and participation in public arts events.
"We're unique in that we also work with theatres, as opposed to just schools or community classes," she explains. "We're very driven by how we can support the artists we're working with … the shape and concept of our shows can be wildly different, depending who's involved."
Embrace Arts is one of a number of arts organizations uniting professional artists and people with disabilities—including Vancouver's RealWheels, which helped inspire the idea for Embrace Arts and debuted the new mixed-ability play, Act of Faith, by theatre and writing alumna Janet Munsil (BFA '80, MFA '19) in April 2019. Tjosvold feels Embrace Arts is on a roll.
"There are others in BC who work with mixed-ability dance, but we're really participant- and artist-driven," she explains. "We want to build programs that let individuals shine as the artists they want to be and have access to the training they want; for example, some of our participants really want to rock out with hip-hop, and there are less of those opportunities around."
While still a young company, Embrace Arts has already created meaningful artistic opportunities for over 200 participants ranging in age from four to 70—many of whom she first worked with while still a UVic student—and Tjosvold received Community Living Victoria's "Making A Difference Award" in 2018.
At this point, Tjosvold and director of music programming Erin Koop are busy planning for the future with new initiatives like their "Stories Unfold" schools program. "We are definitely growing," Tjosvold says.
—
More stories from the Torch special section: Future Health
Photos
In this story
Keywords: accessibility, health, art
People: Tiffany Tjosvold
Publication: The Torch