Health through a legal lens
- Julie Sloan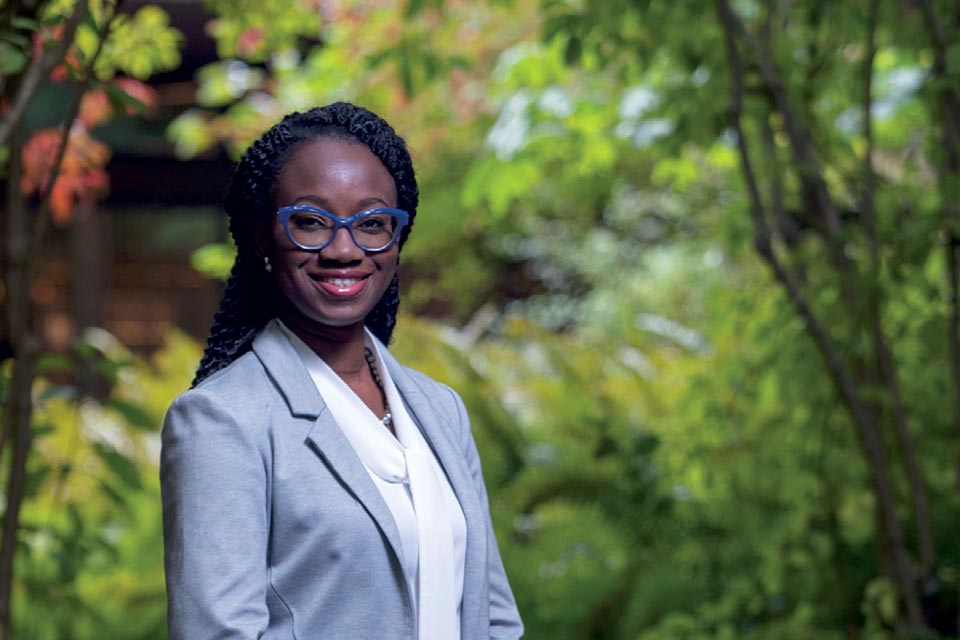 Q&A with Dr. Irehobhude (Ireh) Iyioha
Irehobhude (Ireh) Iyioha is a new faculty member at UVic Law whose research interests include health law. Her scholarship and community service have earned her the World Congress on Medical Law Award, the 2016 Canadian Immigrant of Distinction Award, and the 2018 Stars of Alberta Award from the Lieutenant Governor of Alberta and the Ministry of Culture and Tourism.
You're a law professor, founder of a non-profit foundation, published fiction author—all while raising two young children. What's your secret for time management?
Knowing when to delegate. And learning to accept that you can't do it all. I prioritize what needs to be done based on timelines for accomplishing those tasks, I draw on the support system that I have and delegate tasks that can be delegated, and I try not to lose sight of what, ultimately, is most important. Everyone has an idea of what is most important in their lives. I have also learnt to politely say no to things and to ask for more time when I need it.
What motivates you?
My goal is to inspire reform in some of the challenges that face minorities, vulnerable populations and people of colour. As a black woman I have had challenges—based on my race—within the health-care system and the broader society. Whether writing as a law professor or writing creatively there is usually a goal—and the driver of that goal is social justice.
Who was your biggest influence growing up in Nigeria?
My mom [Patricia, after whom the foundation is named] was a school principal and a successful entrepreneur. She was very much aware of the sociocultural and economic situation within which she lived and the challenges for women. She saw poor kids and kids with disabilities on the streets. She gave food, she gave money, she gave clothes from the backs of her own children. She has been a source of inspiration for my charitable work and for believing you can achieve multiple aspirations at the same time. My father was also a source of inspiration in terms of the appreciation he had for formal education (it was exceedingly high on his priorities). After nearly two decades teaching at the university as a criminologist, he went on to study and subsequently practise law.
How did the loss of your mother make you want to find ways to improve health care?
We lost her as a result of a physician's negligence. The loss made me think more critically about the standards of health-care delivery and what could be done to ensure the same thing did not happen to other people. My interest in medical negligence—and the broader field of health law and policy—grew from this experience.
So, much of your research has been shaped by personal experience as well as education?
My work has certainly been influenced by personal experience, but much of it, at its core, is tied to education—and this includes both formal and informal education by parents who rejected every form of oppression, whether by past colonial powers, military juntas, or democratically-elected governments. This critical stance to injustice continues to influence my research.
So, my early work in health law examined the regulation of Indigenous and complementary health-care reform with a focus on ensuring improved access to these medical systems for marginalized and underserved populations. My mom was, of course, a patron of these forms of medicine.
I also made the case for modified legal rules for integrating Indigenous medicine and Western biomedicine for the benefit of Indigenous communities and underserved populations in the global south, examining, along the way, the subject of medical negligence within both medical systems. In all this, it was important to trace the impact of the colonial experience on the state of health care in the global south.
Beyond the role of law in health-care reform, my current work addresses the limits of law's reformative role, with much of the research examining the effectiveness and limits of using law to advance women's health-care interests, especially for women of colour. My research uses experiential data from various sources, practices and laws worldwide and critical theories in jurisprudence to advance new ideas on what explains law's effectiveness or ineffectiveness, and the differential impact of law on racialized groups, especially women.
Within your research interests, what do you consider to be some of the most pressing issues in health care, those things that can keep you up at night?
I am particularly interested in examining access to health care for marginalized groups in Canada. While the Canada Health Act lists accessibility and universality among the five requirements for provincial/territorial health plans, black, Aboriginal, immigrant women of colour and other racialized women have legal, psycho-social and, in some cases, financial barriers to accessing health care. One of the more serious challenges faced by these groups of women is discrimination.
How are you exploring these issues?
I study the ways in which these challenges arise, with particular attention to the different ways law creates or sustains barriers to access. I pay attention to disparities in the impact of laws, policies and practices on women from different backgrounds, while also assessing the ways in which a law's provisions can lead to problematic implementation and adverse outcomes.
What other areas of law interest you and how do they tie in with health law?
My other fields of interest are jurisprudence, international human-rights law and torts. My ongoing research on the subject of law's effectiveness and law's limits is actually situated within the field of jurisprudence. I have found the outcomes of my research in this area useful for exploring the limits of law in my areas of interest, which include international human rights law, health law and torts.
What's the goal of your non-profit, the Patricia Eromon Iyioha Foundation (PEIF) Fund?
We offer a Service-Mentorship Exchange Program through which we provide mentorship to young professionals in exchange for service to kids in need. One of our programs for kids is our alternative educational program (called TAC—the Teach A Child Initiative); it is designed for kids living with disabilities who are not able to access formal education in underserved communities. We offer formal training in fundamental subjects such as English, math, computer science and coding. We fund small-scale projects with a significant impact, with the hope of helping as many children as we possibly can. We've had mentees from different countries, including Canada and Nigeria.
You have also been interested in writing fiction since you were six years old. What's the appeal?
The beauty of creative writing for me is that it allows me to go beyond the kind of writing I do in law, which of course is expectedly restricted to one's areas of expertise. With creative writing, there are no such restrictions as we are focused on the human experience and there is freedom to explore diverse issues of importance. My work has covered a whole lot of issues ranging from art and interracial unions to issues of immigration, police violence against blacks, the Syrian war and terrorism. I have also written about transgender rights and love between same-sex couples—subjects that would be deemed controversial in Nigeria—the country of my birth. I'm hoping that by writing about these issues and speaking to the rights of people whose fundamental rights are denied in some regions, I can remind us, in ways that can be simultaneously light-hearted and serious, of the humanity in all of us.
Why did you choose to come to UVic?
UVic is recognized for its passion for and focus on social justice. A review of the scholarship and educational initiatives at the Law Faculty, such as the new joint-degree program in Canadian Common Law and Indigenous Legal Orders—the first of its kind in the world—reveals an aspiration to, among others, unseat traditional thinking about law and create a better world in which those who have not had a voice in society can be heard. The work at UVic Law is bold and cutting edge, and it is exciting to be part of an institution that is at the forefront of such monumental innovation in legal education.
This interview was edited and condensed from in-person and email conversations.
—
More stories from the Torch special section: Future Health
Photos
In this story
Keywords: health, law, philanthropy, racism, accessibility, international
People: Irehobhude Iyioha
Publication: The Torch