UVic, community celebrate CARSA in special May 28 ceremony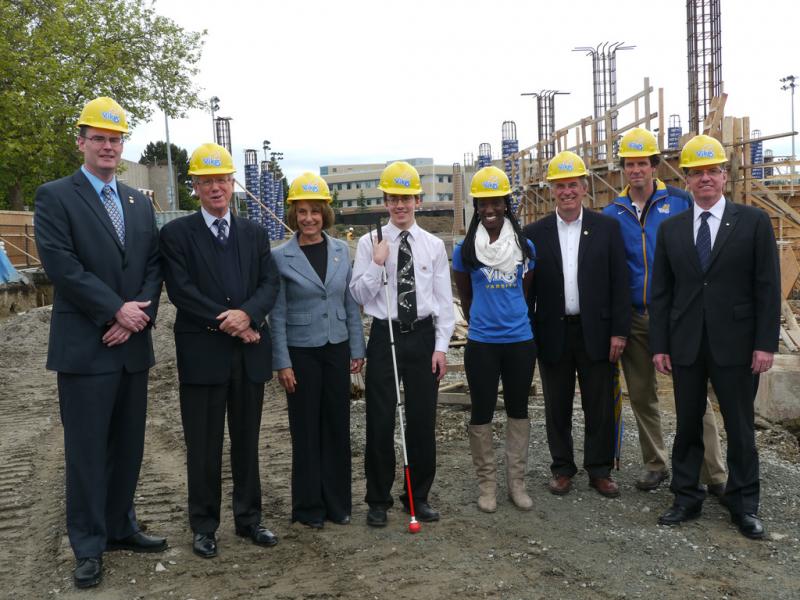 A crowd of 250 people helped UVic officially mark the start of construction of the Centre for Athletics, Recreation and Special Abilities (CARSA). The Reynolds High School drumline and UVic Vikes cheer team hit some high notes on May 28, and they were not the only ones.

The speeches
Barney Williams, UVic alumnus and Olympian rower, summed up the overall spirit of celebration and momentum. He described how UVic "offered me the coaching, facilities and, most excitingly for my parents, the academic pathway. That pathway led me to Oxford University… To be able to stand up here right now as a graduate of both UVic and Oxford University and say that we are now taking a step beyond Oxford when it comes to athletic facilities is a pretty, pretty cool thing to say."
UVic President David Turpin began the afternoon by acknowledging the importance of CARSA: "The case for CARSA is clear. This magnificent facility will transform our athletic and recreational programs. It will bring together under one roof opportunities that support and enhance our commitment to quality in teaching, research and community engagement. That is why CARSA is UVic's number one capital priority and a signature legacy project marking our 50th anniversary year. I encourage everyone to join us in supporting CARSA – together we will create a new and exciting hub for academic excellence and active living at UVic."

Also speaking that afternoon were Josh Yates, future UVic undergraduate student and former CanAssist client; school of physical education faculty member Lara Lauzon, widely recognized for exceptional teaching on health and human wellness; UVic undergraduate humanities student and varsity athlete Debbie Yeboah, who is completing her studies in philosophy and French; CARSA Cabinet Chair Tony Gage, member of UVic's Board of Governors; UVic Athletics and Recreation Director Clint Hamilton; and Mayor Frank Leonard of the District of Saanich. The presentations echoed the key motif of community commitment—to athletic excellence and healthy living as well as experiential learning and values such as inclusion, accessibility and civic engagement.

Yates explained how CanAssist invented "special goggles that allowed me to read my sheet music and see the conductor simultaneously. After that, I became a big fan of CanAssist… [and] I'm looking forward to seeing even more of my friends at CanAssist [after being accepted into UVic's School of Music for September 2013]."

Lauzon, an assistant professor in UVic's School for Exercise Science, Physical and Health Education (EPHE), spoke about the integration of healthy lifestyle practices and academic excellence for all students. EPHE will benefit from a repurposing of vacated space in the McKinnon Building to bring the school's programs and faculty together under one roof, and in close proximity to CARSA.
CARSA - A new hub for active living
UVic offers dynamic learning opportunities that help students apply what they learn to the outside world. CARSA will support experiential learning—for instance, a recreation-studies student might work with a particular client on the new 18-metre climbing tower—and will serve as another extension of the UVic classroom.

The stage party wrapped up with a plaque unveiling to commemorate this legacy project. Presentations and activities showcased the work of CanAssist and Vikes Athletics. Thunder the UVic mascot mingled among attendees, and an impromptu basketball scrimmage hinted at the athletic enthusiasm to come, after the ceremonial ribbon cutting in two years.

The new facility will include new offices, labs and a machine shop for CanAssist, helping this unique organization fulfill its dream of becoming a leader in creating world-class innovative assistive technologies in support of people living with disabilities.

CARSA will be the university's first major athletics and recreation facility in over 30 years. It is targeted to achieve the LEED gold standard, with completion scheduled for spring 2015.

Visit the CARSA website for additional details and ongoing construction updates.

Flickr stream of May 28 event photos
YouTube video of stage party march-in with drumline
Photos
In this story
Keywords: athletics
People: Barney Williams, David Turpin, Josh Yates