BCom students take second place in national sustainability challenge
Peter B. Gustavson School of Business
- Rachel Goldsworthy, coordinator, Centre for Social and Sustainable Innovation, Gustavson School of Business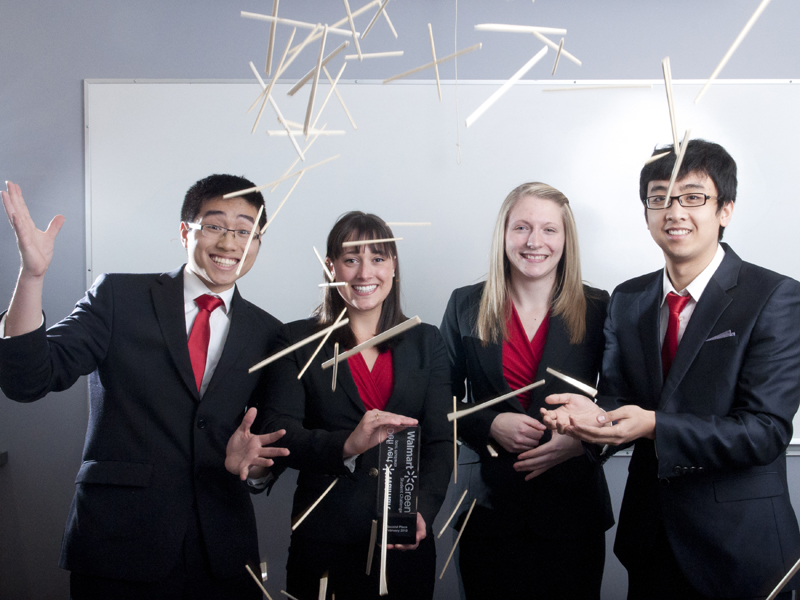 Upcycling chopsticks to furniture earned a quartet of business students one of the top two spots—and $15,000—in the national Walmart Green Student Challenge in Toronto Feb. 26. Vinson Chen, AJ Qin, Jennifer Sallows, and Rebecca Staynor, calling themselves the Gustavson Greenshifters, beat students from universities across Canada when they came second out of more than 150 groups that began competing last fall.
The judges, a Who's Who of Canadian business leaders, clearly were intrigued by the Greenshifters' business idea and repeatedly referred to its grand scope.
The concept, to divert as many as 45 billion chopsticks annually from landfills in China to produce oriented strand board that would then be used to make furniture, was sparked last September 2012 at MIIISsion Impossible*—a Gustavson School of Business team-building exercise. In the exercise, all 240 incoming BCom students are put into groups of four or five, each including one international or exchange student. They have a morning to brainstorm and hone innovative sustainable or socially responsible business ideas that would be a good fit in the country of the international team member. After a breathless four hours, they present their concepts to academic, community and business judges.
One of those judges, Gustavson PhD student Richard Tuck, said, "Anyone, at that age and just being introduced to business, who can view waste as a resource, let alone a resource for high value products, is someone to look out for. These guys impressed me."
"As soon as we completed [MIIISsion Impossible], we knew we had a great idea," Sallows says. "The four of us were an official team for the semester, and it turned out that we worked really well together… so we thought we would work just a little bit harder."
When they heard about Walmart Canada's Green Student Challenge, they jumped at it. From 150 original registrants, the Greenshifters were selected with 19 other teams to submit more detailed proposals, and then, with four other teams, to move to the finals held in Toronto. That's where they presented their idea to Shelley Broader, president and CEO of Walmart Canada; Dianne Craig, CEO of Ford Motor Company of Canada; Chris O'Neill, managing director of Google Canada; Claude Mongeau, president and CEO of CN; Ana Dominguez, president and general manager of SC Johnson Canada; and Tom Heintzman, President of Bullfrog Power.
Afterward Staynor said, "I got everything and more that I was hoping to get out of [the competition]. Although we didn't win first place, it was an incredible experience and I'm sure that even more positive things will come out of it."
"For me, the competition is all about gaining experience and connections," said Sallows. "And who knows where those connections may lead in the future?"
Judging by the innovation, intelligence and commitment they've already shown, Chen, Qin, Sallows and Staynor might very soon be heading toward the ranks of those CEOs they wowed.
More: http://bit.ly/13tYNnO
*Not a typo. Gustavson School of Business is built on four pillars: Innovative, Integrative, International, and Sustainable/socially responsible.
 
Photos
In this story
Keywords: recycling, environment, competition
People: Vinson Chen, AJ Qin, Jennifer Sallows, Rebecca Staynor