Moving the dial on sustainable transportation options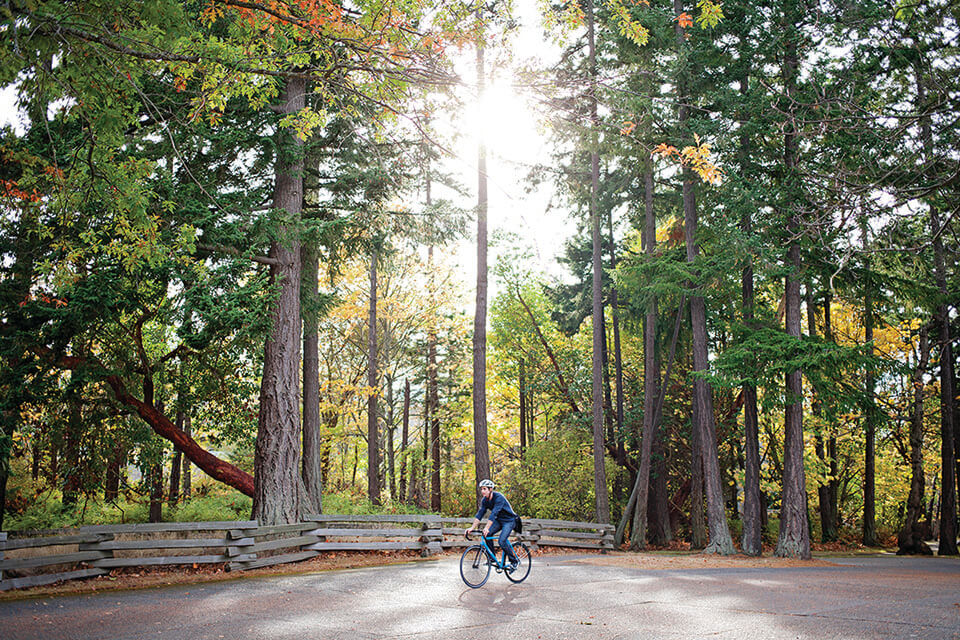 More than 50 teams of UVic cyclists—including 54 first-time riders and 496 overall—pedalled more than 17,400 total kilometres to and from campus during Bike to Work Week (May 27-31). Cycling is just one of several active transportation options for faculty, staff and student commuters that reduces both the number of single-occupancy vehicles (SOVs) travelling to campus, and overall greenhouse gas emissions. 
A recent comprehensive review of UVic's Transportation Demand Management (TDM) program showed that during 2018, 62.38% of commuters took advantage of sustainable transportation options (cycling, walking, carpooling, etc.)—including a 1.8% increase in the number of pedestrians and 0.9% increase in the number of cyclists. There was a corresponding 2.3 % decrease in SOV trips to campus. This is the first time since the university began monitoring transportation patterns in 1996 that the number of commuters using sustainable options has topped 60%. The volume of trips by pedestrians and cyclists also increased between 2016 and 2018, by 18% and 10.8% respectively.
While these numbers are impressive, staff in the Office of Campus Planning and Sustainability are exploring additional measures to nudge the transportation modal split to 70% non-single-occupancy vehicles, the target of the Sustainability Action Plan: Campus Operations 2014-2019.
"TDM looks at ways to reduce travel demand and redistribute travel volumes, while still meeting the transportation needs of the campus community," says Mike Wilson, director of campus planning and sustainability. "As we move into renewing our sustainability action plan, we'll be considering a range of robust TDM strategies to help us meet our goal of having 70% of students, staff and faculty choosing sustainable travel options."
"We're looking at using a combination of push and pull strategies—incentives and disincentives," says Susan Kerr, campus sustainability coordinator. "We already have a strong range of incentives to make active transportation more convenient, safe and available, so we may also need to look at adjusting our parking strategies in order to influence people's behaviour toward more sustainable choices."
The TDM review revealed that many staff, faculty and student parking permit holders live within a 5- to 7-kilometre radius of campus. "We need to do more work to understand the barriers that prevent this group of students, faculty and staff from using the student Universal Bus Pass (U-Pass) and the employee bus pass program, cycling or walking," says Kerr. A follow-up parking survey will be released this summer.
---
Sustainable travel choices: Did you know?
The UVic employee bus pass offers a 50% saving over regular BC Transit pricing (available only to those who do not purchase parking permits)
Staff and faculty can try out the new U-Bicycle loan program for three months free of charge this summer. The SPOKES bicycle loan program is also available.
The 2019 Campus Cycling Plan will guide policy and infrastructure development to improve comfort and safety for cyclists and pedestrians. The plan won the Canadian Institute of Planners 2019 Award of Planning Excellence Merit: New and Emerging Planning Initiatives
---
Driving alternatives
UVic offers Modo car share memberships to employees and family student housing residents without parking permits, with three Modo vehicles available on campus. Zipcar vehicles are also available at discounted UVic rates.
UVic now has seven electric vehicle charging stations available to the public.
A "fair weather rider" parking permit is available in the winter months (Nov. 1 – Feb. 28) for those who commute by other methods in the warmer months.
Learn more about the university's sustainable transportation program.
Photos
In this story
Keywords: transportation, administrative, environment, recycling, sustainability
Publication: The Ring