Can you "Kick the Plastic"?
- Anne MacLaurin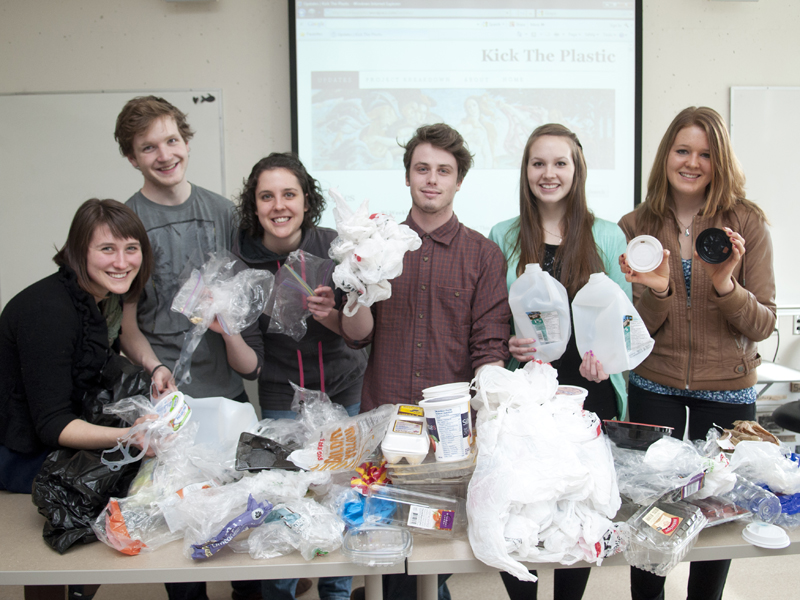 How about making your own toothpaste or using handmade cloth bags to store food? A group of Geography 101A students got inspired and started their own "Kick the Plastic" project after they watched the movie, "The Green Bin Project."
They immediately launched a blog called kicktheplastic.wordpress.com and got down to business. Their project was for a semester-long assignment called Eco Action. For the rest of the term, between January and March, they monitored their plastic consumption. After two weeks into the project they consciously started to reduce their dependency on single-use plastic products.
"I found an alternative to ziplocks," said Kelsey Cunningham. "I discovered homemade cloth bags worked just as well to carry fruit and vegetables."
Another student commented on the waste from toothpaste tubes. "I realized that all my toothpaste containers will end up in the landfill, so I decided to make my own toothpaste," said Alyssa Stapleton.
Alyssa demonstrated for the class how easy it is to make your own toothpaste using items such as baking soda, salt, and peppermint extract.
The purpose of their project was to reduce plastic consumption. As a group, they wanted to reduce their impact on the masses of garbage produced by our society on a daily basis. Each group member consciously strove to reduce their use of plastics and shrink their carbon footprint.
The students also researched the amount of plastics in landfills in Canada in order to gain insight on how much garbage we produce as a nation. Did you know that 280 million tons of plastic is consumed worldwide each year?
"More than half of all non-recycled plastic ends up in our oceans hurting fish and sealife," said the students during their presentation. They also pointed out that plastic grocery bags are probably the worst because they are petroleum based and not recyclable. Currently, over 500 billion are used each year worldwide.
As a result of their project, the students saw a reduction in the use of plastics from each group member. They hope to change shopping habits and to consciously choose grocery items with less or no packaging, as well as inspiring friends and family to do the same.
Students in photo: L-R: Alyssa Stapleton, Scott Robertson, Kelsey Cunningham, Nick Eaves, Nikki Flottorp and Kaya Peter




Photos
In this story
Keywords: recycling, environment
People: Kelsey Cunningham, Alyssa Stapleton